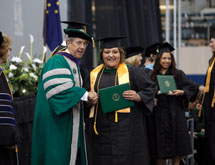 Throughout its 126-year history, Horsburgh & Scott has undergone countless reinventions as well as changes in ownership. However, the current incarnation of the gear and gear box manufacturer and designer based in Cleveland serves as a one-stop shop for clients looking for complex solutions to their gearing needs.
"There are very few competitors that possess robust repair centers, a robust engineering knowledge base and back it up with field services on the customer site to offer the complete solution," President and CEO Christopher Kete says. "We have that three-pronged approach in the marketplace."
Horsburgh & Scott traces its origins to 1886 when journeyman machinist Frank Horsburgh partnered with millwright Thomas Scott to open a machine shop in Cleveland. The company focused primarily on the local street car industry, manufacturing wire trolley switchovers and wire connectors. The company soon added gear equipment to produce spur gears and axle pinions for electric street car drives. By 1889, the partners had split ways, and Horsburgh incorporated the business as Horsburgh & Scott Co. in 1903.
By the 1960s, Horsburgh & Scott began producing medium-sized gearing that were 3 feet in diameter or smaller. In the 1970s, the company began manufacturing large cell gearing up to 25 feet in diameter, and it added in-house heat-treating capabilities. Through a series of mergers, acquisitions and ownership changes in the last 10 years, the company now offers large-cell gearing, custom enclosed drives and large custom applications.
Over the last three years, Horsburgh & Scott also has extended its field services and diagnostic capabilities, which allows it to deliver comprehensive analysis for clients on site. This analysis determines how a piece of equipment is functioning based on vibration, torque, temperature and other factors. After collecting this data, Horsburgh & Scott offers its diagnosis, and most clients keep the company on board to handle the maintenance and upgrades it suggests.
Horsburgh & Scott primarily serves the United States out of its facilities in the Cleveland metropolitan area. The company recently opened its first office in Canada to better serve the mining regions throughout the eastern portion of the country. It also has representation in Mexico, and has exported products to China and India in recent years.
"This is a very global business, and it's surprising how far our reach is," Kete says. "We have a strong niche in terms of what we deliver to our customers not just all over North America, but oftentimes across the globe."
New Life
Bolder Capital acquired Horsburgh & Scott in 2007, and since then, the firm has invested millions in facility and equipment upgrades to augment capital investments dating back to the 1970s and '80s.
"We now have a wonderful suite of gear-cutting and turning capabilities, and we have some legacy equipment in excellent condition," Kete says. "We have an extraordinary amount of capacity in Cleveland, and we've added people and hours in the shop."
The company's primary markets have shifted recently, as well. For decades, Kete says, the majority of Horsburgh & Scott's revenues derived from steel, with the remaining share coming from manufacturing gears for other miscellaneous applications. Today, that breakdown is more balanced, with a third of the business dedicated to steel, another third for mining and a third for other industrial applications, including some OEMs.
The OEM segment is a new venture for Horsburgh & Scott. "The reason we took the business was to exercise some of our new equipment and unlock some of the potential of our newest CNCs," Kete says. "When doing multiples of one part number, you have the opportunity to leverage statistical process control for better quality and lower cost."
Still Family
Despite Bolder Capital's ownership of the company, Horsburgh & Scott remains in capable family hands. Chris Horsburgh still serves as a vice president, and Kete says he intends to keep the family legacy for quality products strong long into the future.
"He's a valued employee like any other, and we're carrying on the legacy of the name on the side of the building," Kete says. "We're continuing to do that and that's exciting."