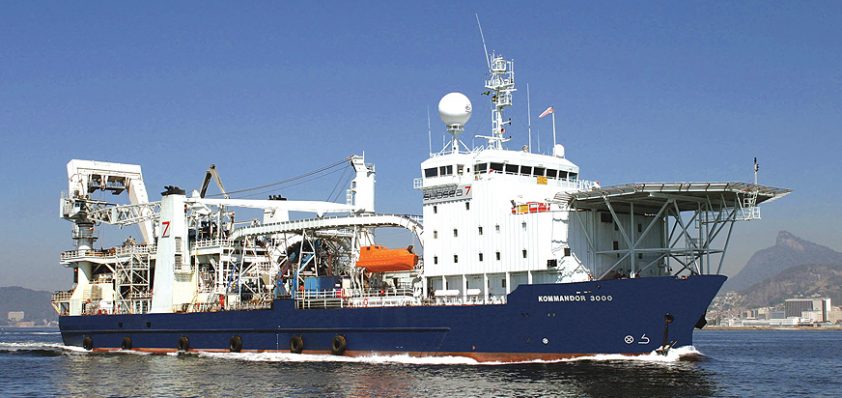 Design for life
The Houlder approach to business starts and ends with its clients.
With this is mind, the company's main goal is to build long-term relationships with its customers and to sustain these through commitment and understanding. As a result, Houlder can meet its clients' requirements and continually respond to the market's changing demands. Through this approach, the organisation has gained an enviable reputation for being a preferred and trusted supplier for its customers, who regard the business as a 'first choice' partner for challenging bespoke design projects.
Houlder is a leading independent design consultancy, which specialises in the naval, marine and offshore markets. Services provided range from new ship design to shipyard supervision, feasibility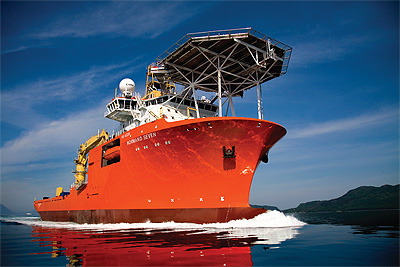 studies to expert witness services, and analysis to plan approval. Through its teams of naval architects, marine and structural engineers, CAD draughtsman and experienced project managers, Houlder offers bespoke solutions, which are produced for clients on a worldwide basis.
Founded in 1987, and headquartered in London with regional offices in Aberdeen and Tyneside, the organisation also owns a specialist ship design business in Portsmouth called Hart, Fenton and Company. Acquired in October 2006, the purchase of Hart Fenton complements Houlder's strategy of providing clients with acomplete design, technical support and project management solution as well as building on the company's strength and capabilities in the UK and internationally.
Looking at the company today, Rupert Hare, managing director of Houlder, highlights the business' key strengths: "One main contributing factor to the success of Houlder is that both Houlder and Hart Fenton have come from organisations that used to own and operate vessels. As a result, rather than just selling design services, we are highly attuned to what the vessels needs are. Therefore, we offer extensive experience and knowledge to our customers, which enables us to perform complete turnkey projects – from design and build stages through to commissioning and delivery."
With this in mind, Houlder has recently successfully completed a design contract for Subsea 7 – one of the world's leading subsea engineering and construction companies. The project was concluded following the departure of the completed offshore support vessel, the 'Normand Seven', from the A&P Tyne shipyard in October 2007.
This contract required the provision of the detailed design of a modular pipelay deck and seatings to support the flexible pipelay equipment on the 'Normand Seven'. The flexible pipe is stored on ten reels on the main deck and loaded on and off the vessel at the pipe-loading terminal.Houlder's scope involved several months of preliminary design work in early 2006, before commencing detailed structural engineering and naval architecture work, and CAD drafting at its London and Tyneside offices. As a result, Houlder completed the final designs to Class approval status in the
first quarter of 2007.
The business has also recently designed telescopic arms for Aker Kvaerner that automate the coupling process on their H6-e semisubmersible rigs. The arms offer an extension capacity of 6.8m with a fully extended safe working load (S.W.L) of 10 tonnes and permit the remote placement and operation of equipment under the rigs' moonpools. The telescopic arms will not only improve safety –enabling personnel to work from the crew deck, they will also significantly increase the rigs' handling capability.
Through the successful completion of projects like this, Houlder has built up an unrivalled reputation for a consistent ability to analyse technical problems and develop innovative and practical design solutions – on time and on budget. This reputation has enabled the company to become a leading independent design consultancy in the marine, offshore and defence sectors. Houlder has a long history of working in the offshore industry and has long established working relationships with many of the leading companies. However, like most businesses within this sector, Houlder is facing a major challenge.
Rupert explains: "One important issue at the moment is the lack of engineering resources available. In addition, within the UK, another challenge is to convince people that engineering is a good career to follow. To protect ourselves against these threats, we have set up a chartered engineering programme for graduates."
At the beginning of April, this training programme gained full accreditation from the Royal Institution of Naval Architects (RINA). Now the company has obtained this, it is envisaged that Houlder will accept as many as four graduates for the first year of the programme. Completion of the Houlder Graduate Training Programme will ensure graduates have sufficient skills and relevant work experience to enable them to progress to Chartered Engineer and Corporate Member Status of the Institute. As a result, the business is ensuring talented graduates start their careers with enough relevant experience and an appropriate level of professional development.
By investing in the future of the business and continually implementing a forward-thinking attitude, Houlder believes that it will remain at the forefront of every market it operates in. Looking closely at the offshore sector, the company will continue to focus on ship designs, which have the capability to meet future demands, such as deepwater pipelay and drilling. By doing this, the Houlder name will continue to be associated with high quality and innovation.
Houlder Ltd
Products Independent design consultancy