How Briggs Marine & Environmental Services is pioneering renewable energy
Headquartered in Burntisland, Fife, Briggs Marine & Environmental Services (Briggs Marine) is a family-owned business with a more than 40-year history of working in the marine industry. An expert in coastal, nearshore, offshore, and subsea operations, the company has a wide range of experience and equipment at its disposal to undertake a range of marine projects, and the flexibility to create bespoke plans for clients' requirements.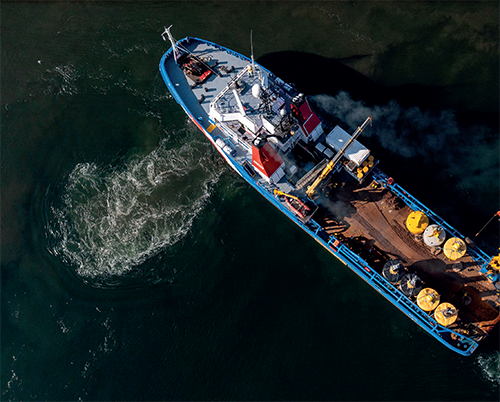 The Briggs family initially became involved in the marine industry in the 1970s, providing workboats to assist marine-based construction works, both on the east and west coasts of Scotland. Ten years later, they saw an opportunity in the environmental services market, and by 1987, the family had purchased an oil spill response vessel, and established Briggs Environmental Services. The company was then part of the response team for the Piper Alpha disaster in 1988, and the Exxon Valdez oil spill in Alaska in 1989.
It was also in the late 1980s that Briggs Marine started providing vessels and manpower for oil and gas terminal operations across the UK. This service provision continues today, having been subject to significant process improvements to ensure safety and reduce potential impact on the environment. The company is now actively supporting energy transition on behalf of its clients.
Expanded service offer
Briggs Marine also became involved in various salvage operations, including the Sea Osprey Wave Generator at Dounreay, and the recovery of a 360-aircraft from the Firth of Forth. "The company continues to offer salvage and emergency response services and has been involved in many high-profile operations where it has mitigated damage to the environment," shares Group General Manager, Rob Baker.
Rob continues to share that during the 2000s, Briggs expanded its services further into submarine cable repair and installation, single point mooring repair and maintenance, heavy moorings, and aids-to-navigation refurbishment. It is also responsible for the maintenance and repair of all MoD heavy moorings, and navigation aids around the UK, Gibraltar, and Cyprus. "We started operating in various countries delivering a full suite of environmental solutions including consultancy, training, and spill response services," he says. "The Group has now expanded its services into the renewable energy market, with framework agreements in place with a number of large offshore wind developers."
With 50 years of experience, it is no wonder that Briggs Marine has become a leading provider of marine and environmental services, specializing in port and marine operations, subsea and environmental support, and vessel charter. The company also owns and operates coastal survey vessels, offering safe platforms for carrying out a wide range of duties including bathymetric, environmental, oceanographic surveys and more.
In order to understand its customer requirements, not only does Briggs Marine operate spot charters, but it also provides a full vessel management service. "This enables customers, such as Peel Ports in Liverpool, to focus on operations, leaving the management of their pilot launches and other marine services to us," Rob shares. "This service extends into RoRo Ferry and Terminal Operations, whereby a full suite of services is offered, including check-in, mooring, linkspan and stevedoring services."
Coupled with the exciting developments that have grown the business over the last five decades, Briggs Marine continues to expand its service offering into subsea operations, where customers can now benefit from a complete solution, alongside survey and inspection, which often precedes installation and maintenance of subsea cables. "Our strength not only lies in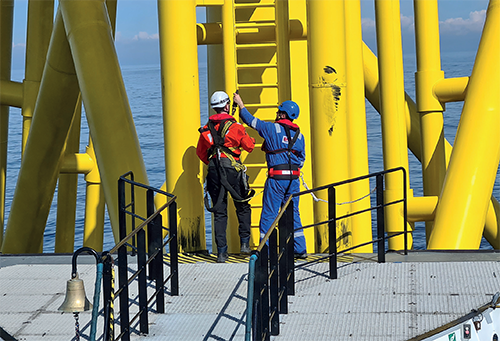 experience in delivering safe, high quality and cost-effective marine-based services, but in our solutions focused approach," Rob says. From his explanation, by operating in diverse and challenging environments to deliver projects on time and within budget, Briggs Marine can provide clients with comprehensive solutions that minimize risk exposure, and gain competitive edge to achieve their strategic goals.
This bespoke approach is what enabled the business to win the 18-month project to deliver services to the Neart na Goaithe (NnG) offshore windfarm, where Briggs Marine was originally contracted to provide CTV services for NnG. However, the service offering developed to include the provision of technical staff to carry out routine maintenance tasks and other operational services. "More recently, this project was extended to the provision of a walk-to-work vessel, and a dehumidifier installation for wind turbine transition pieces," Rob elaborates. "Other offshore windfarm work that we have completed includes the delivery of demarcation buoys for the construction projects at Seagreen, NnG, and others."
These contracts enable Briggs Marine to demonstrate its capabilities within the renewables industry, but more importantly, they also enable the company to further invest in essential services for the offshore wind sector overall. Investments in cable handling equipment have been a particular focus this year, as the company's cables department gears up to meet the demands of the offshore wind industry.
Company values
Briggs Marine continues to invest in its fleet, having recently commissioned a new pilot launch to be made available for chartering, once delivered in 2023. This provision will help clients in urgent need of a pilot launch, as the 12-metre-long vessel is road transportable and can be quickly mobilized across the UK. "As part of a continued investment program to upgrade our fleet utilized within the Port of Sheerness, Briggs Marine purchased four new vessels for its Medway contract in 2021," Rob adds. "This followed significant investment into new pilot launches for a contract based in Liverpool, and the acquisition of a CTV in 2021."
In terms of the company's sustainability initiatives, the developments in that regard are just as exciting. The Briggs Marine offering to the renewables industry is based on the same core services it has provided over the last 50 years. "By repackaging these services, which have been enhanced by the purchase of the CTV, the company has been able to meet the needs of the offshore wind energy sector," Rob insists. "We also plugged a gap in our offering by acquiring the majority stake in ARB Wind. ARB's provision of statutory wind turbine inspections and maintenance and technical personnel gives the Briggs Marine Group a unique integrated package of wind farm services."
Rob then takes a moment to recognize that these achievements would not be possible without the team at Briggs Marine. For him, a business is only as good as the people, and as a family-owned business, Briggs Marine still maintains its original values of loyalty and recognizing success. To support employees, its training division offers opportunities to develop the skills within the workforce, as well as to keep staff engaged and provide progression opportunities.
Going forward, Briggs Marine will remain focused on its core market, and ensure it continues to add value to existing projects for its clients. As the business invests in assets and people, it will also seek to develop further relationships, particularly within the UK offshore wind sector, to ensure the company is part of the move towards green energy. Rob concludes: "By utilizing the experience we have gained in our first 50 years of trading, we intend to continue to build on our current success to meet the future demands of the marine and renewables industries."