How Eneva is positively shaping the future of Brazil's energy matrix
Formed by the merger of two companies in 2016, Eneva is one of the largest integrated energy operators in Brazil. It is heavily involved with the exploration and production of natural gas and hydrocarbons, conducting most of its work in energy insecure areas.
Operating across 12 natural gas fields in the Parnaiba and Amazonas basins, the business has a total contracted power generation capacity of 6.3 gigawatts and produces nine million cubic meters of gas per day, equating to nine percent of Brazil's entire thermal gas generation.
Having completed three acquisitions in 2022, the business is experiencing tremendous success and continuing to grow throughout South America. Eneva's CEO, Lino Cancado; CFO, Marcelo Habibe; and Executive Director of ESG, Health and Safety, and Communication, Anita Baggio, sit down with us to discuss the company's growth, energy generation, and how it is shaping the future of energy production in Brazil.
"Eneva's mission is to lead a just and inclusive transition with energy that creates value," Anita begins. "As the largest private onshore energy company, we have a huge role to play in Brazil's energy matrix, particularly in terms of securing renewable energy. This includes ensuring that there's enough energy provided for the economy to function effectively when renewable sources are not able to generate sufficient power."
Lino elaborates: "Brazil has a clean energy matrix, mostly based on hydroelectricity, as well as wind and solar power. However, for every three megawatts in renewables, you need at least one megawatt of thermal power to balance the system in Brazil's dry season, or when there is no wind or solar to produce renewable energy.
"So, our niche is energy security; we generate thermal power from the cleanest of the hydrocarbon fuels, natural gas," he continues. "On a practical level, our mission to lead a just and inclusive transition means supplying secure energy with competitive costs for when the system requires."
Positive impact
Tackling energy insecurity has led Eneva to numerous projects in the Amazon region. Due to the remote location and sensitive environment of these areas, the business is finding ways to not only explore and produce energy but educate locals on how to continually preserve the region. "We have found a substantial amount of natural gas resources in an area around 300 kilometers away from Manaus, the capital of the Amazon state, and we are planning to install a thermal power plant there to provide the Northern region with sufficient power," Lino details.
"Generating power in the Amazon is complex; solar and wind plants require a vast amount of land. So, installing a thermal plant avoids mass deforestation in the Amazon and has a much smaller environmental footprint," he goes on.
Anita elaborates: "Before we started work in the Amazon, it was crucial that we understood local needs, not just from the environment, but the holistic needs of the community. Education is a huge focus for us, so we looked at social progress indicators for each of the Amazon's 11 municipalities where we operate and established social projects accordingly. For example, in an area plagued by barren soil, we have created gardens in over 100 schools, educating children how to grow organic foods while preserving the soil.
"Our numerous programs for locals are largely based around education in agroforestry techniques to restore degraded land moving forward," she continues. "We recognize that education and employment are interlinked and interdependent, so we must work on the environmental and social aspects simultaneously. For instance, some of our education schemes are aimed at training people in certain techniques, so that we can employ locals to work on nearby projects as they arise."
Lino reinforces that Brazil's highest emissions come from deforestation linked to the use of land by other industry segments. Eneva is doing its part to collaborate with this material issue for the country. "We are increasing the amount of land under our protection, having committed to support the preservation of a 500,000-hectare area of the Amazon region until 2030. Additionally, we have partnered with a satellite business to monitor territories and identify areas with accelerating deforestation, so that we can focus restoration efforts in these areas," he amends.
"There is no equal to Eneva in Brazil today," he states. "We are the only private company with all of the competencies to find and explore hydrocarbon resources, enter into power purchase contracts in the regulated market, then build and operate these power plants, commercializing such power to maintain a successful business."
Additionally, Eneva is home to an innovative business model pioneered in its Parnaiba complex, the reservoir-to-wire (R2W) system, which has now been extended to other company's plants. "Our R2W model transforms onshore natural gas from the site's basin into electricity at attractive costs, using transmission infrastructure to flow production," Lino explains. "Once transformed, the electricity is sent to the National Interconnected System, Brazil's national electricity board.
"Our cost of energy is also the most competitive, as we have almost full control over our supply chain and associated costs," he continues. "Our strategic onshore location means it costs significantly less for us to explore and produce gas, as opposed to completing the same activities offshore. In addition, all our gas reserves are operated by us, meaning that we do not depend on purchasing gas from an external party to generate our power."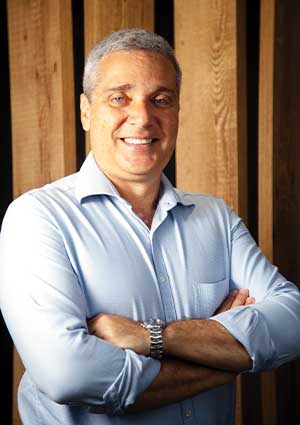 Energy security
In 2022, Eneva completed three acquisitions: Focus Energy, Termofortaleza, and Celse, with a total enterprise value of R$12 billion, equivalent to around $2.5 billion. "The acquisition of these three companies came with a very big pipeline of new projects for us (3.5 GW), and specifically, Celse enables us to expand our presence and infrastructure in the Northeast of Brazil," explains Marcelo.
One such project is Futura One, which promises to be one of the largest solar farm in the Americas, and potentially the largest in the World in the future. "The construction is now complete, and we are awaiting the license to start operating, probably by the end of April 2023," Marcelo details. "The plant has 837 megawatts of installed capacity, with a 671-megawatt AC capacity and an extra 2.4 gigawatt of potential source capacity for future developments."
Looking to the future, Lino outlines: "In the near future, we must extend the lifecycle of our current assets, as they have regulated power purchase agreements up for renewal in 2027. We will be looking to secure contracts for another 15-to-20 years to provide the company with stability and the country with energy security. We are also striving to develop integrated solutions to increase value for our reserve base year-on-year. In 2022, Eneva closed two contracts with Brazilian companies Vale and Suzano within a new business model called Small Scale LNG (Liquified Natural Gas), where the company is being a pioneer in the energy transition by contributing to a low-carbon economy with their clients switching from more polluting fossil fuels to natural gas.
"We continually strive to build an agile and fit-for-purpose organization that can flexibly adapt to different environmental, financial, and market conditions," he expands. "As we progress through our second huge growth phase, we are committed to completing our new projects, winning new contracts, and managing our recently acquired assets.
"There are many future contracts that we believe we can win as they become available, so we must keep an eye on a possible third growth phase," Lino concludes. Although the business has many ambitious objectives and goals to execute, the numerous projects on the horizon for Eneva is sure to see the business flourish in 2023 and beyond.