How Nature Energy is pioneering a sustainable future by turning waste into value
While its name and operations were different back in 1979, Danish organization, Nature Energy, boasts a rich history in the energy sector. Originally known as Naturgas Fyn, the organization arose as a result of collaboration between various municipalities in Funen County to become the first company to supply local households with gas.
During the 1970s, Denmark was hit by two international oil crises. It was for this reason, among others, that the Danish Parliament adopted an act that would introduce natural gas into Denmark in 1979. In the wake of that decision, Naturgas Fyn emerged as one of five regional gas companies, and in 1981, began to build the Funen gas network.
Nature Energy established its first biogas plant in Holsted in 2015 and is now among the world's largest producers of biogas. Since then, the company has experienced significant momentum, and today, it owns and operates 13 biogas plants located throughout Denmark, alongside an additional one in the Netherlands, with more projects in the pipeline.
Green transition
The organization's biogas plants treated more than 4.7 million tonnes of biomass in 2022, converting it into more than 185 million cubic meters of green gas. That much biogas could be used to fuel almost 8200 busses driving 30,000 miles per year, or to heat 160,000 homes.
A market leader, Nature Energy turns tons of biomass into green, carbon neutral gas as effectively as possible. The business collects biomass from businesses, agriculture and households and returns the degassed product to the agricultural sector as recycled nutrients. The business simultaneously ensures that the communities surrounding its biogas plants remain as undisturbed as possible.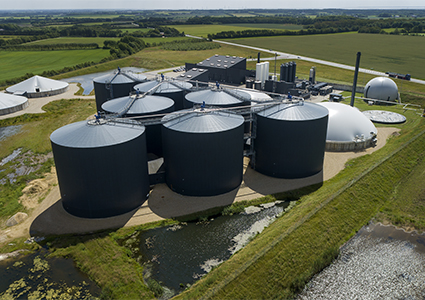 As Ole Hvelplund, CEO, begins: "Basically, what we do is what happened millions of years ago in the swamps where fossil natural gas was formed. We use different types of organic waste from households, industry and agriculture. The waste ranges from straw, deep litter, and manure to food waste, potato pulp, and other industrial or household refuse. The organic material is processed anaerobically in a fermenter to produce biogas. By means of a four-step process, the organic material is broken down to two of the smallest and simplest organic molecules: methane and carbon dioxide. When we have degassed the organic waste, the byproduct is given back to farmers to be used as fertilizer; thereby generating a circular economy."
While Nature Energy is already making a big difference in the green transition, the business has much bigger ambitions; hence intensive investment in research, including at its own laboratory in Odense. The laboratory is a site for research into refining technology, with a view to enabling the extraction of increasing amounts of energy from biomass and the production of superior quality fertilizer for agriculture. The laboratory is also carrying out research into new biomasses to produce green, carbon neutral energy in the future.
New markets
Nature Energy's ambitions to contribute to the green transition together with farmers, businesses and people, reaches beyond Denmark's borders. Over the next few years, Nature Energy will be investing in new large biogas plants in other countries in Europe and North America. Ole elaborates: "We have a pipeline of around 30 plant projects across Europe and North America. More than a third of these projects are in a medium-to-late development stage in Denmark, the Netherlands and France, but are still subject to future final investment decisions and relevant regulatory approvals. Besides that, we do have an eye on several European markets especially Italy, Poland and Sweden."
Natural resource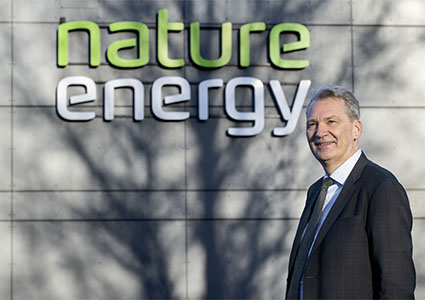 In recent developments, Ole explains that "the former owners of Nature Energy – a consortium of institutional investors, including Davidson Kempner Capital Management LP, Pioneer Point Partners and Sampension, collectively known as the NGF Partnership – recently ran a sales process from which Shell emerged as the buyer. Shell articulated a compelling vision for how the acquisition would help to deliver the next phase of growth for Nature Energy as part of a global biomethane business."
In terms of future growth, Nature Energy will be collaborating with Énergir to jointly develop, build, and operate biomethane plants that together can supply 200 million cubic meters of biogas per year, which equates to one third of Quebec's target for carbon reduction by 2030. "With this partnership," Ole elaborates, "we are significantly strengthening our presence in Canada. With our biomethane plants, we will produce a stable supply of green gas in Quebec and ensure efficient and valuable fertilizer based on the degassed biomass. This makes the entire energy production circular and profitable in a strong partnership with the local agriculture and business community."
Reflecting on the state of the energy market in recent times, Ole continues: "I have never seen anything like 2022. Even though we mustn't forget that a lot can happen overnight, I do believe that last year was an unprecedented time. The market has calmed down, and as prices have fallen significantly, we expect the price level to continue for the rest of the year."
Nature Energy's capabilities ensure the production of biogas on a large commercial scale, which is of great benefit to the green transition and to solving the key climate challenges faced by society. Biogas already plays a crucial role, and its implementation in industry, agriculture and transport can achieve significant carbon reductions.
"Biogas, like the sun and wind, is a natural resource," continues Ole. "While there is human life on Earth, there will be food production and subsequent organic waste. Looking at these natural sources of energy, I believe the conversation will turn more towards how our natural energy sources can mutually complement each other rather than focusing the discussion solely on electrification.
"At Nature Energy, we already do what we can to lower our own energy use while balancing the need for 24/7 production of biomethane. I do expect to see us commence testing with trucks running on biomethane within the foreseeable future.
"Looking ahead," Ole concludes, "I am sure that in five years' time, Nature Energy will still be a leading developer of plants that turn waste into value. With the backing of more than 450 employees to date, this number is likely to rise significantly, and we will be present in many more countries, continuing to produce biomethane in support of the green transition."