Going green
Originating as part of the Howden Company established in Glasgow in 1854, Howden Africa started serving the mining, power and tobacco industry with ventilation fan solutions at the turn of the 20th century.
By 1952 the organisation was set up in South Africa on a permanent basis and was known as James Howden & Company Africa. Following a number of strategic acquisitions including fan production and manufacturing companies, the business was listed on the Johannesburg Stock Exchange in 1996 with Howden owning 55 per cent of the company share. Since its inception, Howden Africa has expanded its activities into a variety of industrial sectors including the power generation, mining and petrochemical industries, as well as the cement, sugar and water treatment sectors. Having had
influence in the South African region for so long, the company has installed the majority of fan, heater, compressor, fabric filter and pump equipment in the country. The organisation is set apart from competition by its high levels of innovation and experience, while the Howden network of companies are able to share in technology ensuring that customers receiving the latest industry developments wherever in the world they may be.
"We utilise highly qualified, matured technology that is equal to any other Howden solution in the US, UK, Australia and beyond. We maintain a very strong core of engineers with premier skills and a great deal of experience in the market. It takes up to three years for a young engineer to meet our skill requirement and we invest heavily in training, sending a group of trainees to the unique Howden Academy in Glasgow every year and we currently have 75 apprentices in the organisation – no other company has such a provision. Our customers are assured by the generations of expertise that we offer and we work with the national power provider, petrochemical and mining companies. Our clients tend to be lifetime customers who we have watched grow and developed alongside, even working with some of their predecessors," Thomas Bärwald, CEO of Howden Africa Holdings Limited, explains.
While its specialised knowledge and expertise in industrial applications is recognised throughout the country, the organisation is looking to expand its activities in wider Southern and Central Africa. Many oil, gas and power companies have identified areas such as Mozambique, Angola, Botswana, Zimbabwe and Zambia as areas of huge potential, with even more northern territories such as Tanzania and Kenya also providing promising markets. Howden Africa's existing knowledge of African culture and practices makes it well placed for success.
The organisation covers four main areas of interest including; power and petrochemical, mining and metal processing, medium sized fans for the building and locomotive industries, and finally environmental control. This last sector is an area of increasing emphasis for every industry and Howden Africa has a broad spectrum of references with regards to the supply of fabric filter plants, de-dusting plants and compressor ice plants. Such forward-thinking capabilities ensure that the company has a key part to play in the evolution of both existing and new facilities.
Thomas highlights some of the company's latest product launches: "Our most recent development is a new fabric filter jet impulse system, which is a high pressure large scale solution that is ideal for use in very large steel and aluminium smelters, as well as power plants. Throughout our long and lucrative history we have gained a number of achievements that aid us in the design of our new products. For example, we supplied the largest fabric filter plant in the world in 1990s and this experience gave us the knowledge we use today to create such sizeable solutions. We pride ourselves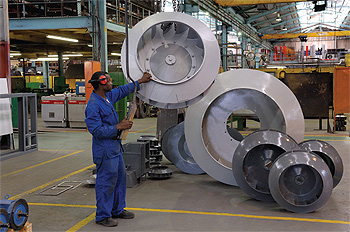 on the combination of experience and modern methods we use in product development. As all of products are completely custom made, the use of controlled flow diagram (CFD) and final element analysers (FEA) technologies ensure we provide the highest levels of design, while our stringent ISO 9001, ISO14001 environmental control and OHSA 18001 heath and safety standards guarantee quality."
Before any item is supplied to the market thorough discussions and technical negotiations are held with the client to ensure that the product produced will be exactly suitable for their operations. Much of the company portfolio is made up of critical components that are a vital part of a production or processing plant, making accurate design essential. Howden Africa also invests heavily in its premier facilities to ensure that customers receive a plethora of additional after-market services as and when they need them for the lifetime of their product. A 48,000 square metre manufacturing plant is maintained in Johannesburg, while a 17,000 square metre facility resides in Port Elizabeth to serve the carbide market. In Middleburg, Howden Africa looks to serve coalfields and petrochemical plants from its specialised 4000 square metre facility.
"In the coming years we anticipate growth in the environmental control arena. We are investing extensively in the next generation of our company, ensuring that we have the right skills in place for further progression, while continuing in our responsibilities as a BEE (black economical empowerment) company for fair social representation within our business," Thomas concludes.
Howden Africa Holdings
Products: Industrial fans