Flexible future
HSF was founded in 1966 producing metal and brass valves amongst other parts, which were sold to water and gas companies.
As the business developed, its client base grew to incorporate network companies throughout Holland. "During this time we began delivering systems and complete water meter packages to connect the main water supply to the house. We also developed solutions for gas and today have a complete package offering water meters, valves and couplings for PE, essentially providing installation solutions from the mains supply to the internal house
installation. Since 2000 HSF is one of the Flow Control companies of Aalberts Industries, an internationally active specialist in industrial products, systems and processes with high-quality technical knowledge.
"We also offer solutions for district heating to several network companies in Holland, prefabricated gas connections for surface lines, and also for district heating such as the thermal interface units." The business is particularly busy within Holland, but also in Belgium and Luxembourg. "We are now expanding throughout Europe focusing on the UK, Germany and Scandinavia, with the various aspects of our specialities, one of these being the thermal interface units, but we are also looking for business opportunities within our gas segment," says Emiel Woestenberg, product market development manager.
The humidity level of the soil in the west of Holland is very high due to its position below sea level. The result is that areas of the country are continually sinking. The solution for the construction, as in Amsterdam, is the use of pile foundations, but services buried in the ground are subjected to moving as the ground shifts as Emiel highlights: "The PE pipe in the ground to the house, will over time, also sink and in a few years it will break, resulting in a leak. For this problem we developed a flexible prefabricated unit, which will cope with sinking ground and height deviation between the house and the main pipe in the street."
The development has been a major step in safety, particularly with regards to providing a solution for the prevention of dangerous gas leaks, offering the customer peace of mind. "There will be no problems with the gas service line and no maintenance requirement for the gas service pipe. Every 15 years the pipe work can be raised to a higher level knowing there is no safety issue. The prefabricated gas connection system, is an extremely important design, and will be in demand throughout the Dutch market. We see the popularity of the design growing inthe Belgian market and in Europe, where the benefits of a pre-fabricated gas connection will be significant," adds Emiel.
The business has its own development department with a great deal of experience in the gas segment, and its own production and laboratory facilities for testing. "We are able to manufacture a variety of metal components such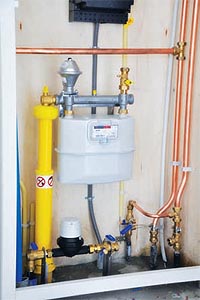 as metal brackets and have the ability to make our own injection moulding components. We are able to produce many components for pre-fabricated gas systems in house. This makes us very flexible and is supported by the vast knowledge of the products, what we can make and how we can make it," Emiel highlights. HSF has additionally secured strong working relationships with suppliers such as Rena Castings BV, which specialises in the production of the aluminium die casting tubes within its products.
Determined to develop innovative solutions, HSF spends time with its customers, listening to the problems and challenges that they face. "There is a reduction in the number of houses that are connected to gas as electrical heating increases. The challenge for us is increased by the demand for the total cost per connection to decrease with an overall low total cost of ownership. Our challenge is to design systems and innovate products that contribute to the total cost of ownership through ease of installation, but also that are maintenance or service free.
"Innovation is our major focus at the moment as we look to further develop systems to face these challenges. This short-term focus addresses the challenges in the local market but we will also seek opportunities in the export market. As a company we see that we can provide a real benefit for other networking organisations in Europe that face similar problems," says Emiel. Extending beyond the geographical area of the Benelux region in which it is already well known, the HSF name is highly reputed in other countries, with a reputation for expertise and innovative products. "We are co-operating with other parties and networking companies in Europe, to develop systems for their market. Our expertise is specific to all nature of gas work such as biogas and natural gas from the service lines to the house, and other installations but can also be used on systems for transport or connection components," he adds.
Drawing to a conclusion, Emiel highlights the future plans for the business: "We are developing new systems that will further decrease the cost of ownership, and overcome logistical complexity for networking companies. Current developments are at the eve of being implemented now and we have carried out successful pilot projects. For some of these systems we see big opportunities in other markets, like the UK, as well."
HSF BV
Products: Innovative gas and water supply products