Coupled up
HTS Maskinteknikk was established in 1981 from the remains of a mechanical company that delivered components to the medical/technical sector and local firms that required fittings.
Evolving its early product range with more sophisticated items for the offshore industry, the company has been an integral part of the development, roll-out and serial production of hydraulic couplers for subsea equipment.
"The direction of the company has always been high-quality/precision machining, which is why we were quick to adopt the use of CNC (numerically controlled) equipment and advanced measuring equipment," says Lars Harvik, marketing manager of HTS Maskinteknikk. "Today HTS is among the largest coupler manufacturers in the world in our business segment and has raised the bar in finding high quality solutions. Our competitive advantages are found in our competence and technology, as well as our close co-operation with engineers and production sites in order to see connections and potential upcoming needs. Furthermore, we like to stay informed on market developments and potential macroeconomic influences so we can efficiently make strategic investments at the right time, which ideally is prior to ramp up periods.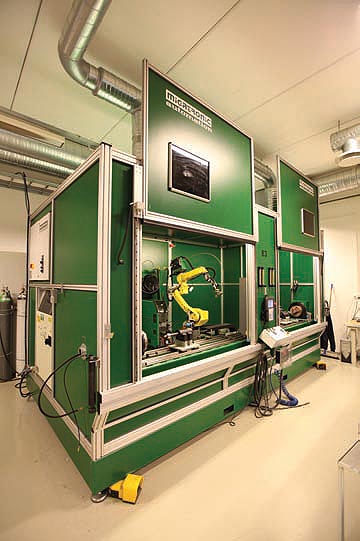 "Also, cutting-edge technology, capacity, human resources, flawless quality, time to market, and a willingness to rapidly adapt to changing environments have all contributed to a strong position in a very competitive market place."
Having successfully met the demands of customers over the last three decades, HTS Maskinteknikk has a vision for becoming the best in its line of business through a continued awareness on customer expectations and a fast response to new market information. Dedicated to optimum quality, efficiency and logistical performance, the company has expanded its 6200 square metre workshop four times over the last 20 years; strategic developments that have ensured a broad range of tailormade departments have been established. Presently, machining, welding, assembly, materials handling and verification/inspection are the in-house services provided by HTS Maskinteknikk at its Drammen-based facility.
"HTS Maskinteknikk is among the largest mechanical suppliers in Norway, with our 50 plus CNC machines and a modern turning department that features a good mix of advanced machines for serial jobs, as well as machines for running prototypes and smaller series products. Furthermore, we have a very advanced milling department; on the ground floor of our new bulding we have six Deckel-Maho stations, of which two are linked to a Fastems system, and a Matsuura machine with 17 pallets. HTS Maskinteknikk can also easily move prototypes to efficient serial production," says Lars.
"One aspect that also is important as part of the milling department is the programming," he adds. "Our performance is measured in the efficiency and capability to deliver correct products in a timely and cost efficient manner. Hence, the capability to programme our sophisticated machines and get the new milling parts quickly from a 3D file on the computer, through correct setup and production in the machine onto the first article control in the inspection department, all the way through serial production. This has been a crucial path to us maintaining leadership in the market.
"After our third expansion was finalised, we were able to organise our logistics for production in a smooth manner. All operations from then on, including NDT and pressure-testing could be performed in-house, which has had a major influence on our capability to stay competitive in the market."
With its current export share above 50 per cent of the turnover and a significant number of orders on its books, the company is keen to retain its competitive edge in the market. "We want to stay at the forefront of development," states Lars. "Production in Norway is normally considered as expensive – thus there are incentives to be rational, effective and quality orientated to ensure a 'right first time' and 'zero defect capabilities' approach. HTS Makinteknikk has close collaborations with leading machining producers and tools suppliers, which has contributed to performance improvement and finding solutions to machining related challenges."
In addition to programming and machining, the company took advantage of an intensely growing interest in welding performance enhancement over recent years and now specialises in high performance welding within the subsea sector. "Imperfections in welding are generally very costly, so it is of the utmost importance that products are welded correctly the first time. To offer a world-class performance we weld under laboratory-like conditions, where all parameters are identified and controlled to ensure the outcome is a close to zero capability as less than 0.5 per cent of the production is taken out in following NDT and pressure tests," highlights Lars.
Not only is HTS Maskinteknikk focused on technological advancements, it also believes in the development of its 100 skilled and dedicated personnel, who help the firm supply its parts to customers around the globe annually. "We base a lot of training on mentoring and close follow-ups; the operators are skilled with a formal background, but most of our production is done in challenging alloys and we need to secure the understanding related to such production. We also work closely with our machine suppliers who are training our personnel," says Lars.
With parts produced by HTS Maskinteknikk found anywhere from the deepest subsea installations to outer space, the well reputed company's dedication to constant improvement has paid off and looks to continue long into the future, as Lars concludes: "Throughout 2014 HTS Maskinteknikk has decided to implement Process Orientated Steering as a step in our continuous improvement programme. POS enables us to manage our organisation from a set of standardised processes, where activities, requirements, performance management and risk assessment are all integrated in one tool. Further ahead, the prospects related to the subsea hardware business look promising so we will continue to look for upcoming opportunities to smoothly and efficiently serve our customers' needs."
HTS Maskinteknikk AS
Services: Leading global coupler manufacturer