Data flow
Huawei Marine Networks Co., Limited (Huawei Marine/HMN) is a joint venture established by Huawei Technologies Co., Ltd. and Global Marine Systems Limited. Bringing together the industry leader in optical transmission and over 160 years of marine engineering excellence of the two parent organisations, Huawei Marine integrates innovative products and state-of-the-art technologies to provide highly reliable, costeffective fibre-optic network solutions to the telecommunications and oil and gas industries.
Headquartered in Tianjin, China, with a manufacturing base and research and development facilities in both Beijing and the United Kingdom, Huawei Marine has grown rapidly, with over 280 employees and a substantial customer base incorporating sovereign governments and global blue-chip multi-national organisations.
"The joint venture structure allows us to leverage the expertise of both parent companies including the substantial R&D resources of Huawei. The strength of their advanced optical transmission technology coupled with Global Marine's mechanical design, marine engineering and subsea installation expertise is crucial to delivering cost-effective solutions with a design life of 25 years," says Mike Constable, chief executive officer.
Aligned with HMN's full turnkey network solutions philosophy, the business offers system design and engineering, procurement, manufacturing installation and comissioning services all under one contract. "Our turnkey approach mitigates project risk and maximises customers return on investment," adds Mike.
"Since 2013 our addressable market has expanded significantly and that has, in part been driven by the development of our new optical amplifier or repeater and branching unit. With this second generation repeater we are able to provide a higher fibre count in our system design, up from two-fibre to six-fibre pair systems, which substantially increases system design capacities."
The development of HMN's secondgeneration repeater, is a culmination of over three years of product qualification and testing, ensuring that the repeater units are capable of flawless operation over a design life of 25 years. Having maintained a strong focus on the engineering quality of the mechanical, optical and electrical parts at component level, this translates into a substantial increase in reliability and performance.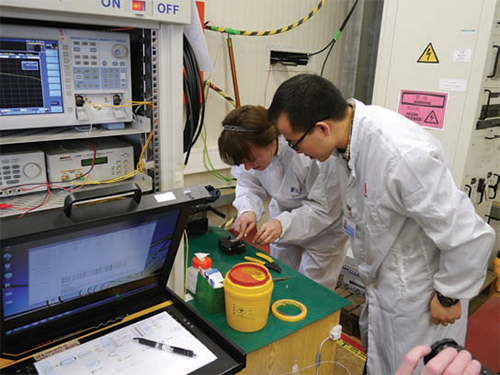 "We have built in significantly more redundancy to increase the performance parameters. The new design allows us to transmit more light even greater distances. This is a product differentiator compared to our competitors, in that it has a titanium housing so is lighter and smaller, and therefore can be laid and buried simultaneously, so that the repeater is not left on the seabed and exposed to risk until a secondary ship is available to post lay bury them. This reduces risk and constitutes a significant cost saving that we are able to pass on to our customers," explains Mike.
With completion of a comprehensive product qualification and testing regime, HMN's second generation repeater is due to be deployed in a telecommunications system in Africa shortly; with system loading onto an installation ship commencing in a few weeks.
"We have a number of other contracts ready to be executed incorporating this new, product, so by year end, we expect have more product and systems going into the water," Mike adds. "As a result, we have increased our market share. Today, we are currently constructing projects with both our first, and second generation repeaters in Africa, Russia, and Asia, with potential in the Middle East to follow. We are the only supplier with two repeater products, each bringing unique, innovative benefits to address a niche space in the market."
Telecoms research indicates the provision of high-speed data transmission connectivity has a direct impact on a nation's economic growth, while driving the transformation of the business landscape through the development of the internet and other associated applications such as cloud services. In a similar manner, the economic benefits of reliable broadband connectivity, already realised on a global scale are replicated on a micro-scale for the oil and gas industry.
"It's essentially about eliminating the digital divide, whether that is on a global scale as we have seen with the internet, or at micro level by seamlessly integrating offshore oil and gas platforms with onshore communications networks," states Mike.
As the world continues to become even more connected and the flow of data increasesexponentially every year, the telecom sector is exhibiting strong growth, however it has taken some time for the oil and gas industry to begin to understand the benefits of submarine cable fibre to platform connectivity. This infrastructure is a key enabler for the oil and gas industry, particularly as the digital oil field gains momentum.
"It's not just oil that is flowing out of reservoirs but data too, and that data has to be gathered, tracked and analysed to be used effectively. There is a lot more instrumentation going into the oil fields that collect and monitor all manner of data, but leaving that data stranded offshore doesn't make sense and it won't provide the benefits that can be realised by enhancing field automation, reducing operational costs and enabling faster inproved decision making," highlights Mike.
Fibre-based communications infrastructure also facilitates other technologies, including emerging big data applications such as Permanent Reservoir Monitoring (PRM) systems. "I believe that the oil and gas industry is starting to view high-speed broadband connectivity as fundamental to its field developments. As a result, we are working alongside our customers on some bespoke opportunities, in Africa and other regions," says Mike.
Fibre-optic submarine cable systems can be deployed retroactively to link platforms and assets in existing brown field developments or in conjunction with other infrastructure development such as the platforms and pipeline networks on greenfield sites.
"We are active all over the globe, delivering solutions to any customer, anywhere in the world," points out Mike. The ability to provide turnkey network solutions, and the upgrade of existing submarine cable systems by expanding original design capacities have proven to be the company's two primary revenue streams.
"We were born out of the desire to change the face of the industry that had been without innovation for almost two decades. That vision remains. We have a product road map, where we are actively developing specific new subsea hardware for the oil and gas industry. Innovation is a big part of our culture," Mike adds.
Looking to the future, HMN is focused on expanding its existing business and customer base by developing and implementing more systems in the water to bring secure broadband connectivity for both the telecoms and oil and gas sectors.
"There are a number of regions which are quite active in driving forward fibre to platforms and other advanced data applications, however there are still other regions that need this investment and hold great opportunities for HMN," summarises Mike. "It's an exciting time for us, and for our customers."
Huawei Marine Networks
Services: Fibre optic sub marine cable solution provider
Issue 122 July 2015