Huawei Marine Networks Co
Deeply knowledgeable
Huawei Marine Networks Co., Limited is a joint venture company established in late 2008 by Huawei Technologies Co., Ltd and Global Marine Systems Limited.
Both parent companies are a leader in their own niche, which for China-based Huawei is optical equipment. Beginning life in 1987 the company is the world's largest vendor for such products, which range from tablets and computers through to the basic optical equipment that runs the world's telecommunication networks.
Operating out of the UK Global Marine Systems has been involved in the installation of submarine cable networks for over 160 years when it was responsible for laying the first cable between England and France. Today the company employs a fleet of 12 cable-laying vessels to provide installation and maintenance of flexible products for the telecommunications, and oil and gas markets. With access to the expertise of each parent, Huawei Marine Networks was created with the specific intent to develop a series of high quality products for the submarine optical market, and a capability to deliver turnkey submarine cable projects.
"Turnkey means we take a single contract for the complete supply and delivery of working systems to the customer," describes Nigel Bayliff, CEO and general manager of Huawei Marine Networks. "Within that we conduct a survey of the seabed, have the cable manufactured, produce the undersea repeaters and various switching and branching devices required, connect these together and load them on to the cable vessel. We then install and commission the complete system wherever in the world our customer requires a submarine optical connection.
"We can offer transcontinental length systems of up to 11,000 kilometres, as well as very short systems to connect oil assets to the shore or each other, or for use in ring-based regional networks. We installed our first system in 2009, which was a submarine optical repeater in South America, and since then have delivered 12 turnkey systems around the world," he continues.
At the end of 2012 Huawei Marine Networks achieved breakeven after just four years of operation. During this time the company has become something of an innovative force in a market of conservative engineering and purchasing practices. "There has really been no innovation in this arena for quite sometime," confirms Nigel. "As such in 2009 we launched what was probably the first new undersea repeater in 15 years. This compact two fibre pair repeater was designed to be easily buried under the seabed and therefore provide greater protection from external threats such as fishermen and vessel anchors."
Following on from that success, Huawei Marine Networks has since launched another ground-breaking system – the world's first titanium-cased six fibre pair repeater. "We have gone through the necessary two years of qualification testing, improving, and benchmarking the technology to ensure that the product can perform flawlessly at the bottom of the sea for the 25 year design life. There is no real opportunity for maintenance over that period so it is very much about reliability engineering. Our focus now is to see the product deployed in the market, and we already have two projects that are potential users of this technology that we hope to see go ahead in the next few months. Once it goes into the water for the first time at work we think the industry will really start to sit up and take notice," highlights Nigel.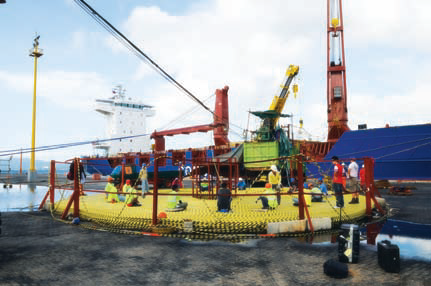 He goes on to note that in being able to deliver such services Huawei Marine Networks' strengths once again come back to its parent companies: "In submarine optical communications you have to mix two very different things. On the one hand you have the very fine optical technology, and on the other the very heavy mechanical engineering designed to install and protect the cable and its ancillaries in the sea. We are therefore uniquely lucky in having a parent that is very experienced in each of those tasks.
"As part of Huawei we automatically gain access to their huge R&D resource, which is continuously producing new ideas and innovation in optics. Likewise we can draw on Global Marine Systems' years of experience in how to put things on the seabed and have them function in that environment for long periods. Our strength as Huawei Marine Networks is being able to take these two elements and blend them together in a relatively lean organisation which is actually responsive to the customer."
In the oil and gas market for example Huawei Marine Networks has seen customers looking towards telecommunications, and optical communications in particular, to allow them to reduce manning on platforms and unnecessary onsite visits by transferring data back to shore via cables. This makes it an interesting market for Huawei Marine Networks, with the company already developing a number of projects with customers in the industry.
There is another edge to Huawei Marine Networks' business strategy besides new build projects. This is the upgrade and renewal of existing systems, which are either life-expired, or can benefit from additional capacity or features to extend this further. This enables the company to secure opportunities even in times of lower capital expenditure.
"Our vision is to grow the existing streams of business we have in upgrades, new build repeated cable, and new build un-repeated cable systems. We want to be one of the top three companies in the industry with around 30 per cent market share, and I think we are on track for that. One of the things that Huawei has done is to not only install optical systems, but also move into the management of those networks for customers, and I feel this is a step we could take in the future," concludes Nigel.
Huawei Marine Networks
Services: Submarine optics and installation