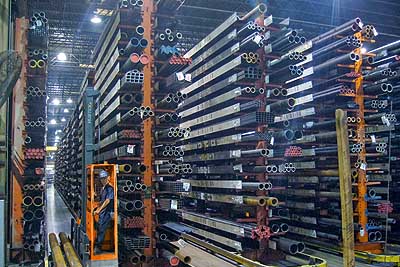 Raising expectations
HUBTEX has historically supplied its innovative materials handling solutions to oil & gas organisations worldwide. However, to support a focus to further develop its presence in the sector HUBTEX will be showcasing its products and expertise on Stand 4D151 at the SPE Offshore Europe Conference & Exhibition in Aberdeen come September. Based on previous successes in the sector, HUBTEX believes that its diverse product portfolio of electric multidirectional sideloaders, 4-way sideloaders, heavy duty transport systems, platform trucks, heavy duty reach trucks and specialist vehicles can add real value to the specific challenges found in and around these industries.
Since it was founded in 1981, HUBTEX has grown into a leading supplier in the field of specialist handling equipment. The business was incorporated in Germany primarily to serve clients within the textiles industry and has since evolved to supply a broad base of applications including clients within the automotive, avionics, foundry, float glass, metals, timber, manufacturing and oil and gas sectors. Today HUBTEX is headquartered in Fulda, Germany from where it supports its 13 subsidiaries and dealer networks worldwide. In Fulda the company currently employs approximately 300 members of staff, of which 30 are qualified engineers while a further 20 are employed as apprentices, projecting the company's future.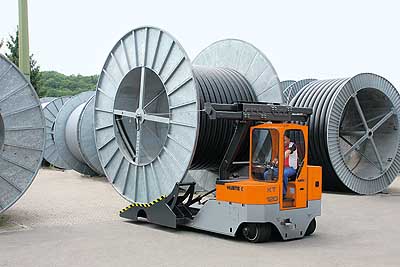 "HUBTEX was established effectively to build highly sophisticated electric multidirectional sideloaders and the business has grown from there to utilise experience and technology to branch out and build a wide range of machinery that help in the transit of long, difficult and heavy loads specifically in confined spaces," elaborates Business Development Manager, Steven Murby. Indeed the ISO 9001:2008 certified company is committed to the construction of vehicles and machines to a high engineering level, with a comprehensive portfolio of products encompassing some 60 series types and specialist vehicles. Core to the success of HUBTEX is its ability to provide innovative bespoke designed solutions. A large percentage of its products are tailor-made to exactly match the end user's specific needs and are characterised by their longevity and functionality. "We design and build extremely robust and durable machines," Steven adds. "If you consider the life of a standard forklift truck for example, it would be something like five years in a full application and a further one to three years in a second life span. When correctly maintained we are quite happily seeing our products last between 15 to 20 years with one customer."
Commenting on the unique requirements of supplying to customers in oil and gas markets Steven says: "The challenge in these markets primarily comes from the diversity of requirements and from physical scale. Within the oil and gas sector equipment is generally bigger and heavier, which is something that is shared with the utilities supply chain within the electrical market. Additionally production pressures dictate that all equipment used is highly reliable as any form of down time can be very expensive. HUBTEX has the necessary experience of producing missioncritical equipment for the most demanding of applications where operational durability is paramount. The challenges are therefore multiplied by the fact that the equipment provided has to get larger, which has an impact on manoeuvrability especially in confined spaces. However addressing these challenges is part of the HUBTEX DNA and we have a highly talented group of experienced engineers that are able to provide cost effective solutions to a host of handling problems."
By proving niche solutions to clients that need to handle materials and components that are difficult to transition, often in confined spaces, HUBTEX has established a strong and growing market presence. Its solutions and handling systems are manufactured in Germany and delivered to valued customers around the world. As the market continues to recover from the global economic crisis, many sectors are enjoying a resurgence in activity resulting in an increased demand for material handling solutions. "There is certainly increased activity within the metals industry, particularly with raw stock holders and manufacturers," Steven observes. "We see growing opportunity in the oil & gas, automotive and avionics sectors and the timber and plastics industries are also beginning to recover. The present situation is most encouraging from our position, as most of the industry members we speak to are increasing their capabilities or are partnering companies that are investing into the UK for the first time."
The ability and willingness of HUBTEX engineers to develop bespoke solutions to the unique requirements of its clients is a key strength of the company that differentiates it as a market leader. Its long-serving engineers are able to call on over 30 years of industry experience and work closely with clients to offer a fresh perspective on how technically challenging applications might be addressed.
Furthermore HUBTEX is committed to providing lifetime support for its products, allowing its clients to invest in equipment in the knowledge that assistance is on hand where and when it is required. "We know that we build extremely good equipment proven to stand the test of time, however pragmatically these are effectively workhorses and at the end of the day sooner or later they will be worked hard and need attention. "HUBTEX fully recognise this and focus on providing high level aftermarket support. We have our own team of factory trained service technicians and hold a comprehensive spare parts stock centrally located in our Milton Keynes HQ. This stock is further supported by a much larger spare parts inventory in Germany. Furthermore, where possible our designs are modular, we have many components that fit across our entire product portfolio. This further facilitates HUBTEX to respond to clients' needs efficiently and quickly."
As it continues to support increasing activity throughout several targeted market sectors, HUBTEX will maintain its focus on the delivery of leading bespoke handling equipment while further expanding its global presence. Commenting on company's strategy now and over the coming years, Steven concludes: "Within the next couple of years we will have more of a focus on our special products offerings, including larger projects where we can add tangible advantages to operations, through increased efficiency, increased storage density and enhanced safety.
HUBTEX is committed to provide innovative technical and commercial solutions for the most demanding of material handling applications. "We aim to support our valued partners in a way that others are not able to and look forward to discussing challenging projects with prospective future clients during the SPE Offshore Europe Conference & Exhibition in Aberdeen 2015 in early September. You will find us on Stand 4D151 where HUBTEX extend a warm welcome to all interested parties."
HUBTEX
Services: Specialist Handling Equipment
Issue 125 October 2015