Hudig Forwarding and Warehousing BV
Forward thinking
As an integral part of the Hudig & Veder organisation, Hudig Forwarding and Warehousing B.V. provides logistical services to companies in a range of industries.
It is a company with a heritage that dates back a number of centuries, over which it has developed from a provincial ship agent to a global logistics provider.
The history of the business dates back to 1795, when John Hudig and his brother in-law established Hudig & Blokhuyzen BV. The partnership between the Hudig and Veder families was founded in
the early 1860s through the creation of Hudig & Veder, which became active as a ship owners and a ship agent. Its ownership was a matter of great interest in the 1900s with the Fontein family acquiring shares in the 1920s, and later, full control of the business in 1980.
The period was also noteworthy as it marked the start of the company's interest in forwarding activities. With warehousing operations becoming integral by 1991, forwarding operations were strengthened by the takeovers of Dammers Holdings in 1994 and van der Helm International in 1996. Now known as Hudig Veder & Dammers, it was decided that a merger with the remaining activity agents based in Rotterdam would be mutually beneficial. Further consolidation of forwarding and agency companies took place in 1999 and 2000, confirming Hudig's transformation from a traditional ship agent into a modern logistics service provider.
As such, the oil and gas department has taken on a prominent role. Talking to European Oil and Gas Magazine, Vincent Smeets and Ed van Laar, both account managers, explain the operations of the business: "Hudig works with several clients who are working in the oilfield, offshore and onshore sectors. As such we decided to establish a department that was wholly dedicated to those customers in the industry, as most of them prefer to work with an independent forwarder that is capable of handling a variety of shipments.
"Therefore, the oil and gas department of Hudig arranges the global transportation of its clients' cargo, using land air and sea. We are able to transport from the supplier through to the final point of delivery, and we use our own agents who are specialised in the area of handling. This means we can handle a variety of shipments, from small boxes through to entire units, by using our own contractors or vessels."
Elaborating on the company's practice of fostering close relationships with customers and contractors alike, Vincent Smeets and Ed van Laar, say: "Our attitude with our clients is very open minded; for example, we bring our contractors to the loading premises of our suppliers, in advance and during a shipment. This is especially true in the case of gauge shipping, as the contractor has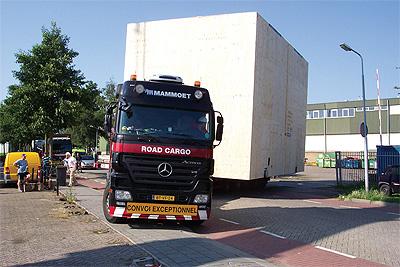 to work out the correct requirements or equipment that will best move the cargo in the correct manner. By working this way, we are also able to avoid any discussions afterwards. This commitment to clear communication, combined with our acquired expertise, is helping both ourselves and our clients to start and maintain mutually beneficial relationships."
A recent shipment required the company to showcase its wide range of expertise, as Ed and Vincent outline: "We transported a chemical injection skid from our base in Zaandam to a quayside shipyard in Singapore just last month. It needed the use of several methods, with haulage from the loading premises to the quay performed by our sub-contractor Mammoet Road Cargo, while Muller Dordrecht discharged a mobile crane, which was loaded onto the Singapore bound container vessel. On arrival it was transported directly to the quay by one of our agents. As with all transportation of this type, we appointed surveyors at both ends who controlled the handling and secured the cargo."
Clearly then, the network of partners that the business has developed plays a key role in Hudig's ongoing prosperity. But, according to Ed, its position as part of a multi-national logistics leader and an ongoing commitment to high standards are of equal importance. "Because we are part of the Hudig Group, we are able to contact our own chartering department if we need large modules to be transported. We have our own vessels and therefore have a great deal of experience in handling out of gauge shipments. Additionally, our standards are based on ISO and we are a member of the IRO (Association of Dutch suppliers in the oil and gas industry). That is as important as the good communication we have with our clients," he says.
Looking forward, Vincent is confident that the Hudig's rich heritage will guide the company through challenging times. "The business world is going through an interesting time because of the credit crunch and the high prices of resources. In such a period the importance of a solid service provider is paramount; given our proven track record, which dates back to 1795, we are considered as one of those providers. We will continue to look to expand the business with acquisitions that will demand our staff to use their considerable skill-set and creativity," he concludes.
Hudig Forwarding and Warehousing BV
Services Logistics