A driving force
With an 80-year history of excellence and quality under its belt, Huegli Tech is the leading supplier and wholesaler of engines and genset controls in Switzerland.
A family business, Huegli Tech is now being managed by Daniel Huegli, its third generation. A courageous step to found an automotive electrical equipment business in 1929 by Ernst Huegli, at the very early stages of motorised transport is a theme that has run throughout the company's years of service – always striving to be one step ahead of the game. Huegli Tech has survived a world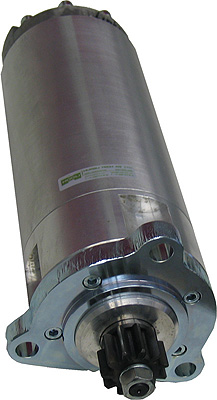 war and the introduction of the diesel engine to become a global supplier. Active worldwide the company provides wholesaling, servicing and prototyping facilities for a range of electrical, electronic and hydraulic equipment for combustion engines, generating sets, industrial vehicle and other industrial applications to a series of well-known manufacturers. Some of these major customers include Volvo, Scania, Iveco, Daewoo, all of whom operate across the globe. The company has three main work buildings, totalling 4000 square metres of offices, workshops, stores and training rooms. The company has branch offices in France, Russia, Singapore, Vietnam and Korea, as well as its main base in Switzerland.
Huegli Tech is ISO 9001:2000 accredited and has the main aim of producing premier solutions for combustion engines that work right from the beginning. Cédric Bühler, marketing manager at the company explains its main strengths and key markets: "We are set apart in the industry by our ability to meet all customer requests and we can provide customer-specific solutions for engines. We have a wide product range based around the combustion engine including; electronic speed governing systems, genset automation systems, engine protection devices, hydraulic engine starting systems and complete control systems for gas and dual fuel engines. We work as a manufacturing representative and have a wide distributor network around the world with subsidiaries in France, Russia, Vietnam and Singapore. Huegli Tech offers standard and customised solutions including complete support packages for those in the original equipment manufacturing (OEM), oil and gas, marine, offshore, mobile and engine manufacturing industries. Our production covers the whole market in Europe, the Middle East, Russia, Asia and some parts of Africa."
He adds: "It is a main issue for us to present our product solutions into all of these diverse spheres. As each market and its customers have specific needs it is important for us to adapt our marketing strategies depending on the local situations. To achieve this we take part in many exhibitions throughout the world to meet our clients and to present our tailor-made solutions; the subsidiaries handle the exhibitions themselves but with help from the main headquarters in Switzerland. Some of our main exhibitions include; SMM Hamburg, Intermat Paris, Gasuf Russia, Middle East Electricity UAE and the Hanover exhibition – we try to make our presence known throughout the world."
The company is a distributor, manufacturing representative and warehousing provider for companies such as Governors America Corporation USA, ComAp spol. s r.o. Czech Republic, Kocsis
Technologies Incorp USA, Trombetta and Chalwyn. These represented companies' products are used in conjunction with Huegli Tech's own to provide additional capabilities, combining years of experience in the technical industry. Along with its premier engineered products, Huegli Tech boasts a comprehensive support and service network providing consulting, training, customising, assembly, repair and on site support services to ensure its products continue to work at optimum level.
Cédric highlights the company's growth plans within the current climate: "During this financial crisis, interests about new products and markets will continue for us. We still have new products and contracts in the pipeline, such as ignition, gas mixer and controllers for mobile application (InteliDrive Mobile) developments, and I think it is an opportunity for us to continue expansion. Our main focus will still be on the combustion engine but I think there will be moves into the alternative energy market, such as wind, solar and water power systems. The energy demand will still be high during the financial crisis, it is only a question of how it will be supplied – by fissile or alternative means. We are in a strong position for the future because we are in a market position whereby the customer has to come through us to get what they need, due to our representative links. We expect a two digit percentage growth next year and we will continue to keep hiring the right high qualified people to extend our abilities in the market – we aim to be dynamic."
He concludes: "For the future we are focused on being a major player in the market, we want to extend on our know-how, using our strengths in the industry to extend the product range and serve more customers with a premium provision. We want to work as an independent company, separating ourselves from these difficult circumstances and continuing to grow. Our long term goal is to be number one in the market."
Huegli Tech
Products Combustion engines and controls