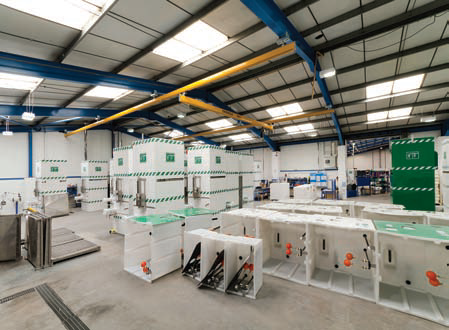 Safety first
A world-leader in the manufacture of emergency safety showers, eye/face wash and decontamination equipment, Hughes Safety Showers has supplied its innovative product range to a broad range of industries across the globe for more than 45 years.
Having built a reputation for excellence in engineering design, adhering to stringent quality standards, regulatory compliance and delivering an unrivalled level of customer service and support, the company has become a major global force in industrial safety.
"We are Europe's largest supplier and we have won the Queen's Award for Enterprise – International Trade in both 2006 and 2012, marking our achievements in export. We often set the benchmark to which most heavy industry, (oil, gas, petrochemical etc.) customers, contractors and specifiers rely upon when considering new or updated health and safety installations for onshore and offshore plants," says group sales director Paul Darlington.
"Our key customers include the major oil and gas companies such as BP, Petronas, Shell and Petrobras, while our customers in the Middle East include the Adnoc group of companies and Saudi Aramco, plus many of the downstream and ancillary businesses related to oil and gas. The company and its products also serve many industry sectors where there is a risk of damage to the eye or body with contaminants or products that may burn. These industry sectors include emergency services, CBRN, brewing, food, automotive, education, laboratories, pharmaceuticals and emerging markets such as renewable energy and waste management."
Hughes is proud to provide solutions in the most challenging of environments; products are even found in regions such as Kazakhstan, where cycle temperatures fluctuate from below freezing to desert heat in a 24-hour period.
"Compared with competitor companies who are additionally involved in general bathroom supplies or water filtration, we remain exclusively highly specialised in the emergency safety shower, eye/face wash market, and have been for over 45 years," says Steve Willock, marketing director at Hughes Safety Showers. "As a result we are close to the challenges faced by our customers as their markets expand and regulations change. With our focus on continuous product improvement, we can meet their needs as their demands evolve."
Indeed, as the oil and gas industry expands into deeper waters and more extreme environments, Hughes Safety Showers has had to evolve its product range to meet the needs of its clients. No stranger to innovation, it has revolutionised tank showers and today boasts a range of heavy-duty emergency polar tank showers that provide warm water in Arctic conditions, as well as outdoor emergency drench showers for environments where the water supply is at risk of freezing or overheating due to extreme temperatures.
In addition, it has significantly cut the cost of installing emergency safety showers in zone 1 hazardous areas by the design and installation of large capacity centralised chillers. Situated outside the zone 1 area, the chillers distribute cooled water to self-draining showers via a ring main. Typically, solutions include a centralised chiller with three high temperature potable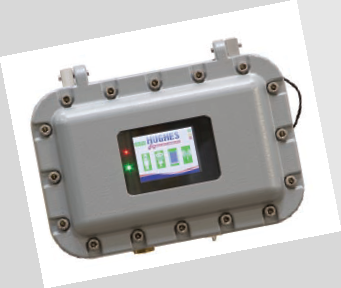 water chillers that are suitable for operation in temperatures up to 50 degrees Celsius, a stainless steel water tank and associated pumps, control equipment and pipe work. Two pumps are included, one of which is operational and the other on standby; each can provide water at the required pressure for several showers operating simultaneously while also maintaining water circulation throughout the system.
"An example of how this product has evolved to meet new challenges can be seen in a recent contract that involved 76 showers spread across three kilometres of pipework. The showers were served by a centralised chiller unit that kept the water between 16 degrees and 36 degrees centigrade, which meets the ANSI standard; the water is maintained within this temperature on demand to all 76 showers, 24/7, 365 days a year. This is a bespoke solution where our technology has evolved not into a single shower solution, but a whole estate of showers via the central refrigerated unit," says Steve.
Elaborating on the project further, Paul says: "The principle of our operations is relatively simple: we need to get water to hazardous areas. However, three kilometres is not an average site, it's pretty massive, and making sure that the system maintains its temperature so the showers don't scald is a challenge when temperatures in Saudi Arabia can rise to 68 degrees Celsius."
He continues: "Moreover, because showers are often distributed over large sites where levels of supervision are relatively limited and workers regularly work alone, we needed to not only ensure the showers work every time, but also that information gets back to a control room or a supervisor's room to alert someone that an employee is in need of medical attention. To meet this requirement, we have now developed the Sentinel control system, which can monitor and control the activity and status of the showers wirelessly; it is one of our most exciting developments in recent years and is being very well received by the health and safety sector as a major step forward."
Providing increased safety from its automated monitoring and data logging of each shower's status, usage and servicing, the Sentinel Electrical Control Unit (ECU) provides customers with a range of monitoring options that can be tailored to each client's individual requirements. Sending this extensive information to a specified centralised location as part of a SCADA system, the data is transmitted using MODBUS protocol via either a wireless mesh network or direct wiring from the shower to the control room. Launched at the 2014 NSC Congress & Expo in San Diego in September, it is anticipated that the Hughes Sentinel ECU will generate huge amounts of interest from the oil and gas, petrochemical and chemical industries.
Keen to continue growing and improving as an organisation, the company will open an office and factory in China, thus enabling it to take advantage of the booming Chinese market while also developing a regional base to increase business throughout the Asian region, which the company currently serves through a network of approved distributors. "We have aspirations to grow activity and further support our partners in Asia Pacific and particularly China, where we will open a new office early in 2015. We also look to expand in South America, building on our success in Chile, where we are the main suppliers to the gold and minerals mining industry, with further expansion in Columbia, Venezuela and Brazil," concludes Paul.
Hughes Safety Showers
Services: Designs and manufactures emergency safety showers, eye/face wash and decontamination equipment