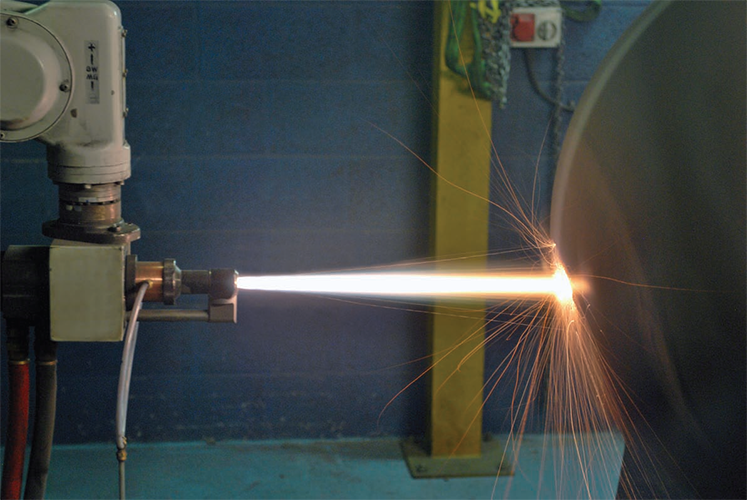 The silver lining
Hycrome (Europe) Ltd was founded in 1947 from a long established family engineering business that had manufactured components for the loom and textile industry.
The company's first main development was in 1951 when a hard chrome plating facility was introduced, complimenting its manufacturing facilities. The business built up its expertise and became a specialist applicator of chrome, nickel, zinc, cadmium, gold and silver, although it no longer actively carries out zinc, cadmium, gold or silver lining.
Progressing into the 1950s and 1960s Hycrome became involved in aerospace repairs and coating requirements, introducing grinding for post coating machining. In the 1970s and 1980s the business began its involvement in oil and gas valve component upgrades and repairs. In 1990 Hycrome became a wholly owned subsidiary of Score Group plc, which had been a user of its products. Score Group, set on developing the business and determined to offer the industry something different, invested money in the midst of quite an aggressive approach to its success.
Score Group put substantial financial investment and time into the company and continues to do so each year. In 1997 Hycrome relocated to a purpose built 63,000 sq/ft facility in Burnley that housed a full valve repair and maintenance operation.
Being heavily involved in the oil and gas industry, Score was aware that many of the platforms were reliant on additional power from gas turbine engines. With the financial backing and the relocation, the business started looking at overhauling, manufacturing and upgrading gas turbine parts for the power generation sector.
"We wanted to offer more than just service and repair to valves that require maintenance every six to 12 months. With the upgrades we offer, the longevity of the valves' performance may be increased to 18 to 24 months," explains business development manager Paul Sconce. "The solutions and services on offer, allow long term cost savings, increased product performance and rapid turnarounds. We are reacting to what the industry needs," he adds.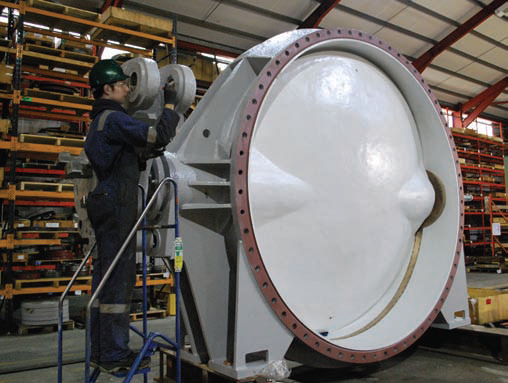 The coatings offered by Hycrome are applied by an array of methods and materials, offering advanced thermal coatings and the latest repair methods. The applications are used on products such as ball valves, mechanical seals, shafts and pistons amongst many others. Many of the coatings and application services on offer are used to reduce friction, enhance the wear resistance or increase the corrosion resistance of the product within its environment.
Reflecting on the growth into this area Paul says: "The services that we offer cover many industries but by 2003 we really focussed on oil and gas, power generation and aerospace. In the past ten years we have significantly grown the business in all three of these areas. We are no longer just a service provider; we also offer engineering support, manufacture and create new business through repair schemes for the oil and gas industry and power generation.
"We are here to ensure that brand new parts benefit from longevity of life, and old parts are repaired and brought back to the original standard or to the next level. By taking a proactive and innovative approach we are able to generate repair schemes that suit the needs of the industry. Some of the repairs we have been looking at are for products that have been subjected to erosive chemical reactions."
The company recently achieved second place in the Burnly Business Awards' innovation awards, recognised for its technological investment in thermal coatings, laser fusion welding and general repairs where coating principles apply.
Hycrome has refined its chemical usage, reduced utility spend despite price increases, developed repair schemes and products to increase efficiencies throughout its industry sectors, and most importantly, introduced green initiatives within the business. Tartaric Sulphuric acid anodise had been introduced as a cleaner and environmentally friendly alternative to chromic acid anodise as an aluminium surface treatment. ISO 14001 environmental management has been established for many years along with other industry known accreditations such as NADCAP.
In the economic crash, as with many operations, the company had to cut back but since recovery began has made a gradual increase in employment and turnover, and Paul is looking optimistically to 2014: "We could be exceeding eight and a half million pounds next year with orders from our current customer base, so year-on-year we are looking at a ten per cent growth."
The business is also focussed on the safeguarding of apprenticeships and jobs at Hycrome. Expanding on his confidence Paul says: "Each year we take on four to five apprentices. They do not necessarily have to be school leavers either. Our focus over the past four years has been to generate the skills level in Hycrome. Employees are moving through to supervisory and management roles, and we equip those who want to progress with the resources to complete further courses and degrees. It is in the interest of the business to develop knowledge and it is recognised that we invest in our people."
An additional 10,000 sq/ft extension to the facility is due to be completed by March 2014, and the business is set to grow physically and meet the demands of expanding within the industry.
Having reached the end of its financial year, the company has been in a position to review the strategic approach. Paul discusses: "Last year we focussed on growing within the client base that we had. Naturally, from a sales role, we did take on a few new contracts and clients that is as a result of the growing demands of the industry. We have spent time on skills and training to provide our customers with the full support of quality, delivery and cost."
He concludes: "Looking towards the next year, we are looking to grow what we have got. Over the last two years we have established eight new customers based nationally around Europe and we are making sure that we are well positioned to service their needs. Quality and integrity are two key factors in business, so it pays to be selective with the contracts you take on."
Services: Engineering and surface treatment specialists