Going global
Operating in line with its vision to become a global leader in the steel construction and fabrication industries, the Hydra Arc Group consists of associated companies that operate primarily within the petro-chemical, construction, mining and power generation industries. Hydra Arc (Pty) Ltd was founded by José Maciel during 1988 as a response to an industry need for specialist welders from which the business quickly grew into a fullyfledged maintenance, mechanical and piping construction contractor. As the business continued to grow it eventually became necessary to separate its different divisions into separate companies, to allow each to focus and grow within the group. As such, today the Hydra Arc Group consists of a number of separate companies, each specialising in specific areas of expertise.
Throughout all of its associated companies the Hydra Arc Group provides a comprehensive package of project management, procurement, construction, fabrication, maintenance and related services to its clients within the petrochemical industry. Furthermore companies within the group are also able to fabricate vessels, supply specialised construction and welding consumables as well as to supply skilled construction and maintenance labour. Across all of its competences and disciplines, welding remains a core component in the company's service offering. As such Hydra Arc combines the latest technology with the best welding skills in the use of carbon steel, stainless steel, aluminium, chrome and nickel, using processes such as gas tungsten arc welding (GTAW); shielded metal arc welding (SMAW); flux core arc welding (FCAW); and oxy-fuel welding (OFW).
Development on the Sky Hill workshop complex commenced in October 2009. By March 2010 Sky Hill had secured its first order, the fabrication of a major portion of the steam ducting for the Medupi power station. This demonstrated the need for this type of workshop capacity, not only in South Africa, but globally. The Sky Hill fabrication facility is a 'World Class' pressure vessel, piping, heat exchanger and structural steel fabrication facility. The primary fabrication facility consists of four workshops representing 75,000m² under roof and outdoor fabrication platforms of approximately 50,000m². The primary fabrication facilities are supported by a 10,000m² pipe shop, a 5000m² laser and plasma cutting shop, a 10,000m² primary store for equipment, tools and consumables, approximately eight hectares of lay-down area and materials stores, an electrical shop, diesel and petrol mechanical shops, a fully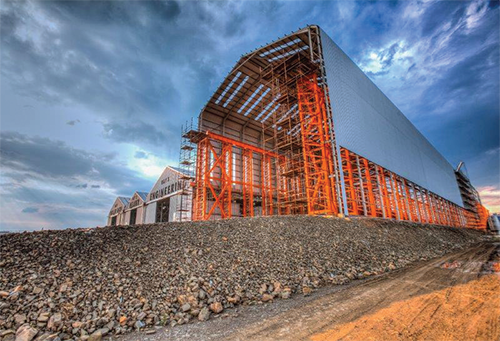 equipped machine shop, a carpentry shop, a management and support staff complex and canteen and ablution facilities. The equipment utilised in the workshops represent the very latest in technological advancement and includes a PWHT oven (possibly the largest in the world) of 70m long by 10m wide with a temperature range from 0°C to 900°C, a second PWHT oven, 15m long by 6m wide, temperature range from 0°C to 400°C, overhead crane with lifting capacity of 1500 tonnes and 19m under hook, a backup generator 'power station' capable of indefinitely powering the entire site in the event of power failure, five rollers with varying rolling capacities from 6mm to 150mm, a 1250 ton press with a bending capacity of up to 7.5m, specialised welding booms and rollers, designed and manufactured by Sky Hill, for the fabrication of large pressure vessels and a fully equipped plasma and laser cutting shop.
"Our focus on training has enabled us to attract and retain the essential skills required to maintain and develop our various businesses. This is as true today as it was when we were founded in 1987. Our skilled people are, and will remain, the cornerstone of our success," explains CEO of the Group's Sky Hill Engineering Division, Sheldon Nel. "Welding is a major component of the Hydra Arc Group's core business, and as part of its Human Resources Development strategy, its focus is to up skill welders to combat the serious lack of these skills in the industry and country. In line with this human resource development strategy, the Hydra Arc Group recently recruited 30 previously disadvantaged learners in a group consisting of 15 males and 15 females."
In addition to the development of in-house training programmes for its current and future staff, as part of its commitment to growing its global presence as a leading force in pressure vessel maintenance and construction, Hydra Arc is equally as keen invest in its plant and machinery. As such the company has recently purchased an RCMI 400 bending machine from the Italian firm Faccin – specialists in the design and construction of plate bending roll, profile bending machines and dished head forming lines. The RCMI 400 series represents the latest evolution of profile rolling machines, designed and built for bending high resistance structural profiles with section modulus up to 4.500 cm3. Hydra Arc decided at the beginning of 2015 to invest in a large Faccin section bending and profile bending machine with the ability to bend different types of profile including I beam up to 660mm 'on edge' and pipes up to 20 inches diameter. With its investment in new equipment Hydra Arc will strengthen its position of market leader in the structural steel business, while Faccin confirms always to be the preferred choice when extreme bending needs are required.
In a little over two and a half decades, the Hydra Arc Group has grown into a market leader in the provision of construction and maintenance services in pressure vessels, as referenced its recent receipt of the Quality Achievement Award and the ISLQ Diamond Award in London and Paris respectively during 2015. In the wake of this acclaim, the company will seek to strengthen its global position and continue its mission to be the best within its industry, through adding value to its clients by delivering quality services, safely and on time through committed people.
Hydra Arc Group
Services: Associated companies that operate primarily within the petro-chemical, construction, mining and power generation industries
Issue 125 October 2015