The highest quality
HYDRAtech is a leading hydraulics/cylinder supplier. More than 95 per cent of the company's production is exported to customers worldwide, effectively making it one of the most acclaimed manufacturers of hydraulic cylinders worldwide.
The company specialises in creating tailor-made, individually designed hydraulic cylinders and participates in the process from idea to reality. Its main customers are to be found within the marine and offshore sectors, but the company also works in the mobile and industrial sector and more recently, on wind and renewable contracts.
In fact, hydraulic cylinders are key elements in a vast number of working processes involving moving and transferring power. The quality of these cylinders is crucial in ensuring the satisfactory operation of a wide selection of equipment.
A Swedish group founded HYDRAtech in 1975, and after many years of successful growth, in 2003 the company created a Chinese entity. This means that HYDRAtech is now perfectly located as a large quantity of bulk carrier production is in China and East Asia. HYDRAtech's main customer, TTS, is dominating the Chinese market through its Chinese subsidiary TTS Hua Hai, located in Shanghai, and additionally there are still untapped possibilities for supplies in Korea and Japan.
HYDRAtech's Chinese factory now accounts for more than 50 per cent of its production, while its competitors are just now initiating production in China or are in their first few years of operation. Therefore this Chinese production setup gives HYDRAtech a significant advantage as the country's investment in shipyards is estimated to bring 40-50 per cent of global shipbuilding to China.
Echoing its expansion into the Chinese market, in March 2010 HYDRAtech announced the acquisition of CRC Manufacturing Inc., based in Alabama in the US.
This transaction establishes HYDRAtech's presence in the region, as well as developing and improving its offering to its US customers. CRC's customers will benefit from the international scale of HYDRAtech's operations, which are now capable of manufacturing and repairing cylinders on three continents.
The strength of the combined relationship is key to this transaction, allowing the united companies to achieve a global presence. While the HYDRAtech facilities in Denmark and China will concentrate on European and Asian markets, the US facility in Robertsdale, AL, will be responsible for servicing the Americas region, which includes both North and South America.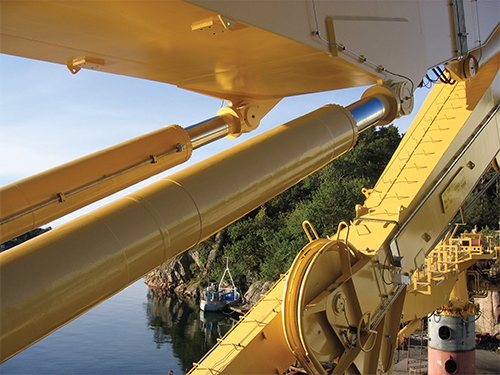 Kim Weidemann, chief executive at HYDRAtech, said: "This strategic acquisition of CRC Manufacturing Inc. will significantly strengthen our position within the region, as well as benefiting both businesses' customer base. CRC's heritage and longevity and knowledge of the local market, combined with HYDRAtech's competencies in production and tailor made cylinders is a formidable offering, which will ensure that the new business goes from strength to strength, offering confidence and value to our customers over the next year and beyond."
As mentioned previously, one of the areas in which HYDRAtech's products are frequently utilised is the offshore sector, and this environment is a demanding test of reliability where hydraulic cylinders often work under extreme loadings and in unpredictable and harsh environmental conditions.
The company works closely together with all classification companies worldwide and is able to meet the stringent quality and documentation requirements such as traceability of all design and components, full documentation for applications that require durability and operation, fully certified welding procedures, ongoing monitoring of all manufacturing processes and full documentation of administrative procedures as well as all testing and approvals.
Additionally it has entered into a manufacturer surveyor agreement with DNV-MSA, and is authorised to make the certifications of most cylinders itself. In addition to standard offshore/marine cylinders, the company also offers customised solutions such as:
Storage batteries
Active heave compensation
Riser tensioners
Special crane cylinders
Chain jack and mooring systems
Skidding systems and clamping units
In addition to offshore, HYDRAtech is also in a leading position in the marine sector, where its sales consist mainly of cylinders for hatchcovers on bulk carriers. These account for more than 90 per cent of sales, however, HYDRAtech also supplies cylinders for other segments such as deck cranes and RoRo. Most hatchcover solutions for new builds are supplied by OEMs (primarily TTS, Macgregor and Seohae).
As demands for renewable energy continue to increase and more wind farms are established, HYDRAtech is keen on participating in developing projects or making known solutions for wind farms and wave energy. In this latter area, HYRDAtech is participating in a wave energy-developing pilot project called 'Poseidon' with its hydraulic solutions. For this project it has delivered specially designed hydraulic cylinders with a diameter of 600 mm.
In the wind energy sector, the company can use its advantage of having production facilities in the Asia/Pacific area, as local production in that region is often a factor for winning contracts for orders on projects such as big wind turbines.
The hydraulic cylinders used in wind farms come under the category of 'stationary installations', and this also includes industrial products such as concrete and paper machines. In all of these areas HYDRAtech maintains its focus on producing a high level of quality, cleanliness in installation and 100 per cent testing of all cylinders. This ensures that HYDRA tech cylinders are always an excellent choice for applications, which require durability and constant use, and where maintenance and repairs must be kept at a minimum.
In addition to stationary applications, HYDRAtech hydraulic cylinders are in great demand for all kinds of mobile installations, primarily because of their sturdy construction and well-documented technical qualities. Vehicles and other mobile installations place heavy demands on the reliability of the hydraulic cylinders, which are key elements in many operating functions. HYDRAtech offers special solutions for the mobile sector. As an example it has designed and delivered custom-made shock absorbers, combined storage cylinders and hydraulic stone release systems for farming equipment.
Overall, HYDRAtech is well positioned to benefit from its market leading position. It has established longstanding and deep relationships with key customers, and over the years has built up a huge knowledge of hydraulics with a focus on cylinders. Its position at the forefront of the industry has been achieved through a dedication to creating proprietary designs, and the foresight to establish new facilities in areas of the world where demand is set to increase.
HYDRAtech AS
Services: Hydraulics/cylinder supplier