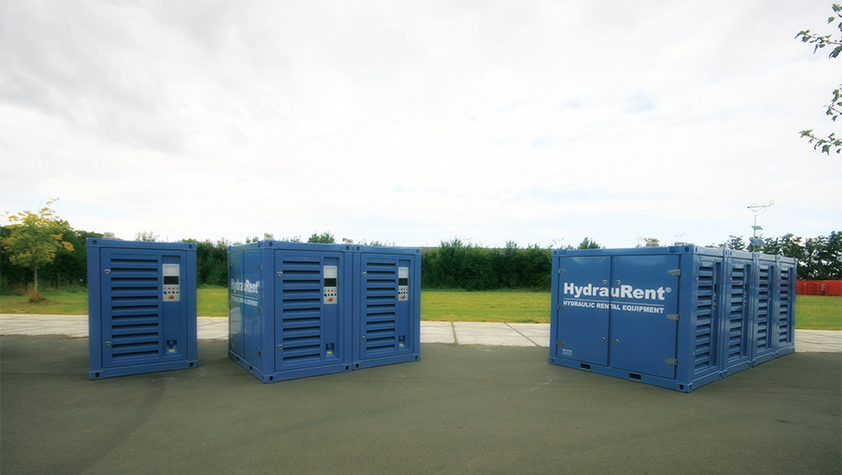 Providing power
HydrauRent is a leading provider of customised hydraulic rental equipment to clients in the oil and gas market.
The business, which prides itself on its flexibility, speed, cost control and a wide range of equipment, offers hydraulic solutions that are necessary when clients require additional capacity. This can include hydraulic power packs, hydraulic winches, or hydraulic flushing and filtration units, installed to meet the particular demands of each customer.
The business is a subsidiary of Hydrauvision Hydraulics and Pneumatics, a specialist in hydraulic systems and associated equipment. Elbert van den Brink, general manager of HydrauRent explains: "Hydrauvision's first rental activities, under the name of HydrauRent, started eight years ago following a specific customer request. Since 2008 HydrauRent has operated as an independent company in the Hydrauvision Group designing and developing equipment based on market requirements and opportunities.
"Regarding that market, our main customers at present are service providers for the oil and gas sector," elaborates Elbert. "An example of this is Ampelmann, which uses our equipment for many of its clients in the oil and gas field. Together with this we deliver rental products to ExxonMobil, Total and Shell, and these deliveries can range from our HydrauPack and HydrauWinch for operation at a platform at sea, to a rental EX degassing/dewatering unit for cleaning oil in a refinery onshore."
Clients use HydrauRent's equipment when they need additional hydraulic capacity in order to complete a project or operation. Renting extra equipment offers the advantage of avoiding high investments for a project. No maintenance and management of equipment is required after the project is done, and the customer can calculate in advance set prices per week during the duration of the project. "Besides these obvious advantages HydrauRent can provide customised solutions and support for engineering challenges," Elbert continues.
"The equipment that we provide is very flexible, diverse and can reach hydraulic power up to 800kW, even higher by combining various units together. HydrauPacks can be rented individually, or be combined with HydrauWinches for example for mooring, with options like CT (constant tension) and remote control. The HydrauPack range includes various models, ranging from the electrical driven HydrauPack 15EM, with hydraulic power of 15kW, up to the diesel-driven HydrauPack 500.
"HydrauWinch is the brand name for HydrauRent's range of hydraulic winches, available in a wide range of tonnages from five ton up to 80 ton. For subsea operations HydrauRent also offers Active Heave Compensation for its rental winches so they can work on barges and ships for placing equipment on the seabed. Another advanced solution is the synchronising of winches, making it possible to operate for example four different winches like one winch to lift up a structure of up to 1000 tons."
Recently HydrauRent invested in the strategic expansion of the rental fleet with the HydrauPack 45E ATEX (hydraulic powerpack that is designed and approved for working in ATEX zone I circumstances) and a HydrauPack 30E suitable for operating with water/glycol. This unit is designed for tools for under water operations, where hydraulic oil is not allowed. The unit delivers high-pressure water/glycol up to 500 bar.
"To maintain hydraulic systems, our rental fleet also consists of a wide range of flushing, filtration and dewatering systems that have been specifically developed for professional cleaning and support, for example in the oil and gas market," adds Elbert. "A recent example is the long-term flushing project where our customer rented the biggest flushing unit to flush over 4000 l/m. Two flushing units were combined and worked like one unit to flush pipes with a diameter of approx. 140mm to get a guaranteed cleanliness of the pipes before being installed in a ship.
"We have considerable and extensive hydraulic rental know-how and experience that is based on more than 30 years of working in the hydraulic field. Built on these skills HydrauRent can provide engineers who will install the system and work with clients to get it up and running. Then, if the client needs a commissioning engineer we will provide highly trained and experienced personnel to operate the units, and also provide maintenance on all units at any location around the world."
Offering such a complete package to clients enables HydrauRent to reach considerable success. "HydrauRent is growing rapidly," says Elbert. "We were not affected by the recession in a negative way, in fact it was quite the opposite as many companies were renting rather than investing in new equipment. At present we are active in the Netherlands, Belgium and Aberdeen and the main focus for the next few years will be to expand our presence in Aberdeen with local equipment and support.
"Our main ambition for the coming years is to be recognised as a leading provider of hydraulic power, with options like ATEX, technically advanced winches and high performance flushing units for oil and gas customers. Naturally we will continue to invest in our fleet and try to customise as much as possible without losing our focus on standardisation. This will enable us to offer complete solutions and support, including engineering and services, to meet even the most demanding needs of our clients worldwide."
HydrauRent
Services: Hydraulic rental equipment