Hydro Drilling International
Well drilled
For over three decades, Hydro Drilling International (HDI) has provided drilling services to the world's oil companies.
While most of its competencies are related to drilling and workover activities in Italy, HDI has been operating in North Africa and has experience in drilling water, geothermal and carbon dioxide wells. Its 200-strong workforce is comprised of engineers, geologists, rig superintendents and skilled field personnel.
Sales & marketing manager Marco Pellei outlines HDI's background: "Established in 1976, our name comes from our initial focus, which was water well drilling. Shortly after formation, HDI's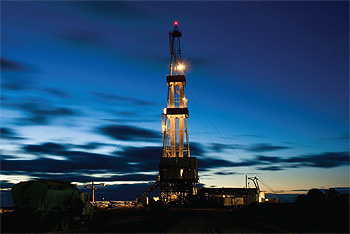 owners switched the core business to oil and gas wells, though our company name remained. A small Italian industrial group purchased and renovated the 'old fashioned' company in 2005 and, since then, our workforce has become younger and new rigs have been purchased and/or revamped. We acquired a 1300 horsepower hydraulic rig in 2007 and an identical rig the following year. A purchase order has also been sent out for a 2000 horsepower rig, to be delivered in the second half of 2010."
While HDI is a small company, owning six rigs, its key strength is its innovative technology, as Marco explains: "The fully automated hydraulic rigs we purchased in 2007 and 2008 are cutting edge. This high performing technology reduces health and safety risks, and is environmentally friendly. Market price of high technology equipment is higher than the price of traditional drilling services but, at the end, the cost of a single well is much smaller because the time needed and the risk of error is much lower. This is the biggest feature of Hydro Drilling – we're trying to implement new models that don't have any problems."
Elaborating on the organisation's work, Marco discusses HDI's clients: "We have operated mainly in the Italian market and ENI has always been our main client, with another key client in Italy being Edison, which is part of the EDF Group. Edison is active in gas storage and gas production, so it is a good client for us. An important customer is Stogit, which is a company within the ENI group that specialises in gas storage. Since 2006, Italy has endeavoured to become a European hub for gas storage, so much of our activity is dedicated to gas storage development plans. Besides that, we work with firms like Northern Petroleum, Forest Oil, Total and British Gas."
HDI's overriding focus is on the drilling market, so it provides a variety of related services, possesses geological competencies and provides full crews for rig management. Discussing the offering, Marco reveals: "One of the most requested services recently has been turnkey services. Specialised subcontractors provide us with a cost estimation, before we provide the full package to the clients, including project management. Our high competencies and experienced staff enable us to provide this kind of management for smaller clients that don't have a big structure to manage the development plan for one or more wells."
Marco sheds light on how the business' technology enables it to realise clients' plans: "With our two HH220 rigs, the biggest advantage is their possession of specific tools that allow for the rotation
and circulation of mud whilst running the casing. A traditional, older rig does not have this kind of device. It takes less time for us to screw one drill pipe to another, as our rigs are fully automated in 60 seconds – you can put a new joint on the drill in less time than the four/five minutes taken by traditional rigs. This dramatically reduces the risk of the drill string getting stuck and the HH220 rig has been widely appreciated for its performance. The investment in a fully equipped 1300 horsepower rig is about 18 million euros, but the technology pays dividends in terms of time saving as well as health and safety, so it's cost effective."
In terms of HDI's 2000 horsepower rig, there are no client commitments yet but the organisation knows that this kind of rig will find work in the Mediterranean basin, as well as in Europe, which is why it took the decision to make the investment. Usually a client would sign a long-term contract before HDI considers adding to the fleet, and through this the company has invested 60 million euros over the last three years. With the 2000 horsepower rig completed, there are further plans to increase the fleet, basing decision on market requests.
Marco outlines HDI's recent projects: "We're completing the first phase of a gas storage field in central Italy for Stogit. The two rigs are working together in the same area and the client's standards are very high, which is why Stogit chose our rigs. For Northern Petroleum we have provided a rig and facilitated the company's every need without overstepping the mark. As a result, the well was completed and the client was satisfied."
HDI is currently finalising the opening of a branch in Libya, exploring interesting contracts in North Africa and looking to become a pan-European drilling contractor.
"This is what's missing in Europe because each country facilities in-country contractors," Marco asserts. "We'd like to have a rig that complies with most European rules in the drilling market, so that a company like Northern Petroleum, which has operations in the UK, the Netherlands and Italy, can use the rig."
He concludes: "My biggest wish is to become international. We'd like to foster a confidence with our clients, to become more like a partner than a drilling contractor, which would involve flexible contracts and sharing technologies."
Hydro Drilling International
Services: Drilling