Engineering excellence
Hydropower is an expert in the development and supply of advanced hydraulic solutions for the oil and gas industry, specialising in overhaul kits and equipment.
Its activities include the design of hydraulic plants and sale of hydraulic components, as well as providing an extensive range of services including maintenance, repair and troubleshooting. Its well-qualified project and service engineers co-operate with some of the largest hydraulic equipment manufacturers in the world, and Hydropower boasts expertise in the maritime, mobile, agriculture, offshore and industrial sectors.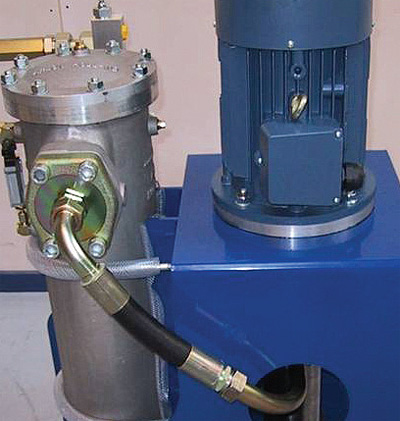 Managing director Leif Dircksen elaborates on what the organisation can offer its wide range of customers: "Hydropower was established in 1974 and today we're part of Dacke PMC, which is a Swedish company that owns 22 companies in the Nordic region, the Baltics, Russia and China. Hydropower have 1600 employees divided between our headquarters in Esbjerg and our sub-branches spread all over the country. Besides the offshore marine market, we are involved in the mobile and industrial sectors, and oil and gas is a big market for us since practically all varieties of hydraulics are involved in that industry. We have built up more than 25 years of experience in the offshore and marine market, and have had contracts with certain companies in the oil field for more than two decades. I'd say our two key markets are the offshore marine market and industrial sector, specifically relating to wind application."
Hydropower is a principal member of Offshore Consortium Esbjerg (OCE), a group of ten companies set up to gather different offshore contractors to complete both small and large turnkey projects.
These include:
ABB
Blue Water Shipping
Angroup-Energy
Force Technology
Gardit
Niras
Ocean Team Scandinavia
Persolit and
Promecon
With the Danish oil and gas industry currently flourishing, many suppliers within it already have a full order book and find it difficult to take in more so this new initiative was perfectly timed to solve this issue. The consortium creates a greater synergy, making use of different disciplines of the member companies and each represents years of offshore expertise and knowledge.
Advantages of the consortium include having only one contact for projects involving many different specialist areas and better use of resources resulting in shorter delivery times. Leif gives an overview of the concept: "Several years ago we, along with a couple of other similar companies, were working separately in the offshore business and realised that to be involved globally and undertake bigger jobs it was necessary to form a consortium. It's difficult to obtain credibility in this market without having the right back up."
Besides the strength that being a member of this group brings, Hydropower has many other benefits to offer its customers. Commenting on the company's attributes, Leif says: "We're very flexible and smart with solutions, which are all tailor-made for the purpose that our customer requires. We have practically no standardised products here – in fact we never use that word as we prefer to focus on customised solutions. Aside from our flexible approach and ability to work closely with clients on products, I'd say the secret to Hydropower's success is humour – it's very important to us because the businesses t
hat contact us may not always be relaxed since time is money after all."
The company's core competencies lay in the offshore industry, project management, engineering and design, service and maintenance, and repair and overhaul. Hydropower aims to ensure that once its components are installed, the hydraulic enhancements pay dividends not only today but well into the next century as well. Many renowned companies have placed their trust in the company as Carsten Jensen, head of sales, reveals: "In the offshore world, we can count companies such as Ocean Team Scandinavia as customers and have various contracts with Maersk Oil & Gas and Noble Drilling as well, to name just a few."
Adding to its already impressive product line, the organisation has developed a hydraulic power pack for drilling rigs that operates at low noise and pulsation levels, has ATEX approval and is designed for longevity: "We offer many different services but we're building the main power pack units for oil rigs at the moment and then we will be able to overhaul all of the related hydraulic equipment," explains key account manager Anders Kristensen. "Hydropower has developed a special overhaul kit for use all around the world for its national cranes OS 435 and OS 215."
In thinking about moving forwards, Leif has identified two challenges that it must tackle in order to sustain, and expand upon, the business' current success: "We need to maintain sufficient manpower in order to keep quality high and we have to convince the oil and gas industry to see the possibilities of working with us – a company that is a specialist in that field. Together with our sister company in Norway, which also belongs to Dacke, and the Esbjerg consortium we're sure that customers will realise what we can efficiently provide."
Considering the future of the company as well, Carsten adds: "We think that the offshore market is a sector in which we will expand over the next year. As you know, we have employed Anders Kristensen now, who is the account manager responsible worldwide, which means we can focus on moving more aggressively into the offshore market. In that respect, we're seeing more enquiries coming to us now and view the offshore market as extremely important for our future development."
Hydropower
Products / services: Hydraulic solutions