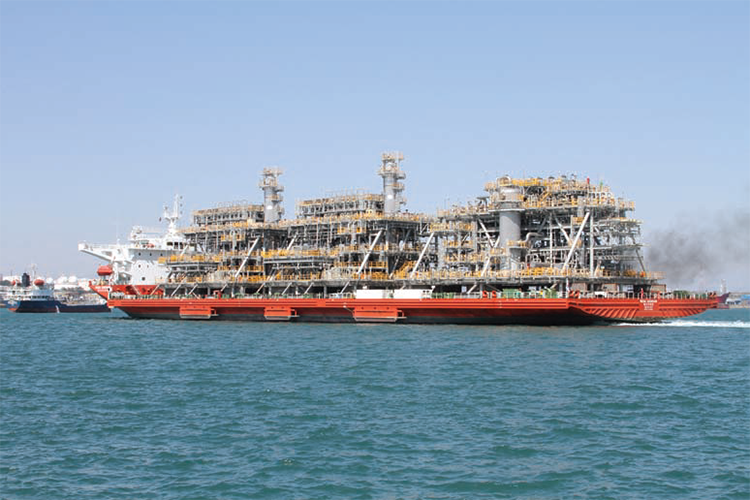 Heavy duty
Founded in 1972 by the late Chung Ju-yung, Hyundai Heavy Industries (HHI) cultivates a vision of operating as a global leader in the heavy industries sector.
Indeed what began as a dream was quickly made into a reality as the company rapidly established itself and determinedly expanded in line with the 'Hyundai Spirit' encompassing creative wisdom, positive thinking and unwavering drive. By June 1974 HHI had completed and commissioned the world's largest shipyard, located in Ulsan, South Korea and today the yard extends across two and a half miles along the coast of Mipo Bay in Ulsan and covers an area of 1780 acres. During the same period the company successfully completed the construction of two 260,000 DWT very large crude carriers (VLCCs) and only a decade after this initial delivery HHI topped ten million deadweight tons in aggregate ship production, with the company retaining a leading position within the world's shipbuilding market ever since. The next key chapter in the company's history occurred in February 2002 when HHI moved away from the Hyundai Group. The independent establishment of the Hyundai Heavy Industries Group included mergers with Hyundai Samho Heavy Industries and Hyundai Mipo Dockyard.
Since it was last featured in European Oil and Gas Magazine during June 2012, HHI has continued to win high-value orders with some of the oil and gas market's leading operators. "In 2013 we booked new orders worth $6.5 billion," explains senior vice president of HHI's Offshore & Engineering Division C.S. Kim. "The new orders won by HHI include a spar floating gas platform in Norway, an FPSO for a project in the North Sea and a tension leg platform and floating production unit for the Congo's Moho Nord field. We also won pipeline orders in Qatar, India and Vietnam as we successfully secured a balanced order volume for both our fabrication and installation businesses. As for projects delivered, we have completed the Ofon platform in Nigeria, Vanguard heavy lift vessel, Ras Gas platform in Qatar and the Thang Long-Dong Do (TL-DD) pipeline in Vietnam on schedule. We also made the decision to build a 10,000 ton floating crane to improve the productivity of our topside and module production operations. The crane is expected to enter service in the first quarter of 2015."
During 2014 alone HHI has won projects including an FPU in Indonesia, Bergading fixed platform in Malaysia, a pipeline order for Nghi Sin Refinery and Petrochem complex in Vietnam and the second package of the Nasr Full Field Development (FFD) project in UAE. The $1.94 billion order for the second package of the FFD is a major project comprising a gas treatment platform, separation platform and accommodation platform as well as a bridge and bridge support tower and flare tower. The package will also include subsea power cables and other components. Commenting on how HHI will approach the project C.S. Kim says: "HHI is well aware that the early commitment to the FFD is the key to completing the project successfully.
To achieve this, HHI has already finalised the mobilisation of the project personnel and established the relevant plans such as manpower resources and yard facilities operation dedicated to the project."
Furthermore HHI has many years of experience in delivering large projects and crucially in liaising with all involved parties, as C.S. Kim elaborates: "Taking into consideration the complexities of major projects, including Nasr FFD, the effective management of interfaces at all projects' levels is critical and essential for the successful execution of the work. HHI always co-operates with other contractors and third parties for the successful resolution of external interfaces that may affect the clients' or other contractors' execution of their scopes of work."
As part of its mission to remain at the forefront of the heavy industries sector, HHI regularly invests in the development of revolutionary technology that can deliver significant benefits to the oil and gas market and other sectors. In July 2014 HHI developed a revolutionary new remote control welding robot, which is designed to greatly increase welding efficiency. "We expect that our new robot's faster welding speed will help increase operators' productivity," Kim Eung-soo, manager of Overseas PR Department of HHI, says, "The new hot-wire tungsten inert gas (TIG) robot combines conventional welding process with a six-axis robot that HHI independently developed. The robot can weld six times faster than manual welding as it can continuously support more welding wires. Also, it features a remote control system to enhance work efficiency."
As well as developing the TIG welding robot HHI has also recently unveiled its Hyundai intelligent Collision Avoidance Support System (HiCASS) to aid in providing safe and optimum navigation of vessels. "The system searches for optimum sea routes and prevents collisions by automatically detecting potential obstacles such as ships and reefs that are within 50 km distance," explains Kim Eung-soo. "In addition, the enhanced accuracy of the system enables vessels to identify hazards based on the type of vessel, weather conditions, waves and wind. Also, the system is equipped with a collision notification system that signals 'caution', 'urgent' and 'danger' to ensure safe operation at sea."
When installed along with voyage systems such as automatic radar plotting aid (ARPA), automatic identification system (AIS) and electronic chart system (ECS), HiCASS is capable of analysing the locations of obstacles according to international regulations for preventing collisions at sea (COLREGS).
Throughout the rest of 2014 HHI will focus on expanding its capability in building the world's largest floating offshore units. Presently it is building a new shear leg type heavy lifting vessel at its shipbuilding affiliate Hyundai Samho Heavy Industries. The vessel will have a lifting capacity of 10,000 tonnes and is due to begin operation first quarter 2015. With this vessel HHI will greatly expand its ability to build FLNG units and floaters such as FPSO, TLP spar and so on for deepwater exploration and fixed platforms.
"The recent growth in global gas demand is spurring major gas field developments especially in Australia, North America and Southeast Asia, leading to increased orders and inquiries for both floating LNG units and onshore LNG modules," observes C.S. Kim. "In West African states, development of oil resources to fund national infrastructure will be anticipated to continue as planned. We will concentrate on the above areas and also continue to leverage our production capabilities to win mega floating facility projects as well as further sharpen our competitiveness in traditional EPCI platform projects."
Hyundai Heavy Industries
Services: Heavy industries service provider