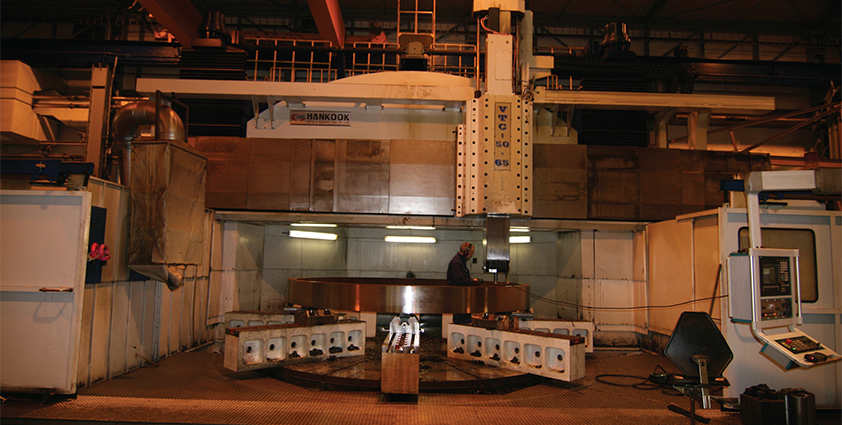 Winching towards success
Now within its fourth-generation, over the years family owned company I.P. Huse's business activities have progressed from herring oil production in 1927 to a world-leader in the design and production of winches for anchor handling vessels (AHTS).
Disappointed by the machinery available on the market at the time, company founder Ingebrigt P. Huse established a mechanical workshop to develop his own range of equipment. Achieving great success in the market, this machinery was exported to other countries across the globe. In 1941, in co-operation with Einar Røsok, Ingebrigt and his son Paul established the hydraulics factory, Hydraulik Brattvaag, which today operates as Rolls-Royce Marine. This was the beginning of a long and lasting relationship between the two companies, which continues to this date. Following the growth of the Norwegian oil industry in the 1960s I.P. Huse began to develop its purpose built anchor-handling winches. These form its core business today, with the company offering winches of up to 600 tonnes lifting capacity and space to accommodate more than 30,000 metres of synthetic mooring ropes on one shipset of winches
Located on the island of Harøy off the western coast of Norway, the company employees 130 members of staff, which makes up ten per cent of the island's population. Alongside the AHTS winches, I.P. Huse also provides support equipment for tasks such as spooling, fairleads and mooring equipment for drilling rigs, FPSO's and pipe layer vessels. Equipment and materials for production of the winches are catered for by the company's strong network of suppliers. "As a relatively small company, we work to establish long-term relationships with our suppliers and sub-contractors so that we can rely on one another when it comes to sourcing high-grade and high-tech materials at the right price," explains Morten Hopland, technical manager of exploration and production.
In fact these relationships go beyond the simple procurement and sale of materials, with I.P. Huse working to help progress its suppliers further – whether through the loan of more efficient equipment, or the development of new techniques. "We have weld material suppliers that spend a lot of time on site developing new welding methods, which enables us to optimise the way we work," notes Morten.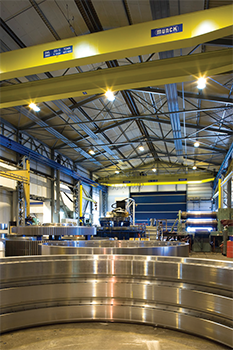 "As a business one of our key considerations is the best application of technology to the product, which is why we invest approximately 30 million NOK a year in our machinery and facilities. Located where we are there is not really the capacity to expand our human resources so the exploitation of technology such as welding robots, which can operate 24 hours a day, is key to keeping the business competitive. Alongside the highly efficient machinery itself, we look to invest in similar types of equipment with the same control systems, and ideally from the same suppliers, so that we can quickly integrate these into the business."
Although remaining under separate independent ownership, I.P. Huse and Rolls- Royce Marine have retained their long-term working partnership, which has in total spanned over 60 years. Today, whilst I.P. Huse undertakes the design, fabrication and development work of anchor handling winches, Rolls Royce Marine performs all sales and service activities, including after-sales and project management. "Rolls Royce Marine supplies us with hydraulic motors and control systems, which we then mount on to our winches, before passing the completed system back to Rolls Royce Marine for delivery. In this way we have a very symbiotic relationship with Rolls Royce Marine, as between us we are able to offer a full multi-disciplined service. Considering that the products we market are never just the result of design or mechanical work on their own, this relationship enables us to create optimum solutions for the market," highlights Morten.
In particular, Rolls Royce's position as a large organisation with global representation enables it to offer a much more comprehensive after sales and support service than I.P. Huse could alone. This level of customer support is mirrored at the other end of the spectrum with I.P. Huse's technical engineers working together with Rolls Royce's sales personnel to connect and discuss with clients. By working closely with vessel designers, I.P. Huse is able to develop its winches in order to maximise utilisation of the vessel.
With a high level of technical investment in comparison to the size of the business itself, Morten believes that I.P. Huse is well equipped to meet the challenges of the future market: "Our target is to continue what we do today, but along with Rolls Royce Marine to exploit opportunities within our current markets and new sectors. Exploration and production is moving into deeper waters and tougher environments so we see a real need to develop with this trend, and also to produce products that are environmentally friendly. We have undertaken a lot of projects in Brazil in recent months, and as this market begins to produce new build vessels one of the challenges for us is to deliver the required equipment. Additionally as the oil industry moves further north into Russia and the Barents Sea we see a real need for specialist equipment that is adjusted to work in that environment, so there are a lot of opportunities in the years to come."
I.P. Huse AS
Products: Winches