Pulling forward
I.P. Huse has a close association with the local community on the Norwegian island of Harøy, where it is has a rich history dating back as far as 1903.
The company was originally involved in a number of the region's industries including fishing, shipping and barrel making before delivering its first anchor handling winch in 1970. This would mark a key development in the company's history as by 1982 full focus was shifted to the design and construction of anchor handling winches, which has proven to be a robust base for I.P. Huse ever since.
Outlining the development of the winches designed by the company technical manager for E&P, Morten Hopland says: "The first winches were very small compared with today's massive constructions. The weight of a modern winch package is more than ten times the weight compared to the first packages that were delivered during the early 1970s. During the 1990s there was a period of lower activity relating to supply vessels so I.P. Huse shifted focus and made several deliveries to turret-moored floating production, storage and offloading (FPSO) craft."
The Island of Harøy has a population of only 1300 people, more than ten per cent of which are employed by Huse. The company's staff of around 130 dedicated personnel, close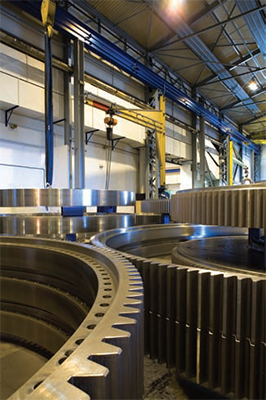 integration with the local community and a network of suppliers allows Huse to deliver bespoke products and excellent quality, as Morten explains: "We have a stable and professional workforce that is interested in exploring new production methods such as robots and highly automated machines. This combined with a reliable network of sub-suppliers makes it possible to maintain a good and reputable status within the offshore market. We believe that there is no taking chances with the lives and values of our customers at stake."
Furthermore, Huse ensures that it maintains a strong engineering and fabrication core of staff that will see the company into next decade of the company's history, as Morten observes: "We operate an apprenticeship scheme within the company and we support students to help their talents throughout their education. Currently we have around ten trainees on site through several different programmes."
The winches supplied by Huse service anchor handling tug supply (AHTS) vessels and the exploration and production market within the oil and has industry, where it supplies mooring systems for drilling rigs, accommodation platforms, barges and FPSOs. Typical mooring systems are comprised of winches, sheaves and fairleads. The company offers windlass winches that have been utilised on semi-submersibles, FPSOs and SPAR buoys. The main advantage of the design is the low lifecycle cost with reduced maintenance. Huse has supplied windlass winches that have served up to nine mooring lines and have a capacity of more than 350 tons. Fairleads are utilised to guide wire ropes or chains from the vessel towards the anchor and Huse has designed several fairlead variants that meet the requirements of a range of sizes and applications. Servicing of winches and equipment is an important part of the business, which is undertaken by Rolls-Royce Marine, with which Huse has had a strong relationship since the 1940s. Additionally, Rolls-Royce Marine represents the main customer facing point of contact for the company and this allows Huse to reach customers through the highly respected strength of its own brand and the equally highly regarded Rolls-Royce name.
"The company's key customers are its end users, shipyards and ship designers," Morten says. "We have been in the market for more than 40 years and continue to serve our customers and deliver equipment today as we intend to in ten to 20 years from now. We still deliver spare parts for winches that we delivered 40 to 50 years ago and the fabrication drawings and documentation are available for all of the products that we have ever delivered."
Close co-operation with the local community and businesses plays a vital role in ensuring that Huse is able to deliver the correct solution to clients' requests and enables the company to continue to develop market-leading products as Morten elaborates: "Our best research and development is the close co-operation that we have with the cluster of marine businesses on the north west coast of Norway. Through open and direct communication with ship owners, operators and oil companies we are able to find the important balance of new products and the safe and reliable equipment that we are already known to supply."
Following the global economic downturn the fortunes of many of the world's markets have been volatile and unpredictable, which has resulted in challenging trading conditions for companies within both the oil and gas and maritime industries. However, through remaining adaptive and servicing several markets Huse has managed to remain both strong and competitive. "The ability to work in a very variable market has been one of the key elements of the company's success," Morten explains. "We use the slow periods to prepare the business for the busier times that we know will follow. Even when we have experienced a low number of orders we have never sent people home, but rather nourished the knowledge that is within the business and installed new and upgraded machines so that when the market revives, we are ready."
As the global market begins to recover, Huse is positioned to deliver a strong presence with both existing and new market regions. "The last 12 months have been generally slow, but we hope to see a growth in the demands for our equipment over the coming months and years. We are prepared and will serve our customers when they need us," he says.
"We see huge opportunities in immensely different parts of the world, we anticipate possibilities in the Arctic region on one had and the potential for FPSOs in Brazil on the other. The next 12 months will be tough, but by the end of 2015 we hope that we will succeed in some of the exciting projects that we are currently working on."
I.P. Huse AS
Services: Design and construction of large winches