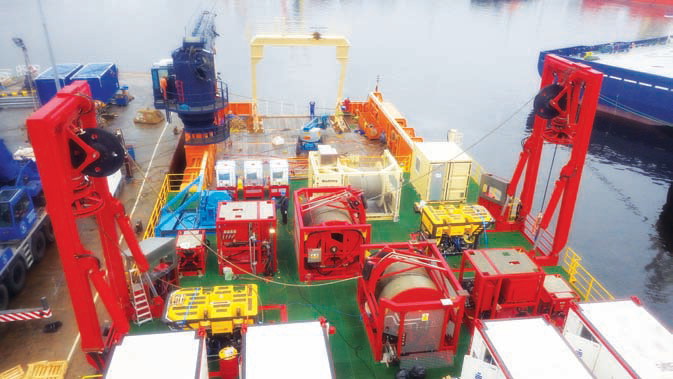 A history of success
i-Tech was formally established in 2006 as a division of Subsea 7. Today the company is one of the world's largest operators of ROV systems onboard floating drill rigs, platforms and support vessels with offices in Aberdeen, UK; Rio das Ostras, Brazil, Houston, US; and Perth, Australia as well as several global satellite offices.
"We have deployed over 100 workclass ROV systems, operating in the main offshore oil and gas markets around the world," says Brazilian director Clovis Galdino. "One of our biggest achievements to date was the successful delivery of 30 systems to Petrobras under a single contract, all of which were mobilised on time within a three year window and are performing extremely well."
i-Tech was last featured in European Oil and Gas Magazine in February 2014 and during the intervening period the company has continued to deliver market-leading ROV and survey services to clients throughout the world. This includes two more contracts in Brazil for remote intervention services amounting to $90 million. "We were recently awarded two vessel based contracts to support Petrobras with ROV and survey services for four years," Clovis elaborates. "With our partners Sealion, both the Toisa Valiant and Toisa Vigilant will have dual ROV systems and a comprehensive inventory of survey sensors for high accuracy survey and positioning up to 3000msw, including inertial navigation capabilities."
These contracts further consolidate i-Tech's working relationship with Sealion Shipping and allow the company to focus exclusively on its ROV services, as Clovis explains: "ROV and Survey services are our core business and this partnership allows us to focus on what we do best. Our partners see the same benefit when working with us, resulting in a very competitive and efficient model for our customers."
The company's focus on ROV Services is exemplified by the first deployment of its class-leading and exclusive Centurion SP work-class ROV. This system, which i-Tech specified to its ROV supplier, delivers market leading hydraulic power and thrust. This unit has been designed particularly for ultra-deepwater deployment. "These ROVs are the most powerful in the market, able to achieve 1600 Kgf of bollard pull, combined with a compact footprint making it possible to work in subsea currents of over 3.5 knots. They are currently working with vessels such as the Toisa Coral and Far Saga in Brazil and are performing very well. They add great value to operations due to their amazing performance in the water," Clovis explains
As a market leader, i-Tech also ensures that it maintains a highly skilled workforce. "Our workforce is continually developing through our in-house training programme," Clovis says. "This strategy has been the key in creating a culture focused on safety and quality. This stands out in a market where companies tend to concentrate on short-term demand instead of investing in long-term personnel development."
The company's dedication to continuous development also extends to its pool of intervention tooling solutions where i-Tech places great importance on the design, fabrication and operation of tools and equipment as Clovis expands: "Innovation is one of the key values of the company and is at the very heart of our business. We have invested strongly in the development of new solutions for our clients and have important partnerships with key suppliers, which have been quite fruitful over time to bring new technologies to the industry."
Presently the company maintains a fleet of over 100 work class and observation systems, with designs to meet the varied needs of its clients. These are supported by a global network of supply bases and project management services through which i-Tech is dedicated to providing subsea intervention technology anywhere in the world.
With its long-established history, strong track record and firm working partnerships, the company is well positioned. Commenting on the future of the company from his perspective, Clovis concludes: "Our vision is to consolidate our position as a market leader and partner of choice in Brazil. We have a history of success and a great business model, I can only see a bright future ahead of us as we continue to position the business in the right places at the right time, with the right resources. Investing in people, technology, reliability and efficiency gives us the best opportunity to support our customer's needs."
i-Tech
Services: ROV and survey