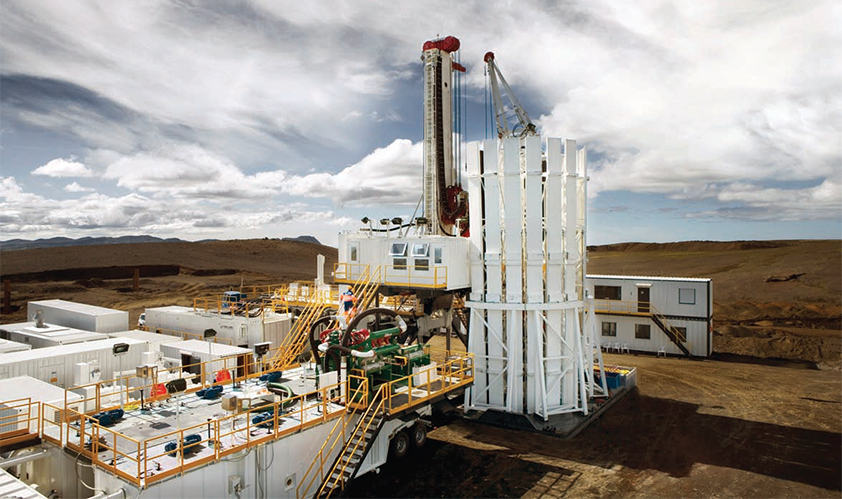 Gaining steam
Iceland Drilling Company has roots that extend back to 1946 when the Icelandic government began work to explore for geothermal activity to heat water for housing requirements in the country.
Later, in the 1960's began the development of steam fields at higher pressures and temperatures to produce electricity, making Iceland a leading nation in producing electricity from geothermal energy. In 1986 the company was privatised and listed on the stock market, where it stayed until 2006 when acquired by private investors, today the company is held by Icelandic private investors and major pension funds.
Since then the company has exported its knowledge to other countries around the world and is continuing to dominate with its expertise. "We have started operations in the Philippines and our work in New Zealand is ongoing. In the Caribbean we have just finished a project on the island of Montserrat and have moved over to Dominica to do another," begins senior vice president Sturla Fanndal Birkisson.
There is a string of countries located in a region known to geothermal experts as the ring of fire, and two areas of particular interest to Iceland Drilling Company are Indonesia and the Philippines. The company has recently set up offices in Jakarta and Manila and is actively looking for projects in this sector of geothermal drilling on the high mountains located around this ring: "Geothermal drilling and the foundation of knowledge is the speciality that we bring to operations, but we know that when you enter a new country there is a different culture and new regulations. It is important to set up a new network of contacts and suppliers, and these things can be a big task. So we are planning ahead to be better prepared to undertake projects in these countries.
"We are going to these areas with a slightly different approach in recognition of their culture. To win contracts in this region you inevitably have to have a presence, to show yourself and prove you really exist. We set up the offices to market ourselves better and be a connection, close to our customers. The resource in Indonesia is probably the biggest in the world. Around 40 per cent of all geothermal energy is stored there, there hasn't been too much development there yet, mainly because oil and gas has been fulfilling the electrical production needs, but as this has become more expensive the governments have started preparing a change in legislation to develop this renewable possibility, so we want to be present if it starts to move," explains Sturla.
Iceland Drilling Company has a history of working with power entities owned by governments, but with a unique flexible structure offers its services to developers and investors that require a specialist in geothermal drilling. With the footprint growing in recent years further away from Iceland the company has become more visible to the world. Sturla continues: "The work we have been doing is becoming well known and we have been pulled to the table to work on the development of some projects in Africa. We are an Integrated Project Management (IPM) contractor. This means that we can supply a total service fabricated to the needs of developers who don't have a strong background in this area. Our work in the Caribbean was carried out under one contract as have the decades of working within Iceland, and this has proved to be successful and economical for our clients.
"Normally we use a mix of local service providers and companies along with our own staff depending on the location. We have resources in our company that can take care of some special services, but if it is an option to take a local one then we will always consider it based on how good they are and how much experience they have. We have a reasonably new fleet of equipment utilising computerised technology and must train people up to operate this equipment. There are not always enough resources or good hands available so as a drilling company we are focused on education internally to develop our own personnel.
"We are looking to distinguish ourselves from the conventional drilling companies who will rent out a rig with a crew, without managing the project or offering that service. We happily take on this responsibility and work with subcontractors under the contract to help further the project. We are happy to work with power companies, investors or developers who are starting on new concessions that haven't been drilled before, or in remote locations. As an IPM contractor we are able to offer solutions for these stages where there is not a huge technical team behind them ready to go ahead with a project. We currently have ongoing IPM contracts with Orca Energy in the Philippines, Government of Dominica on the island of Dominica in the Carribean and with Alterra Power in Iceland."
Assessing the outlook of the market Sturla has examined other regions: "We are keeping a close eye on geothermal activity in South America, especially Chile. Much like Europe there is not too much happening at the moment but there is the potential for geothermal activity.
"The future is looking positive. Over the next three years we aim to become established in Indonesia and Africa as well as retaining a strong presence in our existing markets," he concludes.
Iceland Drilling Company
Services: Drilling