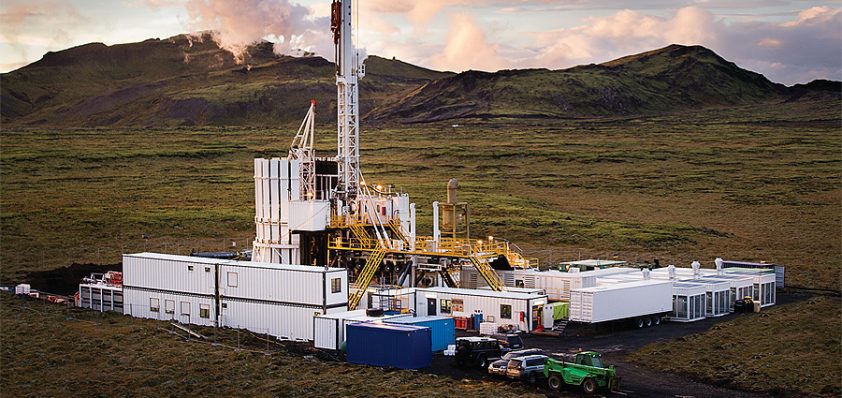 Generating growth
This year Iceland Drilling will be celebrating its 30th year in operation under its current name, but its true origins reach back twice as far to 1945 when State Drilling Contractors (SDC) was first established in Iceland. With much of the Icelandic economy relying heavily on geothermal energy from its volcanic landscape, SDC was set up to ensure that high quality drilling services were provided to ensure this demand was reliably supplied. When Iceland Drilling was founded 41 years later, its primary purpose was to maintain and enhance the powerful knowledge and skills in the field of onshore drilling that its predecessor had amassed. As such, today, not only does the firm have a dominant market share in Iceland, but also a growing presence on the international market.


Since 1970 the business has drilled over 250 deep wells and, demonstrating the rapid growth of recent years, 180 of these have been in the past decade. Operations are currently located in Iceland, New Zealand, Nicaragua and the Philippines. Delivering these projects across the world are eight individual drilling rigs ranging from small truck-mounted units through to large drilling rigs with 3500kN lift capacities. Such a range enables the company to operate with a high degree of mobility, flexibility and efficiency in remote and sensitive locations.
Decades of experience around the world has also resulted in a team of highly trained people capable of delivering a fully integrated project management service as a single contractor, which includes everything from staffing, testing and all other associated engineering services. Gunnar Freyr Gudmundsson, Chief Operating Officer explained that the need to offer this complete package stems from Iceland's remote location: "As the drilling contractor we have developed an integrated solution for our customers within Iceland, which means that we can take care of the whole well provision," he says. "Project management in this sense is part of our culture, and we will subcontract the necessary service companies, some of which exist within our own company's structure, for things like casings, cementing and logging. We also have a strong purchasing department where we buy all the materials needed to deliver a well and supply into that contract."
One of Iceland Drilling's key successes over recent years is its international expansion into other volcanic landscapes and markets within the 'ring of fire'. In April 2015, it was reported that the company had been contracted by Emerging Power Inc (EPI) in the Philippines to perform drilling operations for the Montelago project in Oriental Mindoro. With work starting in July of the same year, Iceland Drilling is expected to drill at least two wells in the project, which has a total value of $185 million and is estimated to produce 40MW of geothermal energy upon completion. In a statement given by Martin Antonio G. Zamora, Chairman of EPI, it was revealed that Iceland Drilling was selected for the project in order to ensure technically superior work.
Winning such projects and building this kind of reputation in the region of the Philippines, and also Indonesia, is critical to Iceland Drilling's successful international expansion. "We set up offices to market ourselves better and to be a connection close to our customers," said Gunnar. Around 40 per cent of all geothermal energy is stored in the region and there hasn't been much development yet, mainly because oil and gas has been fulfilling the electrical production needs. However, as this has become more expensive, the governments have started preparing a change in legislation to develop this renewable possibility, so the company wants to be present for when this happens.
In September 2015, Iceland Drilling successfully secured another significant international project, this time for the drilling of two wells and work-over on four existing wells at the San Jacinto-Tizate geothermal plant in Nicaragua. Working for its client, Polaris Infrastructure, the company started work in October and the contract comes with an option for a third new production well.
Aside from these projects work for Iceland Drilling continues across the world, particularly in Iceland, New Zealand and Ethopia. With a growing presence in these regions and a strengthening reputation to match, the future for the company looks bright as renewable energy sources become ever more focused upon. Gunnar commented on the future vision for the business: "Over the next few years we aim to become established in Indonesia and Africa, as well as retaining a strong presence in our existing markets." It is clear that with such an inclusive service offering, long history and growing project portfolio programme, Iceland Drilling are on course to realise such ambitions.
Iceland Drilling
Services: A leader in geothermal drilling