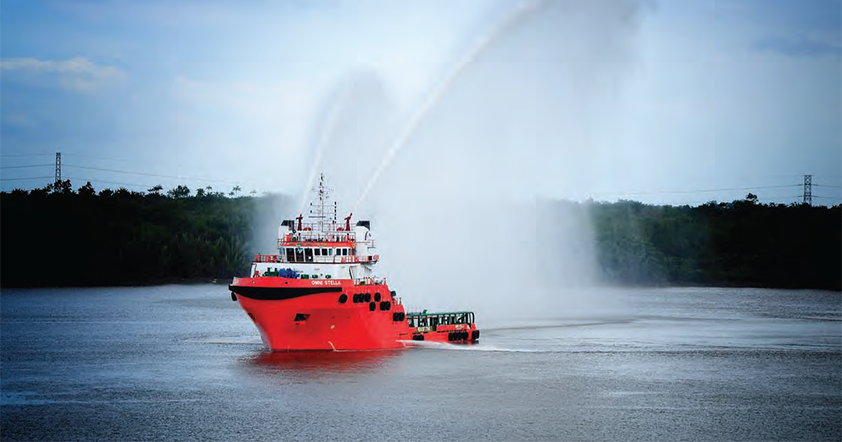 Leadership and skills
Formed in November 2012, Icon Offshore Berhad is the result of merging the unique strengths and capabilities of two offshore support vessel (OSV) companies in Malaysia.
The coming together of Omni Petromarine Sdn Bhd (Omni), a specialist in the provision of logistics and oil and gas services, and Tanjung Kapal Services Sdn Bhd (TKS), a leading major oil and gas service provider that offers a range of services such as ship management and chartering, has led to the inception of the third largest OSV firm in Malaysia, as Dr Jamal Bin Yusof, CEO of Icon Offshore Berhad explains: "The merger was a success as both companies were approximately the same size in terms of revenue and assets and it has made both entities more cost effective due to improved economies of scale. Icon is currently the only Malaysian firm operating a DP2 diesel electric vessel in the country. Our fleet of 34 OSV vessels are operating in Qatar, Vietnam and Thailand; previous operations were in India, Egypt, UAE, Saudi Arabia, Iraq, Australia and Indonesia. We are now able to operate in deeper waters as larger vessels are on order."
As the owner, operator and provider of offshore supply vessels for charter services, Icon Offshore Berhad's fleet is used for a range of exploration, development and production activities within the offshore oil and gas industry both in Malaysia and around the world. The company's assets include 19 units of 4000 bhp to 8000 bhp anchor handling tug and supply (AHTS) vessels, three utility vessels, two 3500 dwt platform supply vessels (PSV), five anchor handling tug utility (AHT) vessels, and four straight supply vessels (SSV). On top of this, the company charters and manages third party vessels as required.
With a boom in the OSV market anticipated over the coming years due to increased domestic and regional exploration and production (E&P) activity, Icon Offshore Berhad has enhanced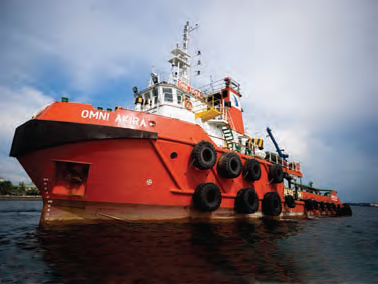 its fleet over the last six months, as Jamal highlights: "Our five new builds have mainly been anchor handlers in the 5000 bhp area and also our new PSV, all of which arecurrently working on long-term charters and have dynamic positioning equipment. The PSV will enable us to venture into deepwater fields, while the increase in newbuilds means our clients have more confidence in our products and services, allowing us to continue growingfrom strength to strength, not only in Malaysia but throughout the region. Our current order book stands at over one billion MYR, which is a testament of our commitment to our clients, employees and shareholders."
The majority owner of Icon Offshore Berhad is Government owned, Malaysian based private equity firm Ekuinas (Ekuity Nasional Berhad), which acquired 100 per cent equity of TKS in 2012 during a comprehensive group restructuring exercise, and 82.5 per cent equity of Omni in September 2012. Following this, as part of Ekuinas' strategic restructuring of its oil and gas portfolio, Omni, a company that has won several awards for safety performance and boasts clients such as Petronas, Maersk Oil Qatar and Saudi Aramco, and TKS, which has served Petronas Carigali Sdn Bhd and ExxonMobil Malaysia over the years, became wholly owned subsidiaries of Icon Offshore in preparation for the anticipated growth of the OSV market.
"Repeat customers are mostly the main oil and gas firms in Malaysia, such as Shell, Petrofac and Petronas; we view customer service as one of the most important factors to our success as repeat customers are the biggest revenue driver in any business. We place huge emphasis in the company on driving customer service to the highest level by listening to our customers' needs and trying to find solutions to their logistical problems. We also assist oil and gas firms in producing more oil in the fastest and safest way possible," says Jamal.
Key drivers in the oil and gas industry that use the company's assets and services are all potential growth areas, such as production facilities, deepwater drilling, transportation and installation projects, inspection repair and maintenance projects, enhanced oil recovery projects and marginal field development. Projects are expected to expand and development fields are anticipated to operate in deeper waters to find oil and gas, thus representing an excellent opportunity for OSV firms such as Icon Offshore Berhad to generate contracts for the operation of their assets.
Aware of the upcoming potential opportunities, Icon Offshore Berhad has created an aggressive expansion plan, as Jamal elaborates: "Our plan is in two parts, the first involves a new building programme that consists of more deepwater vessels being built over the next two years; the second part involves geographical expansion through opening regional offices. We also aim to grow the company through a merger and acquisition plan that is currently being discussed and will result in larger assets, improved value and international growth."
Dedicated to growth and improvement, the future looks positive for Icon Offshore Berhad as it prepares for being listed on the Kuala Lumpur stock exchange, while also focusing on expansion and the opening of its own marine OSV training and development centre to enhance the skills of its crew. "Our strategic and long-term goal is to become a global player in the OSV sector and develop into a multi-national company that focuses on human capital development through leadership and skill enhancement," concludes Jamal.
Icon Offshore Berhad
Services: Charter services of offshore support vessels