Strong connections
Fraser Hydraulic Power (FHP) began in 1986 when brothers Ron and Peter funded the start-up of the company with the sale of their small yacht. Initially only carrying out repairs on hydraulic systems in factories and shipyards in the Tyneside area, the company had grown from a two-strong organisation into an international business.
A supplier of electro-hydraulic systems to a global customer base, FHP exports approximately 60 per cent of its products and operates from a new custom-built 28,000 square foot unit on Neptune Energy Park in Walker, Newcastle. One of the most cuttingedge facilities on the river, the base includes 10 tonne and 20 tonne overhead cranes and direct access to a deepwater quay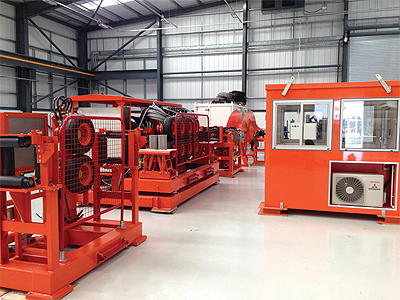 complete with a 500 tonne crane. The facility also holds an electrical workshop, painting booth and welding booth and has an extensive external storage area. Since its establishment, the facility has seen multiple large projects through from start to finish.
Complementing this strong customer base and state-of-the-art facility is the company's versatile nature to market developments; with the industrial hydraulics market diminished, the company expanded into the subsea and oil and gas markets by acquiring new skills, personnel and adapting new technologies to provide customers with innovative solutions that can be relied upon.
"FHP has flourished over the last 30 years and now represents an international specialist in the provision of offshore and cable lay equipment," begins Sales and Marketing Manager Will Stephenson. "Alongside this specialism, FHP has provided a range of one-off specialised equipment, including test rigs, hydraulic power units and flushing systems. FHP's unique range of rental cable lay equipment means that its fleet and offshore personnel operate globally for companies, large or small."
Having grown through recommendations from existing clients and industry contacts, the well-reputed and trusted FHP caught the attention of Royal IHC, a one-stop-shop for vessels, equipment and services for specialist maritime service providers operating within the dredging, mining and offshore industries. The group boasts around 3000 employees across its 36 global locations and earned group equity of 305.4 million euros in 2015. Acquired by Royal IHC in November 2015 with the aim of becoming Royal IHC's offshore rental hub and base for rental operation going forwards, FHP will also benefit from an expansion in its current rental fleet as well as further mission equipment for offshore installation activities.
"Royal IHC acquired FHP in November as a strategic move to develop the rental side of the business. As a growth point, FHP offered an existing rental fleet with a strong team of offshore personnel to assist in the expansion of IHC rentals. The newly built FHP facility on the River Tyne is perfect for rental operations and incorporates a large workshop, paint and welding booths and easy access to the road network and river. Additionally, FHP equipment complements the IHC product portfolio very well and expands IHC's ability to provide full turnkey back deck and vessel solutions to the industry on both a sale and rental basis," explains Will.
He continues: "Meanwhile, as part of Royal IHC, FHP can expand on the current rental fleet with new equipment from both the existing FHP product lines as well as rental equipment from across the IHC portfolio. Additionally, the global network of facilities and service centres allows FHP to provide extended local support to our clients. When it comes to our customer base, the Middle East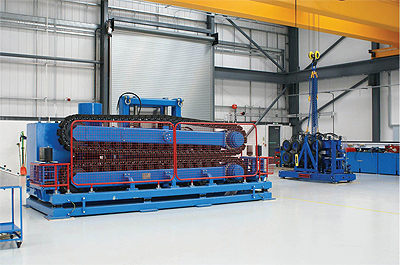 and Asia represent large markets for FHP, both in terms of sale and rental services. The presence of IHC service centres in these locations will only help FHP in supporting our clients locally and, with further investment from IHC, we will be locating rental equipment in numerous facilities across the globe to better serve our international clients."
Since becoming a part of Royal IHC FHP has won a number of flagship contracts. IHC FHP is providing a fully re-engineered cable lay suite that includes a cable drum engine, DOHB and 20 wheel pair Linear Cable Engine (LCE). "This project was committed to on a very strict delivery schedule to meet a project requirement for our client and we are on track to deliver in line with expectations," says Will. "Meanwhile, IHC FHP are supporting installation operations on two major European windfarm construction projects by providing rental tracked engines and LCEs."
A key workhorse in the company's product portfolio, the tracked tensioner has worked on multiple projects in 2016 and, as part of the company's fleet development, IHC is intending on building several more units for the fleet. "The IHC rental fleet will expand over the coming years and the reach will extend to pipelay solutions, diving equipment, module handling systems and subsea vehicles," says Will. This starts with the addition of the Hi-Traq to the rental fleet. The Hi-Traq is a four-track trencher specifically developed for offshore wind cable burial and will be available for rental operations in 2017.
Although oil and gas prices have caused turbulence within the offshore market, IHC FHP has continued to enjoy steady growth thanks to an increase in offshore renewables projects as well as a resurgence in the telecom market. With a strong order book and plans to expand its rental fleet, Will sees a positive future ahead for the firm: "From having vertically integrated internal partners, we have the ability to provide clients with full back deck spread solutions to facilitate their offshore operations. There are opportunities out there and with IHC behind us, FHP has an opportunity to grow both in Europe and on a global basis."
IHC FHP
Services: Cable laying equipment and services for telecoms, oil and gas and offshore wind