Ground breaking
IHC Hydrohammer, based in Kinderdijk, the Netherlands, is a business unit of IHC Merwede, an international market leader in the construction of specialist dredging equipment and complex custom-built offshore vessels.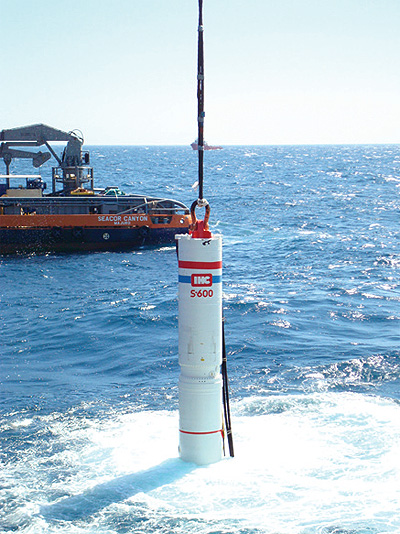 IHC Merwede is one of the world's largest suppliers of goods and services to the offshore oil and gas industry, the dredging and alluvial mining industries and the shipping industry.
IHC Hydrohammer designs, manufactures and supplies hydraulic piling hammers for on and offshore use – across energy ranges from 30 to 2300 kNm – and is known throughout the world for its innovative approach.
The company's key focus is on the continuous development of its design and construction activities within this specialised field. IHC Hydrohammer operates in four distinct markets; coastal and civil, construction, renewable energies, and the oil and gas industry.
Since the very beginning of IHC Hydrohammer-technology the Hydrohammer has been used in the offshore industry. Its design, with enclosed hammer housing, easy controllability and proven reliability makes it eminently suitable for working at sea. The Hydrohammers are used for driving conductor piles, jackets, anchor piles, offshore wind farm monopile foundations, subsea structures and start-up piles for pipe laying vessels.
The Hydrohammer set consists of a hammer, combining a solid one-piece ram, guided by upper and lower oil lubricated bearings, with a fully enclosed hammer housing and a pile sleeve. This is mounted in the bottom of the hammer and incorporates an anvil plate of steel, power packs designed for driving the hammers; a control panel and pendant to control and monitor the functioning of the hammer and its hydraulics, and displaying data such as blow energy, blow rate, operating pressure, engine rpm and error detection; a printer, for the records of piling reports containing project data.
Much of today's ongoing R&D work is targeted at strengthening the company's deepwater piling capabilities. IHC Hydrohammer is investing to significantly improve on this over the next couple of years. Meanwhile, it continues to refine the technical performance of its hammers as well as seeking improved cost-efficiency. Here it has the advantage of being able to access the specialist expertise of other companies in the IHC Merwede stable with strong offshore industry credentials such as IHC Engineering Business, IHC Handling Systems and IHC Sea Steel.
The extensive range of services that IHC Hydrohammer offers, such as geotechnical consultancy, technical assistance and support from the engineering department, are all indicative of the effort and attention that goes into meeting customers' needs. Guaranteeing the finest possible service by the worldwide availability of its trained experts, IHC Hydrohammer has agents and dealers supplying and supporting operational activities in numerous countries on every continent.
Looking towards the future, with the growing world population and economy issues resulting in a further concentration of people and industry, the company believes greater mobility is required and its infrastructure will undergo constant improvement in response to this. IHC Hydrohammer looks set to face a growing market demand, furthering its opportunities and success in the years to come.
IHC Hydrohammer B.V.
Industry Pile driving hammers