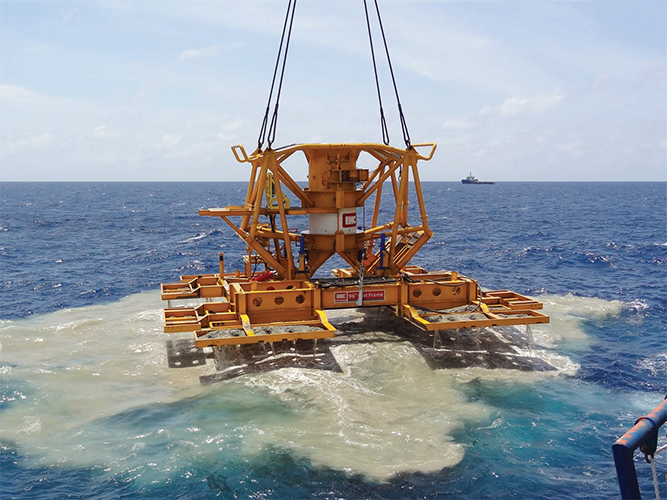 Giant feet
March 2015 saw a major development for the on- and offshore installation, foundation and decommissioning market, when Royal IHC launched IHC IQIP – a new organisation that integrates four of IHC's business units – IHC Hydrohammer, IHC Handling Systems, IHC Sea Steel and IHC FUNDEX Equipment. Through this merger, IHC is taking the next step in offering a fully integrated solution for customers in the oil and gas, offshore wind, and coastal and civil markets.
"With the inspiration to serve in a more efficient way, we found that combining what had historically been separate business units into just one, not only was of great benefit to our existing customers, but has furthermore encouraged learning and a closeness between the units that is already helping the business to grow," explained Marc Doorduin, commercial director of IHC IQIP. "Over the years we have seen our customers evolve with a higher demand for services, and in responding to that demand we have combined our businesses into one single cohesive unit."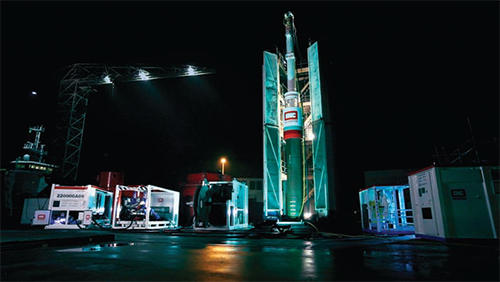 With many of its customers already working with one or more of the four IHC businesses now integrated under the IHC IQIP umbrella, the merger was the next logical step in its desire to respond to clients' requirements to reduce interfaces, costs and risks and create room for further growth as it continues to contribute substantially to IHC's overall proposition for its onshore and offshore customers.
Drawing on almost two centuries of combined experience and an unbridled passion for innovation, the service driven business is able to meet the demands of its broad customer base. This includes oil and gas corporations, installation contractors, engineering agencies and government authorities, on a global scale. Focusing on quality, and building upon an impressive track record in various markets, it is its progressive and continuous search for improvement through innovation that has resulted in the ongoing success with tailor-made solutions and a strong global and local presence.
"Our intention is to develop into a true international company, using our footholds in Singapore, Australia, the US, China, France and Germany to be as close to our customer base as possible," said Marc. "Additionally we are setting up a hub in Brazil, highlighting our drive to provide a local service on an international scale." As its existing customer base grows to include clients that operate all over the world, the demand to be served locally also increases, ultimately requiring equipment and servicing to be available locally. "By dividing our rental equipment between our international hubs we are able to fulfill those demands, not only in supplies, but also in maintenance of both equipment and customers own assets," he adds.
Offering rental, sales, and leasing of its own equipment across the business platform is a dominant factor in IHC IQIP's annual turnover, but equally important is the company's specialism in servicing. "We can offer maintenance to customers' equipment, either of our own brand or from other manufacturers. Furthermore we have set up an advisory service, providing consultancy on foundations and equipment and how that can be used in specific projects such as deep water pile driving or noise mitigation in offshore wind, as well as one-off engineering projects, custom making equipment that helps the customer to solve installation challenges," he adds.
To maintain the profitability of operations, companies in the oil and gas, offshore wind, and coastal and civil markets are increasingly looking for ways to lower their costs, decrease risks and maximise project efficiency, which has inevitably led to a growing demand for integrated solutions. Approaching the market as one organisation ensures its customers will only have to deal with one point of contact, with benefits that support both project management and efficiency.
Together IHC IQIP is a reliable partner for onshore drilling and piling solutions, offering multifunctional foundation rigs and hydraulic pile driving hammers for a broad variety of coastal and civil works. Offshore, IHC IQIP is able to offer its clients a wide range of handling, lifting and deep-water lowering equipment for the installation of all types of offshore facilities, including fixed and floating structures, subsea pipelines and subsea infrastructures. Designing equipment, which is often dedicated and custommade to withstand extreme conditions and heavy loads, it encompasses the safe movement of large piles and pipes, as well as complete platforms in a safe, efficient and controlled manner. As the oil and gas industry has moved from shallow to deeper, and even ultra-deep waters, IHC continues to support its customers by designing and producing equipment capable of withstanding deep-water conditions.
A result of its long history in the oil and gas industry is that the business has a strong connection with the installation of structures. With customers facing the challenges of tougher operating conditions, the need for the design and fabrication of dedicated equipment has continued to grow. "Innovation, especially in engineering is important, bringing together techniques and equipment parts to develop prototypes as well as designing solutions from scratch. It is something we also drive forward with standard equipment, such as the noise mitigation system that we have developed to control the integrity of the pile during installation of Offshore Windfarm foundations. Besides noise mitigation we can also use that equipment to control the positioning, verticality and orientation of the pile. So while we started developing the device to mitigate the noise, we soon found we were able to use it to create a lot of additional value," explains Marc.
The challenge of noise reduction is constantly encouraging the business to develop additional installation methods and innovative solutions. Next to its well-known Noise Mitigation System, new piling methods such as High Frequency Low Energy (HiLo), SMART Pile Driving (SPD) and efficient pile driving (EPD) have been successfully introduced.
The business has developed as a onestop shop for the rental and purchase of all equipment relating to its specialism in piling solutions for onshore foundations and offshore installation of conductors, anchor piles, jacket skirt and/or leg piles, monopiles and start-up piles at sea. "We are involved in major offshore windfarm development that has an ever increasing demand for larger foundations, such as the Monopile XL. Because of our investments in big hammers that can cope with the high energy demand we are able to deliver the right solution," says Marc. Through its pile guiding and handling solutions, the business aims to further reduce the installation and total cost of offshore projects and to extend the possibilities of the Monopile XL in offshore wind projects.
Whilst Governments and authorities are now starting to force oil companies to remove production facilities once resources have been depleted, IHC IQIP has already built up an impressive track record in what is a relatively young market. The demand for dedicated and custom-made tools is increasing, which is something that IHC IQIP is able to deliver. "We have a good record in decommissioning projects, focusing on the removal of structures, jackets, subsea templates and pipelines, but we want to bring that further, and by adding equipment to our product portfolio we can offer more solutions to our clients," highlights Marc. This service requires specialised and customised equipment or, in other cases, equipment that is a 'spin-off' from existing tools.
"As we move forward that will be a major focus, but one that will be shared with concentrating on the development of our service aspect. We see customers have an ever-growing need to have a partner that is able to ensure that maintenance is completely covered. By servicing the market with add-ons we can take away the headache of maintenance of fleet management, essentially being closer to the customer," concludes Marc.
IHC IQIP
Services: Intelligent equipment and smart solutions for foundation, installation and decommissioning
Issue 122 July 2015