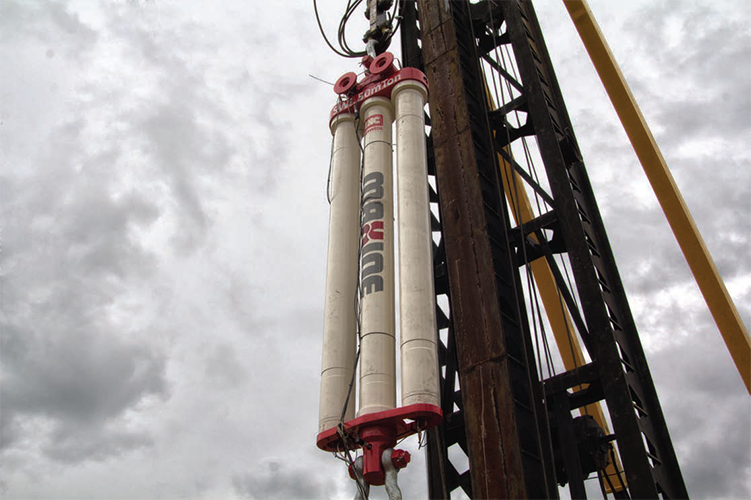 A strong brand
Established in 1969, IHC Motion Control is a cluster of companies under the IHC Merwede Group; IHC Hytop, IHC Winches and IHC Vremac Cylinders supply hydraulic systems and winch systems to the oil and gas, dredging and maritime industries.
"As part of the IHC brand, we work closely together with IHC Offshore Systems, a sister company, as well as IHC Fabrication, IHC Piping and IHC Drives & Automation, to produce equipment and approach the market as a joint operation. Each company uses its strength and focus, together we present a total system to the outside world, with the overall market approach done by IHC Offshore for the oil and gas market," says Wouter Kruijt, cluster director at IHC Motion Control.
Specialising in complete hydraulic systems, hydraulic power units, as well as diesel power packs, controls and winches for all applications in the dredging, heavy lifting and offshore industries, ISO 9001 certified IHC Hytop's 100 employees have the capacity and expertise to deliver complete installations on a large scale, including electric powering and controls. Using the experience and knowledge within its organisation, IHC Hytop can successfully execute projects for basic and detailed engineering, planning, production and on-site commissioning activities. With its VCA/SCC certified service team offering support to its clients 24 hours a day, seven days a week, the EPCC subcontractor can keep customer investments productive.
"At IHC Hytop in Sliedrecht, we offer two products, the complete design of hydraulic systems and also winches," explains Wouter. "The hydraulic systems can be separate hydraulic power units called HPU, larger integrated hydraulic systems, with full piping and commissioning, or hydraulic cylinder systems; for the latter we work with IHC Vremac as they produce cylinders up to large dimensions. We also have a range of winches, including riser-pull in winches, traction and storage winches, which are powered either electrically or hydraulically. We produce the hydraulic powered winches completely by ourselves, while the electrical powering part is supplied by IHC Drives & Automation or Elma."
Viewed by its customers as an accessible, fast and flexible, transparent and high quality supplier, IHC Vremac Cylinders, with 100 employees, designs and manufactures the hydraulic cylinders, swivels and accumulators. Specialising in hydraulic cylinders for harsh and challenging environments for the dredging, offshore and heavy lifting industries, the company also supplies its services to other divisions under the IHC brand, such as IHC Engineering Business, as well as directly to other customers. With 50 years of experience in technology, engineering and manufacturing, IHC Vremac Cylinders produces at its own production and office facilities in Apeldoorn, measuring a total of 8500 square metres, to offer excellent quality products at cost-effective prices. Dedicated to retaining its strong reputation, the company manufactures to strict quality control standards, with all materials purchased to strict specification and supplied with certificates, thus ensuring the reliability of the cylinders.
As a cluster under the IHC Merwede Group, IHC Motion Control benefits from an excellent track record in the manufacture and delivery of products for the specialist maritime sector, on top of the collaborative relationships it retains with other divisions that make up over 3000 employees across the globe. On top of this, the cluster holds the same commitment to the continuous development of design and construction activities for its customer base as its parent company, resulting in ongoing investments to ensure future success. "We have two new assembly halls at IHC Hytop, each with neat facilities and excellent equipment capacity; the biggest equipment we can now manufacture internally is 200 tonnes. Our hydraulic test facility has also been upgraded and we can work with more automation as well, ensuring we are set up for the future," says Wouter. At IHC Vremac Cylinders, new and larger machinery is being installed, enabling a better throughput and more complex machining.
With technological innovation the group's underlying strength, IHC Hytop and IHC Vremac continuously adapt products to suit market developments. "We recently solved a problem relating to well intervention and installation operations in deep sea areas, say several kilometres deep, which is a world where normal steel winches or winch cables will reach their limit of functioning. We found a solution through using a fibre rope cable and have made a new fibre rope winch for this development (IDsis), which has been tested and will be put in operation in the market by early 2014. This involves winch design, fibre rope design and application; we don't have fibre rope ourselves but designed the fibre rope in close co-operation with cable manufacturers," highlights Wouter.
AT IHC Vremac a lot of development is completed continuously towards cylinder coatings for harsh applications, and recently the new heave compensation system MaXine was launched to the market.
Boasting 20 per cent of the world market for offshore FPSO installation and offloading equipment, IHC Hytop and IHC Offshore Systems were recently awarded major orders of a total of ten hose reels systems for FPSO's, likely to be extended in the future. "We have worked with all the major FPSO operators, including SBM, Modec, and BW Offshore," says Wouter. "The market is very positive for us right now; a very nice workload and more than sufficient opportunities in current tenders, which puts us in a luxury position. We have an excellent customer base and are happy with that, but if you look into further extension you need more qualified, skilled personnel and qualified sub-suppliers as well. If you are supplying winches or other systems to the offshore industry, there are rules and regulations in place, particularly if you supply highly loaded equipment as you are using high strength steels. These high strength steels then require specific skilled steel suppliers and handling suppliers; this requires our attention continuously."
Looking to the future, IHC Motion Control is anticipating an increase in interest from its new rental business for winches and heave compensation systems, which is so far proving a successful development. On top of this, the cluster is aiming to expand its geographical reach over the coming years in areas such as China and Singapore, using present IHC subsidiaries, while also generating demand for new innovative equipment, as Wouter concludes: "We expect 2014 will be the year that the fibre rope winch will be fully launched into real world operation; at the moment there aren't many winch manufacturers who have a good and certified system. My guess is the next year will result in the turn-around period for the deep sea installation market towards the use of fibre ropes and fibre rope winches."
IHC Motion Control
Services: Design and manufacture complete hydraulic systems