Fixed for the future
IK Group delivers niche, tailor-made solutions for the repair and modification of piping and pipeline systems in the oil and gas sector.
Established in Norway in 1987, the company has its main site in Stavanger, and it works mainly with customers operating in the North Sea. Clients of IK Group include the likes of Aker Solution, a Norwegian based EPC contractor for the oil and gas industry, as well as Statoil, an international energy company based in Norway. Other international customers it works with include ConocoPhillips and BP. The portfolio of IK group consists today of six separate product groups, which are rental services, custom-built products, instrumentation and calibration, torque tension,
tapping solutions and concrete rehabilitation.
The company's rental services division supplies the offshore market mostly with rental equipment for piping and pipeline construction, as well as commissioning, maintenance and inspection tools. IK Rental Services offers tailormade solutions upon request and it can assist in both the pre-planning and engineering phases prior to shutdown assignments both onshore and offshore. Furthermore, it can provide in-house training and certified courses for all applications that relate to its standard fleet of equipment, and it can supply either personnel for operations of equipment on a standalone basis.
The custom-built services offered by IK Group include the design, manufacture and delivery of specialised tools for both modification and repair of pipes and pipeline systems, either topside or subsea and both onshore and offshore. Products and services here are intervention into piping systems for plugging, mechanical flanges and connectors, subsea machining and cutting,ROV tools, hot-stabs, recovery tools and repair clamps. IK Group's experienced staff of subsea engineers design these parts according to individual customer specifications, ensuring that the products meet all their specific needs.
This is an area that the company is always looking to improve, according to IK Group managing director, Christian Bull Eriksson: "Research and development is an important part of our business and it is inherent in the custom built products. We are investing in new systems all the time, and this is one of the many keys to our success. In this manner we can focus our individual business segments and deliver high efficiency and quality across our business."
Another important part of the company's service portfolio is its instrumentation and calibration division, where it offers the market a range of services for electrical calibration, pressure calibration, temperature calibration and torque calibration. Not only does IK Group boast its own calibration laboratory, it also has the capabilities to perform customer site calibration, both onshore and offshore. Calibration equipment includes mechanical measurement tools such as gage block and callipers, equipment for measuring pH conductivity, pumps and HPU unites, data loggers and recorders and thermo cameras.
Within the torque tension products offered by IK Group are products and services to ensure that the fasteners in any bolted joint are loaded in a safe, controlled manner. Known as IK Torque Tension (IK-TT), this division has a wide range of stock for both rental and sale that includes torque wrenches, wire cutters, hydraulic nuts, nutsplitters, flange spreaders, flange pullers and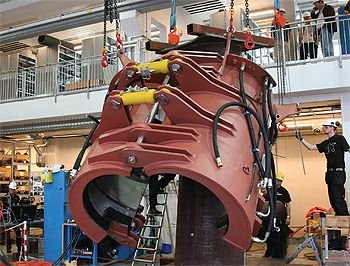 tensioning tools. This is further enhanced by an experienced staff of subsea engineers and consultants available for engineering tasks of stress calculation. All products and services provided by IK-TT are accompanied with certificates to prove suitability for the task assigned.
The tapping solutions that the company is responsible for provide customers with the advantage of being able to carry out work on process plants without halting production. IK Group's engineers and mechanics manage the entire process of tapping, where holes are drilled into pipes with internal pressure. The company's in-house resources cover everything from problem solving to design, construction, assembly testing and operation. Through its specialised workshop, IK Group can conduct safe job analysis and risk identification procedures before the work is carries out, and it also has a wide range of standardised cold tools and solutions for tapping to be conducted without the use of welding.
The final business area of IK Group, concrete rehabilitation, involves the refurbishment of concrete platforms on offshore structures that are suffering from general wear-and-tear such as cracks or corrosion. The company works alongside an extensive network of concrete rehabilitation specialists in order to ensure a longer lifespan can be given to such platforms, and it supplies all the necessary equipment and personnel for carrying out the maintenance.
IK Group has worked in many major oil fields in the region, including Troll, Statfjord and Ekofisk. Christian elaborates on one of the company's most recent projects in this area: "In the summer of 2009 a pipeline in the Ekofisk field started to leak, and we were called in to seal it. The situation was made more difficult by the fact that the segment of pipe in question was curved, which is significantly harder to engineer than a straight piece of piping. We were able to deliver the appropriate high pressure clamp for sealing the leak within just two weeks, however, and so the operation was a great success for us and the oil operator."
The company's ability to overcome the challenges of working in such difficult situation is one of the reasons that is has remained such a key player within its sector for so many years. Christian explains why this is an important attribute to have, and how it will help IK Group to continue its growth: "What we are seeing is that pipelines in the North Sea are really starting to show their age, and so it becoming increasingly important for us to have the necessary expertise to repair such faults."
This ethos places the company in good stead to remain as successful for many years to come, and Christian outlines his plans for the future of IK Group: "As a niche supplier, we have a lot of new orders in for 2010 so there are already signs of promise after the recession. Our aim now is to build upon the reputation we already have to gain a foothold in other regions, expanding the company both organically and through acquisitions to become a bigger player in the service market."
IK Group
Services: Pipeline repair