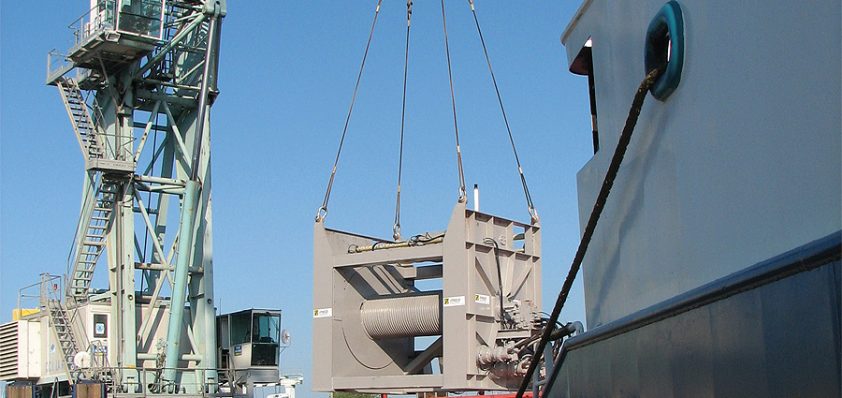 Raising the bar
Part of Groupe Perrotin, Imeca has 25 years of experience in the design and manufacturing of lifting & laying equipment for offshore and military applications.
Groupe Perrotin itself comprises an offshore division, a purpose built machines division, and a specialist in manufacturing industrial units. Imeca has been part of the group for 15 years and recently contributed 27 million euros to the group's 40 million euro turnover.
Its location on the Atlantic Coast of France at La Rochelle means Imeca is ideally located, and can offer a 600-metre quayside facility with 14 metres of water depth, as well as quayside assembly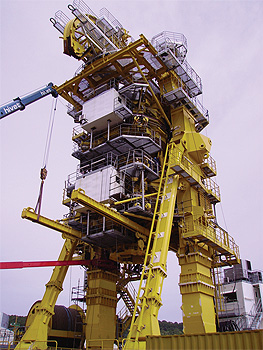 facilities. Detailed engineering services are carried out at the company's site in Fontenay le Comte, whilst manufacturing, assembly, testing and delivery are covered through its two other production sites; one at Le Trait for medium to large sized equipment; the other at La Pallice Harbor for ultra large sized equipment.
Certified to ISO 9001 since 2000 by DNV, Imeca is a specialist in the design and manufacture of winches for hoisting, handling, lifting, chain tensioning and towing. The company also has experience in the areas of pipe laying, hydraulic power units and electric automation. Its engineering capacity includes 20 engineers with experience of top quality CAD software, and finite analysis techniques.
It is these engineering capabilities that are considered to be one of the key strengths of Imeca – in fact, R&D plays a vital role in the success of the business. For example, it prides itself on being able to provide bespoke and turnkey solutions using the latest R&D methods quickly and effectively. During this process Imeca remains focused on working closely with individual clients around the world, making products suited to very specific requirements.
When it comes to the area of fabrication and assembly, Imeca can offer welding capacity from standard steel up to 690 high tensile steel, and when it comes to machining, the company has a lathe capacity of up to six metres in diameter. It also offers testing facilities, with a static bench test up to 750 te, and dynamic test on demand.
The company's services extend beyond simple manufacture, as it also provides a comprehensive installation and after sales service. Its engineers are able to operate offshore and onshore anywhere in the world, and these include mechanical, electrical, hydraulic and automation technicians.
Moving on more specifically to Imeca's products, and it's clear that the company can handle almost any lifting & laying need. In the area of winches, for example, it offers riser and chain pulling winches for buoys and FPSO, in a range of sizes and options, such as HPU diesel or electric, 50 kW to 400 kW, 50 Te to 400 Te. Alongside this type of winch, Imeca also offers A&R winches, direct abandonment and recovery winches and storage winches. In the area of umbilical winches, Imeca can provide an umbilical winch with slipring or A frame.
The company's tensioners are available as double tracks (20 Te to 70 Te) or four tracks (80 Te to 175 Te), while its reel drive system comes with HPU, with a nominal capacity of 200 Te to 500 Te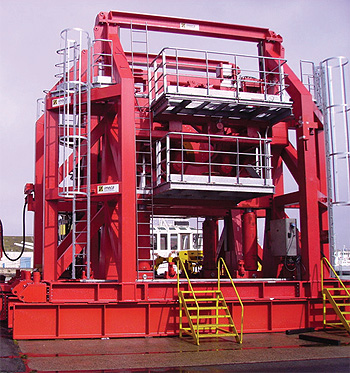 and a reel diameter of 7.8 metres to 11.4 metres.
Imeca also works with military applications, with its reeling winch for umbilicals, and this product comes with an automatic adjustable electric spooling device and a winch supplied with an HPU. Finally, the company also manufactures reels for methanol hoses.
Working with high profile customers such as Technip, Acergy, Allseas, SBM, Saipem, Subsea 7, Mc Dermott and APL means that Imeca has to ensure that it manufactures only the highest quality of product at the right price. Greatly sustained by the knowledge and skills of its excellent staff and buoyed by the support and experience of Groupe Perrotin, Imeca can be confident that it is going forward into a bright future.
One of key strengths of Imeca, which sets it apart from its competitors in the oil and gas industry, is keeping looking ahead and anticipating the needs of the market by working on key matters such as equipment for ultra-deep water, uninstalling of subsea equipment and environment constraints. As a result of this strategy the business regularly introduces new and innovative products to the industry. Most recent among these include dismountable reels for flexible pipe storage – products that are already on the market, and A&R for fibre pipes and fully electrically powered tensioners, which are still under study.
In terms of the coming years, Imeca is very much focused on continuous growth, which will be achieved through extension of the exisiting product range and global presence, as well as developing its network of sub-contractors, sub-suppliers and partners. This process has already begun, as in January 2009 Imeca established an agency in Kuala Lumpur in Malaysia in order to ensure local promotion of its offshore product range. This is just the first step in a planned expansion that will ultimately see Imeca extend its already excellent reputation in the industry, and will undoubtedly lead to further success for the business.
Imeca Groupe Perrotin
Services: Lifting & laying equipment