International integrity
IMES Group (IMES) is an international engineering company providing integrity management services, the design and manufacture of specialised weighing systems, subsea equipment and critical test equipment.
The IMES Group holds a distinct competitive edge in the market place offering these four essential services, that when pulled together provide its clients with access to synergies of service and product solutions that are second to none.
The company also has crane inspection and engineering capabilities that includes; certification management, lifting equipment inspection, design and verification, proof load testing, field engineering, structural analysis and load monitoring. When you then consider that IMES is the only UK business to achieve ISO 9001, 14001, 180001, UKAS 17020, Lloyds Register Approval for Class 1 Davit Inspections and Baseefa accreditation its capability speaks for itself.
This vast competency has been amassed through experience and through strategic acquisition of performance specialists such as Davy Systems and Buchan Inspection. Davy Systems is highly regarded worldwide for designing and manufacturing precision weighing systems for harsh environments, while Buchan Inspection is renowned for excellence in the oil and gas sector for LOLER inspection services.
In an interview with European Oil and Gas Magazine Peter Smith, product sales manager, says: "Customer service is high on IMES' priority list. We consistently achieve excellent FPAL scores, averaging "excellent" across the board. We achieve this not only because of our skill set but because we pride ourselves on responsiveness, utilising forward thinking technology and in driving forward the innovation that addresses integrity issues for both the lifting and subsea environment."
IMES offers lifting and crane inspections through highly experienced and qualified technicians, backed by professional engineers who assist with integrity issues and solutions.
In addition, our dedicated manufacturing facility designs and manufactures world class load cells and pins to fully integrated loadmonitoring and measuring systems where high accuracy is demanded, even in harsh environments such as subsea.
"Our combined integrity engineering has allowed us to develop tools for riser inspections like no other in the world, and subsea electrical testing systems for fault finding and pre installation testing, our independence means that clients will get a balanced view on assets and they respect our advice," Peter explains.
With a national presence the IMES manufacturing facility in Sheffield is a leader in tension systems, one third of the world's Tension Leg Platforms (TLP) use IMES equipment. Other successful Sheffield products include FPSO and wireless mooring systems, ROV tether and umbilical monitoring, jack-up chord load monitoring, and crane and winch monitoring systems.
Made to the strictest standards, the equipment ensures longevity of use and operation in the harshest of conditions. "Our crane condition monitoring equipment is bespoke and used throughout the world. It continually monitors the condition of the crane, with a prediction on end of life derived by IMES engineering from this information," he adds.
IMES has specialist skills in Non-Destructive Testing (NDT) and Non-Destructive Examination (NDE) techniques, which can be delivered on lifting equipment and structures.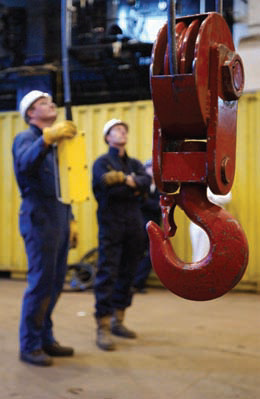 "We believe that testing and inspection is an important tool in asset assurance so we can accurately advise our clients in safety and to extend the working life of their assets. We invest time and money training our technicians from our six UK offices to ensure we have the right mix of experts and competency. Combined with other disciplines such as rope access, it gives our clients a great offering and us a great advantage over our competitors," says Peter.
The company also has a state of the art NDT inspection system that detects internal flaws in wire rope up to 83mm. When used in conjunction with the wire rope pressure lubricator, Viper, it delivers a complete wire rope management service.
IMES recently lubricated the UK's largest crane using its Viper lubrication system, offering tangible benefits as Peter describes: "On previous lubrications the client spent three weeks with three technicians using 37 units of grease. We lubricated the rope in two days with only two technicians and using just seven units of grease, making large savings in availability and actual cost spent. But cost is only part of the benefit. Unlike applying grease manually with a brush (which is messy and just lays the grease on top of the rope and in a lot of cases is ineffective) using Viper is a very clean operation that penetrates into the wire, making it more effective. It is very difficult to take a crane out of action for three weeks, but two days is much more viable. Consequently the client is now planning to increase the frequency of the lubrication process."
The group has successfully completed many important and critical projects ranging from inspecting loading of dive systems on DSV's, to the I Tube Visual Inspection System (ITVIS) deployment for Schiehallion, monitoring and recording the safe riser disconnections. IMES has also supported many clients with the use of its Subsea Electrical Test System (SETS) including BP and Shell fields for quick electrical diagnosis in all the projects that IMES undertakes, savings are made for the clients in both time and money.
Peter explains that this was originally conceived of as a result of a brief from BP, the Subsea Electrical test System (SETS) assisted with defective and decaying subsea electrical control and communication systems. Deployed using an ROV, SETS has the ability to find faults quickly saving time on topside vessels and lost production. More recently he adds: "Our SETS has been used to test umbilicals subsea during their installation, it is a fantastic benefit to clients and their clients that umbilicals can now be tested and signed off immediately after being laid."
Peter is keen to stress that "along with service, innovation and quality we have spoken about, health and safety is of the utmost importance to us." He takes the topic very seriously adding that "Our HSE manager has over 30 years oil and gas experience, which supports our strong accreditation and we achieved a zero score in TRCF."
2013 was certainly an incredible year for IMES and it plans to further build on this success by increasing its workforce competency through industry training during 2014.
"We see quality of workmanship and our highly skilled workforce as critical to keeping our customers at the leading edge," says Peter. "Indeed, while investing in technology will continue to develop our core business remains the lifting equipment services that we offer clients. IMES remains totally committed to both delivering a high standard of service and competency backed by our new version of our SmartCert2 system for LOLER compliance."
New premises evidence the company's continues growth. Peter explains: "Last year we brought all our resources in Aberdeen under one roof, increasing both our storage and workshop space, enabling the storage and rapid deployment of all our subsea equipment, such as ITVIS and SETS, our NDT, load testing and rope access kits together. On top of the increased workshop space we have also invested in a small test bed for pulling up to 65t, complementing our 250t test bed located in Rosyth. We are now in a prominent position and operate 24/7 around the world for oil and gas clients."
With a positive market forecast ahead, Peter concludes: "Business will be busy over the next five years. Our inspections engineers, in partnership with the support of our chartered engineers, are busy with responding to and working with clients; diagnosing faults and generating best value and bespoke solutions. We are currently involved in a number of large projects including supplying consultancy services throughout the design, production, installation and testing phases for four ship-to-shore cranes at the Port of Southampton."
Innovation and investment in new technology specifically aimed at assisting complex client needs certainly stands out as a key feature of working with IMES, and is a core feature of its future.
IMES Group
Services: Integrity management services and manufacture of specialised equipment