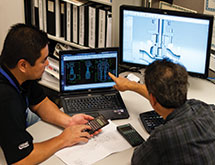 The products that IMI CCI manufactures are designed to withstand extreme conditions – high pressures, high temperatures, allowing little room for failure. That type of environment often requires something more than a stock-shelf solution.
"We manufacture process control valves and our focus has been on the severe-service applications in the power, oil and gas and nuclear spaces," Marketing Director Warren Ferguson explains. "We manufacture, design and install all of our own valves, along with a dedicated aftermarket service organization. In the valve market, that's pretty unique. We are not an intermediary that is biased toward one product."
IMI CCI's custom-engineered solutions include drill-hole cage as well as a variety of multistage trim designs – the two primary means of managing fluid flow. The company has installed 100,000 critical application valves worldwide featuring more than 70 severe-service technologies. Over the past 50 years, IMI CCI has developed platforms that can be customized to fit each client's process. Its most popular products include the BTG, ABJ and DRAG, which can all be tailored to fit different applications.
"There are a number of operating concerns we have to address for each client," explains Mike Yancey, vice president of sales for the Americas. "Sometimes it's vibration or erosion issues, extreme rangeablity requirements or just the fact that the application is so critical and reliability is such a concern that the customer wants to buy the absolute best product for that installation. The approach we use to address those needs is called the Valve Doctor approach."
Call in the Doctor
Headed by Jay Faramarzi, the Valve Doctors® are a team of 35 engineers across 10 countries who have developed solutions that increase productivity and cut operation costs.
For instance, agriculture producer Archer Daniels Midland (ADM) turned to the Valve Doctors after dealing with control valve issues for 10 years. To maintain productivity, the plant replaced valve parts and went through full maintenance procedures every 18 months to the cost of $300,000. The plant called on IMI CCI's Valve Doctors to design a better, more cost-effective solution.
IMI CCI recommended installing nine 100 DLC feedwater control valves and 100DSV spraywater valves using IMI CCI's patented DRAG technology. The new solution reduces ADM's maintenance costs by eliminating erosion and excess vibration. Now, ADM's expected maintenance intervals have been extended from 18 months to five years with added control and dependability.
Internal Improvements
Custom engineering has always been IMI CCI's strength, says President CM Merrimon. The company has spent the past 50 years adding to its engineering expertise. Today, he says IMI CCI is working to improve its internal business processes.
IMI CCI built a new high-pressure testing facility for its valves equipped with lockouts and virtual visual monitoring. Merrimon says the facility goes hand-in-hand with IMI CCI's recently earned California Voluntary Protection Program (CAL/VPP) Star Status Certification.
"For the past year now we have been working to improve the customer experience and our ability to respond to customers and hold commitments such as on-time delivery," Merrimon explains. "Our engineering and technical people understand that we want to improve our service, so we've brought in lean principles to the organization. But one thing we stress is that we want to be lean for impact – to control our cost structure and push on-time delivery. So we've assessed our plants and set base scores for each one. Now we are focusing on internal improvements that will lead to things such as better safety and on-time delivery."