Deep impact
Established in 1983, Hamburg headquartered International Marine & Petroleum Engineers and Consultants (IMPaC) offers a diverse range of engineering and consultancy services to the international oil, gas and power sectors within the onshore and offshore energy industry.
Having worked on over 1000 projects worldwide, the dynamic company uses forward-thinking engineering practices and embraces new technologies to guarantee efficient, high quality solutions.
Previously in European Oil and Gas Magazine in February 2012, IMPaC has witnessed major developments over the last 20 months as Tilman Schiegl, technical managing director at IMPaC, begins: "The industry has changed drastically over the past two years; as we mentioned in the last article, the financial crisis and situations in some markets forced us to deviate from certain regions and find the right business model and work in other areas. We continued to look into penetrating the renewable energy market, in particular the offshore wind sector; over the past two years we have developed a presence in the wind farm sector of Germany by providing consultancy and design work. Right now we are carrying out the basic and detail design for an offshore wind farm accommodation platform in the far North Sea for Vattenfall."
Although IMPaC has developed a foothold in the burgeoning offshore wind market, its focus remains on upstream oil and gas applications for both offshore and onshore projects, with approximately 80 per cent of its activities taking place internationally. Undertaking servicesthroughout the entire value chain of a project, from initial concepts and feasibility studies through the designs, procurement and logistics, right up to the construction management, commissioning and operations assistance, the firm's versatility has resulted in it winning a number of unique projects over recent months.
"The aforementioned accommodation project in the North Sea is special and unique as it is the first platform to be built so far applying DIN EN 1993 (Eurocode 3). We completed the design for this project and are now involved in the installation for the platform as well as the certification for this process, which is something very new in the wind farm industry," says Tilman. "On top of this, we have been involved in engineering projects and the distribution of LPG in Iraq, as well as complex engineering for sour gas treatment and liquid extraction in Kazakhstan.
"In Germany we are involved in a green field oil development project, which requires a plan approval procedure with EIA due to its substantial size, which will be applied onto an oil project for the first time in German history. IMPaC is providing the authority engineering and uses its latest experience and knowledge from the work for the recently finalised Nord Stream projects."
Strengthening its triangle of operations in Europe, West Africa and the Caspian Sea has been an ongoing core focus for the company, as Stephan highlights: "West Africa, up to North Africa, to Europe and down to the Caspian Sea and back is our focus. We have consistently stated the importance of having a local partner at the end of our markets, which is why we decided to turn our affiliate, which is operating as an EPC contractor in Nigeria, into a partner this year."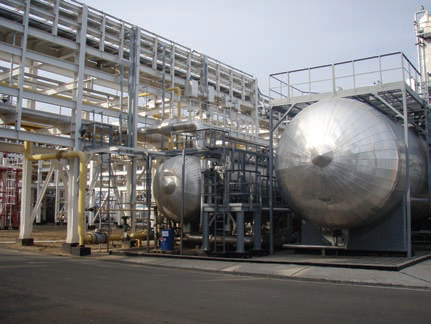 Partnerships are also beneficial for developing a foothold in more risky locations such as Iran, North Africa and Libya, where IMPaC has noticed the return of previously postponed opportunities. "We see upstream projects that had been postponed for several years coming back as IOCs and NOCs are looking at budgets and developments once again in these areas. North Africa is coming back and we have won one of our biggest ever planning and development projects in Libya; following the civil war and unrest in the country it is now going to go onstream again and we hope this continues," says Tilman.
As the Middle East enjoys an unprecedented spike in natural gas processing, IMPaC has taken the opportunity to look for collaborative opportunities at the Abu Dhabi International Petroleum Exhibition and Conference (ADIPEC) in November. "The idea for our ME engagement is to partner up with the right companies and get IMPaC involved as the front end designer. We closely work together with our branch manager and agent for our Libyan operations out there and together we approached some potential high tech partners and clients in the hope of offering smart solutions to our current and future clients."
Boasting a busy order book and a number of unique projects, the company is focusing on the resource of young engineers, a move that is generating a lot of interest from graduates based locally and abroad. "We see a lot of engineers are over 50 or 60 years old so we are looking to take on younger engineers who are looking to develop quickly and generate a lot of experience very quickly," highlights Stephan.
With a forward-thinking approach to challenges, a wide portfolio and the ability to offer high-level solutions through the provision of high quality concepts and support, the future looks bright for IMPaC as it aims to consolidate its share in offshore wind and focus on strategic areas such as Libya, Kazakhstan and Angola, West Africa. Furthermore, IMPaC aims to grow a presence in the prospering Polar Regions. "Our vision is to focus on establishing our presence in different regions by working together with partners and developing business models to suit the requirements of the client," concludes Tilman.
IMPaC
Services: Onshore and offshore engineering solutions