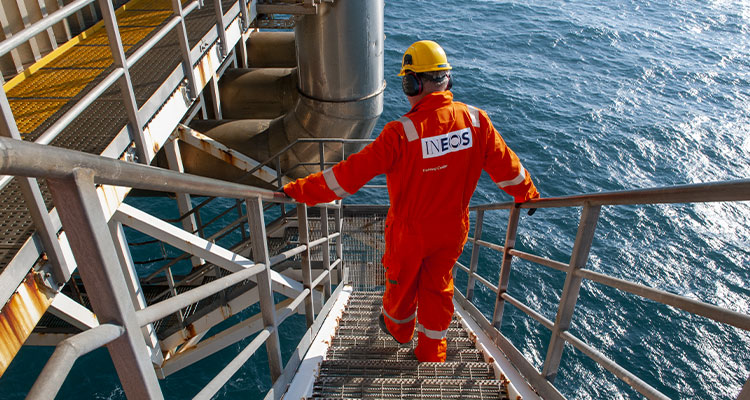 INEOS Energy's Denmark location unlocks the potential of CCS for meeting carbon reduction targets 
With years of experience and an advanced skillset in upstream oil and gas, INEOS Energy now turns its sights to expanding into new, greener energy areas, exploring the potential of the offshore carbon capture and storage (CCS) market with Project Greensand in Denmark. Undoubtedly, there is a huge global need for energy, and this has been recently highlighted by the Ukrainian crisis, predominantly affecting energy supplies in Europe. This has amplified calls to move away from highly polluting fuels – which are often only supplied by a small number of large producers – towards greener energy sources.   
Using gas as a fuel is important from a transition point of view as it does not present the same harmful emissions as other energy sources, such as coal. Furthermore, it's important for ensuring that the demand for energy is met whilst we continue to explore renewable resources. In Denmark and the UK, INEOS Energy's close proximity to extensive gas reserves in the North Sea has reduced the need to import coal, unlike in many other European countries where this has been necessary to ensure energy is delivered to the population. With this advantage in mind, INEOS Energy turns its focus to the development and expansion of renewables, with a strong commitment to meet net zero targets.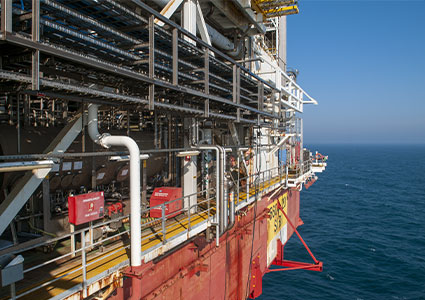 Circular economy 
Enter Project Greensand. The focus of Project Greensand is the conversion of the Nini West field and platform, a depleted oil field located in the southern North Sea, for the injection and storage of CO2. INEOS Energy and its partners are looking to repurpose the infrastructure for the storage of carbon, rather than the extraction of oil. Where previously this oil reservoir, a couple of kilometers below the seabed, would be used to pump oil up to a platform to be shipped off into the world market of oil and gas, captured CO2 is now pumped from a ship down into the reservoir to be stored beneath the seabed. 
Head of Denmark and Chief Commercial Officer Mads Weng Gade explains the purpose of storing CO2 in this way: "The reason it is important we store the CO2 is because CCS is a huge part of getting to our net zero target in Europe. In the atmosphere, we have more than twice the CO2 volume than we had before and the only way to remove that CO2 is to take it from the atmosphere and repurpose it within a circular economy, or to use CCS. Here, we can permanently remove it from the atmosphere and store it beneath the ground. In order to reach net zero targets in Europe, we need to store more than 300 million tonnes of CO2 in 2050."  
Having the correct infrastructure and facility in place, as well as the right conditions below ground, were crucial for making this project a reality. INEOS Energy operates four platforms in the Siri area in the Danish part of the North Sea. After 20 years, these fields have now reached a maturity whereby there are fundamentally very limited supplies of oil and gas, Subsequently, the current huge infrastructure system needs to be decommissioned.  
Instead, INEOS Energy took the decision to maintain the infrastructure and the existing skilled workforce and start looking into reversing the traffic in the pipeline. Instead of an oil extraction operation, Project Greensand provided the opportunity to use the underground reservoir to store carbon beneath the ground. After carrying out early investigations and geological surveys, it became clear that the reservoir was well-suited for CCS. The oil is condensed, and the reservoir is well sealed, meaning there is very limited risk of the CO2 making its way out of the seabed and back into the atmosphere. With an extensive infrastructure system and capabilities spanning 20 years of safe operation in the oil and gas industry, INEOS Energy was in an excellent position to begin work on this exciting new climate project.  
The pilot phase of the project, which has seen involvement from 23 companies within a consortium headed up by INEOS Denmark, commenced in 2021 with an initial investment of approximately £70 million to demonstrate the underground sequestration of CO2 and monitor its results. The CO2 for this pilot project came from the INEOS Oxide factory in Belgium where carbon capture is already taking place. In March 2023, Project Greensand initiated the world's first cross-border offshore carbon storage intended to mitigate climate change, marking the completion of the initial pilot phase. The results of this are still being analyzed and INEOS Energy is aiming for a start-up date of around 2025-to-2026, as the company now enters a phase of full-scale investment.  
Once achieved, it is hoped that the facility will store up to 1.5 million tons of CO2 per year, demonstrating the workability of the project as an industrial case within a commercial setting. By 2030, it is expected that this figure will rise up to eight million tons of carbon per year through the efforts of the Siri Fairway Expansion Project, which will account for 40 percent of the total carbon reduction target in Denmark.  
Carbon reduction reality
Following an extensive and impressive career within the oil and gas industry, Mads has witnessed enormous changes taking place within the energy sector, particularly in the rise in wind power as a source of renewable energy. He provided an interesting insight into why demonstrating new and innovative climate projects such as Project Greensand are so important: "There has been a huge amount of talk about CCS, but we've actually done a demonstration project to showcase that it can be done. There has been a lot of skepticism about whether a project like this would even be possible.  
"We have demonstrated that we can do bilateral agreements across countries to transport CO2 which had previously been a challenge due to protocols. We have shown that the necessary technologies exist, it is just a case of putting them together in one full value chain. I think it's really important to be able to showcase this to the industry and demonstrate that we can now do this on a large scale moving forward."  
As well as showcasing the workability and potential scalability of a project such as this to the industry, Mads continues to explain how it has been equally important for the individuals involved: "We have demonstrated that we can deploy the necessary skillset by using the same key employees we've had out there for many years. Being able to extend their potential careers into something new is really meaningful. I think that is really exciting and I sincerely hope we can continue this journey and be successful."  
As a relatively new and emerging market, certain challenges, particularly regarding high costs are likely to present themselves within the CCS space. The same has certainly been true in other areas of evolving green technology including solar and wind power. Being able to drive down these costs is of critical importance for creating a competitive market which supports real growth in this space and real progress when it comes to carbon reduction targets.  
Mads provides an explanation on the role which governments need to play to help achieve this: "It's important that the government supports businesses in this market by providing initial subsidies to help reduce costs. For example, the Danish Government provided us with a grant to demonstrate that Project Greensand was possible. Moving forward, the use of certain technologies will need government backing in terms of a legislative framework as well as helping to open the market to private companies and businesses.  
"I don't think a subsidy regime would be required for a very long period before the market becomes competitive under the EU Emissions Trading System (ETS). At some point, we will hopefully see a competitive industry begin to evolve where it is cheaper to save or capture CO2 than it is to pay for emissions under the ETS. Some of the bigger agencies believe this will happen around 2030, but the quicker we can get this moving and the quicker we can get the cost curve down, the more impact we will have in the CCS market."  
Looking ahead to the future of the business, Mads shares his hopes for INEOS Energy becoming well-established in the CCS space as well as continuing to support its core oil and gas offering efficiently. The company has also expressed an interest in expanding into new areas of green energy; an exciting venture to watch out for in the future following the initial successes of Project Greensand.