Infinity Oilfield Services
Infinity and beyond
With its headquarters in Aberdeen and facilities in Singapore and the UAE, Infinity Oilfield Services Limited (Infinity) is a dynamic, customer driven engineering business with a comprehensive portfolio of services covering hydraulic services, project management, engineering, integrated services, ROV technical services and subsea tooling design.
Infinity Oilfield Services International (IOSI), the parent company of Infinity was founded in 2002 with operations in Abu Dhabi and Tunisia. Following a decade of success overseas, it was decided to bring the talents of the IOSI services ethos to the North Sea and Infinity was founded in 2013," reveals CEO, Andrew Mackay.
"Infinity opened up the IOSI family to the drilling sector, particularly in the North Sea, and our first client was Transocean with whom we have developed a good working relationship," he explains. "IOSI has since been almost constantly employed on or for Transocean rigs including the John Shaw, Monarch, Sedco Energy and Sedco Cajun Express. We also provide services to the production sector with manpower and equipment working for Total E&P UK, BP, CNR and Shell."
Although the company is presently most global enterprise with a proven reputation for providing high quality engineering and project management services with on-going work in West Africa and the Mediterranean.Its committed and high-calibre core ofengineers give Infinity a particular strengthin inspection, repair and maintenance (IRM) and re-certification in upstream exploration and production and drilling sectors, with emphasis on hydraulic and ROV systems. Akey-differentiating feature of the business is its ability to provide turnkey support services to clients at the planning and execution phases of maintenance programmes with proven and detailed maintenance, testing, inspection, design and operational experience. As such, Infinity is the ideal solution for in-field support during both the start-up and operational phases. The company values close working relationships with its customers, as such Infinity encourages its clients and associated engineering and service providers to integrate with it appropriately to create a seamless project team, working towards one common goal and overall success.
Presently Infinity Oilfield Services is workingclosely with Total E&P UK and was recentlyawarded the campaign management contractfor all of the company's North Sea assets, asAndrew elaborates: "The contract covers allTotal E&P UK North Sea assets including Elgin- Franklin, North Alwyn, Dunbar, and St. Fergus. The campaign is intended to manage both the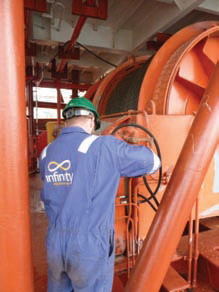 certification status and condition of all the pressure vessel units on these assets, including accumulator bottles and pulsation dampeners. The activities are composed of offshore survey and repair/replacement and onshore information management on SAP data conducted out of Total's offices in Altens."
Furthermore Infinity has recently signed a service agreement with Paladon Systems Ltd, which will see the two companies working to provide a solution to fix process valve actuator deterioration. "Paladon are a manufacturer of valve actuators and valve actuation systems, including HIPPS systems and were previously the sole packager for Bettis in the North Sea. As such Paladon have a large embedded equipment portfolio and IOSL provides the support services to survey and maintain these systems and equipment when required. Our technicians are trained by Paladon for this work and are able to interface with Paladon design staff on technical and design issues as they arise," Andrew details. "The importance from a Paladon point of view is that they have come from a traditional manufacturing background, but more and more are being asked by their customers to increase their presence and service capability in Aberdeen and abroad. Paladon are a worldwide provider of equipment servicing many areas including non-oil and gas projects and Infinity brings a pure oil and gas service capability to the Paladon value proposition."
In addition to its on-going co-operation with Paladon, Infinity is currently providing a large amount of support services on the Energean Force drill ship located quayside in Athens for its five-yearly SPS. "The scope of the work being performed by Infinity includes BOP overhaul, Koomey (BOP control) system overhaul including accumulator bottle overhaul, choke and kill manifold, cementing manifold, all HPUs, and hose integrity management," Andrew said. "Infinity are providing a multi-skilled team and specialist equipment spreads to undertake this work. It is being done in conjunction with Lloyd's Register as the certifying authority."
Indeed 2014 was a highly successful year for Infinity, with a number of significant projects for clients throughout the oil and gas industry. A further milestone for the company is a memorandum of understanding that was signed between Infinity and TSC GROUP, which promises to present a number interesting opportunities for both companies well into 2015 and beyond, as Andrew elaborates: "Possibly Infinity's most important contract was signed at the end of 2014 after a year of working together with TSC. Similar to the Paladon situation, TSC (owners of the MOS and Ansell Jones brands) have a large infrastructure worldwide, but are only beginning to move into services on the huge amount of their installed kit in the North Sea. As well as providing customer relationship management support and mutual business development resources, Infinity are providing onshore mobilisation and offshore workscope services as TSC's partner in offshore survey, maintenance, repair, and installation of new equipment. Most recently regarding new equipment installation, Infinity have been providing critical support to TSC in the upgrade of two umbilical tensioning systems on the Prospector 5 and Prospector 1 jackup drill rigs and are currently embarking on survey and FEED opportunities with Transocean in West Africa."
As Infinity transitions into 2015 it can boast a number of highly significant contracts, that will enable the company to continue to grow and pursue its vision to further develop its expertise, as Andrew concludes: "Our first priority is investing in bringing in new people with new skills, and enhancing our existing work force with more skills. We feel that a multi-skilled engineer or technician is more valuable to the industry as, for one, there is so much pressure on bed space and efficiency. Perhaps more importantly though, a multi-skilled person is better able to look holistically at offshore work programmes, bringing additional insight and solutions to the customer, assisting in driving down costs and reducing downtime. Our second target is bringing in the ROV and subsea technologies IOSI is developing overseas into the North Sea arena. This latter effort will be a big push for 2015 and we are very excited by their prospects, having already approached clients in the ROV sector in the North Sea and having received excellent feedback."
Infinity Oilfield Services
Services: ROV, hydraulic and BOP systems engineering