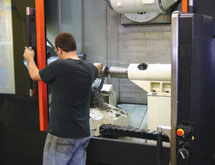 Infinity Tool Manufacturing
Infinity Tool Manufacturing may have started business only three years ago, but the company's experienced team gives it an edge over the competition. "We have, in our staff, over 150 years of service in the industry," COO and owner Todd Taylor says, noting that he personally carries more than 25 years of experience.
The Benton, Ill.-based company specializes in down-the-hole hammers, hammer bits, PDC fixed cutter bits and casing crown bits, inner bits, crossover sub-adapters and custom machining services. Taylor started Infinity Tool in 2009 and today shares ownership with partner Ken Sentel.
He adds that Infinity Tool employs a staff of 19 that includes many who have worked with Taylor in the past. In addition, the company enjoyed sales exceeding $12 million last year. "We've grown this company from zero to significant revenues," he says.
Taylor says that Infinity Tool serves a base of high-end customers, including oil and gas drillers. "They know what they want and we build it to their specifications," he states.
In addition, the company has a high percentage of repeat clients, Taylor says. "They don't particularly change vendors often," he states. "That [enables us to] shine through great customer service, top-of-the-line technical support and providing superior products."
Taylor also praises the company's suppliers. "They take very good care of us," Taylor says. "They have a very good name in the marketplace, [just as] we have a good name."
An Efficient Facility
Infinity Tool operates from a 16,000-square-foot facility in Benton. Built in 2008, the building provides the company with the efficient resources it needs, Taylor says. "All of the machinery is state-of-the-art," he says. "We have less than a tenth of a percent of downtime annually, which makes us able to deliver very quickly."
The facility also has three multi-axis mills, Taylor adds. With these, "We can do some really interesting machining," he says. "That probably sets us apart from a lot of smaller down-the-hole manufacturers."
From the ground up, the employees of Infinity Tool have all played an important role in building the facility. "Everything's been done by the people who work here," he says.
In addition, the company follows the manufacturing quality regulations of ISO 9001:2008. "We hold everything to the letter of the law," Taylor asserts. "[We also have] maintained full traceability on all our products from here, from the start to the finish."
Branching Out
With natural gas prices at a 13-year low, Infinity Tool has experienced a slowdown in the usage of its tools. To cope, it has gone after the mining industry. "That's what we were looking to do in the fourth quarter – develop a customer base in the mining industry worldwide," Taylor says.
"We do have some customers in South America," Taylor states. "We're looking to expand into those market areas, machine at a high quality and hopefully put less cost on the drilling."
Taylor adds that the company hopes to branch out with its upcoming appearance at MINExpo International in Las Vegas this September. "This is our first available opportunity to do it," he says, noting that he has attended the convention while he worked at other companies.
"It turns Las Vegas upside down," he says, explaining that the show will bring a bevy of potential prospects for Infinity Tool to meet. "The show is so massive."
Despite the drop in natural gas prices, Taylor sees a bright future for Infinity Tool. "We hold patents on oil and gas tools," he says, noting that this will keep the company solid.
In addition to its plans to acquire new customers, "We're looking at expanding our production facility into a fixed cutter line of products, which will also help in the mining industry," he says. EMI