Managing innovation
Since the company was incorporated in Ridderkerk, Netherlands during 2001, Innovative Input BV has operated as a leading provider of cranes, lifting beams, winches and special constructions for offshore, onshore and civil engineering applications. The company was established by its current managing director, Piet Kalkman who founded the business on the back of his many years experience within the field of marine engineering. At the heart of the day-to-day running of Innovative Input is Piet's dedication to an operational philosophy, comprising the three key disciplines of knowledge, creativity and experience. This allows the company to accurately judge what is technically possible and what is not, while thinking as an inventor that is focused on achieving the goals of its clients and of the business itself.


Innovative Input began operation as a design office, comprised of a team of highly skilled designers and draftsmen. With the success of this initial venture it was decided to diversify the business through the delivery of its own products. As such Innovative Input began to co-operate with trusted producers of offshore equipment and has since expanded its focus to include concept studies, basic designs, calculations, detailed designs, drawing plans, as well as the complete delivery of cranes, winches, lifting gear and special equipment. Furthermore all of the company's products are delivered with all required certificates relating to industry inspection institutions, including Det Norske Veritas/Germanischer Lloyd's, Lloyd's Register, Bureau Veritas, American Bureau of Shipping and the China Classification Society. This ensures the reputation of Innovative Input as a trusted partner in the provision of bespoke equipment and solutions.
A key strength of Innovative Input is its dedication to offering the right construction for every application. Regardless of if the client requires an offshore crane, tensioner, lifting beam or winch, the company is able to design the most effective solution. Additionally, the company is further specialised in the provision of heavy, non-standard equipment for offshore, onshore and civil engineering applications. Indeed Innovative Input has been engaged in the design and manufacture of heavy machinery for over a decade with a keen eye for quality and reliability. The process of transitioning a mechanical engineering product from design through to manufacture requires high levels of technical knowledge, experience and creativity. The development team of Innovative Input strives to produce original and simple designs that maximise the feasibility, functionality and longevity of the final product. The interdisciplinary approach of the company's design process enables Innovate Input to arrive at a realistic proposal quickly and work with clients quickly to provide the ideal solution.
Core to the company's development process from design through to manufacture is its dedicated system of quality control. This dedication to delivering the highest standards in both design and manufacture is the reason that Innovative Input builds all of the machines it delivers according to a fixed procedure. Innovative Input specialists maintain regular contact with clients throughout the entire process of the development of the final product and apply a product data management (PDM) procedure to every assignment. PDM represents an important application for monitoring quality and gives a clear overview of the technical decisions that have been implemented and the progress of the construction process. Further to maintaining close contact with clients throughout the development of machinery, PDM allows Innovative Input to collect registered data in a final project book, which can be presented to the customer following a final evaluation after project completion.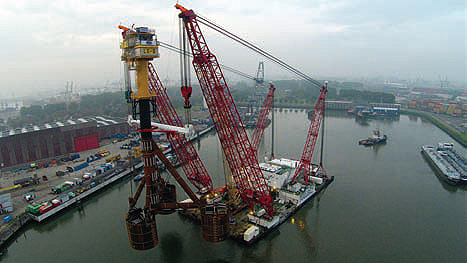 By implementing a highly focused design process and dedicated quality control procedures, Innovative Input is able to supply products that fall into the four main categories of cranes, lifting gear, winches and special equipment. One of the company's most popular products is its lifting beam for heavy loads, which was originally introduced as a bespoke product but has since proven to be so popular that it has become part of its standard equipment portfolio. During its history Innovative Input has also developed several special and auxiliary constructions in mechanical engineering that address some of the more challenging problems of its clients. These include the construction of an upper side step arm, a 500 tonne pipe tensioner as well as a cutter platform with a long drum winch. This platform is accessible and movable to different heights as required and remains in a horizontal position at all heights. Furthermore the company has also completed a single-hinged type cutter platform for a client that was designed to replace an existing structure. The advantage of the design that was delivered by Innovative Input was that it increased the available working area by around 45 per cent, greatly increasing accessibility.
Although the majority of its business is generated within Europe, Innovative Input has delivered successful projects globally including clients operating within China and the USA. Throughout all of its undertakings the company is dedicating to behaving as a socially responsible entrepreneur with full awareness of the applicable standards of environmental awareness. This coupled with its market leading and innovative portfolio of design solutions will ensure that Innovative Input remains the company of choice for clients old and new for years to come.
Innovative Input
Services: Cranes, lifting beams, winches and special constructions