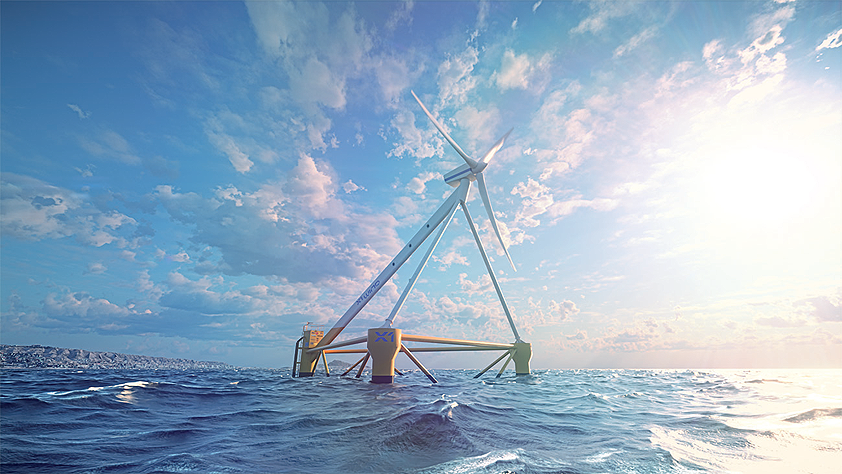 The prototype has been developed through the €4m PivotBuoy Project awarded by the European Commission H2020 Program. It will be installed at the PLOCAN test site with full exposure to open ocean conditions in a bid to demonstrate the efficiency of the innovative structural design and mooring system.
The pan-European Pivotbuoy consortium includes leading companies EDP NEW, DNV, INTECSEA, ESM and DEGIMA and world-class research centres WavEC, PLOCAN and DTU.
The Pivotbuoy Project is aiming to substantially reduce the current Levelized Cost Of Electricity (LCOE) of floating wind by demonstrating the advantages of the PivotBuoy system, namely a reduced floater weight, a faster and cheaper installation process and a more reliable operation.
Fitted with a Vestas V29 turbine, the 1:3 scale prototype (X30) will be stationed at a 50m water depth through a single point mooring system in a downwind configuration – creating a 'weathervaning' solution which maximises use of passive systems.
"This is a significant step forward for X1 Wind, preparing the way to demonstrate how our innovative technology can deliver dramatic cost savings and firmly position floating wind as a competitive green energy resource," said X1 Wind CEO & Co-Founder Alex Raventos. "Our technology can play a crucial role to reduce harmful climate change and reenergise global efforts to limit temperature rises to 1.5C, in line with the UN's Paris Climate Agreement and EU's 2050 Climate Neutrality target."