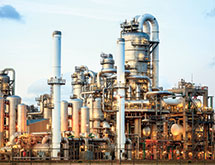 Innovator Industrial Services
The fastest-growing specialty service provider in Canada, Innovator Industrial Services, is bringing the most advanced and innovative technology to its clients. From its strategically located offices in Edmonton, Fort McMurray, Hamilton, Sarnia and St. John's, the company's specialty lies in maintenance and construction services required to maintain high-temperature and high-pressure piping systems utilized in heavy industry. Innovator Industrial Services supports the construction, commissioning, maintenance and turnaround requirements of any project.
"Innovator started from the vision and determination of President Don Cooper," Manager of Business Development John Dwyer says. "Don had been involved in the specialty mechanical services for about 15 years when his entrepreneurial spirit and strong desire to bring his innovative approach to the industry became a reality in 2009. Our locations are strategically placed to allow us to service and support the clients and industries we are fortunate to serve."
Meeting the Needs
Thanks to a solid core of services, Innovator Industrial Services can meet the life cycle of the industries and facilities it serves. Technical bolting, hydro testing, leak containment, composite pipe repairs, field machining, NDE Inspections, day-to-day maintenance, shutdown, construction and commissioning are all part of its portfolio. It has invested in everything from exceptional technicians, engineering and operations support and project planning to quality, safety and overall project management support.
The company has become the fastest-growing specialty mechanical services provider in Canada by continuing to find, develop and deploy a range of industry-leading people and technologies that set the standard in the industry. Innovator Industrial Services delivers this with exceptional customer service and a commitment to safety and cost effectiveness.
"Our clients have requested we grow to support them," Dwyer says. "But our growth is not wild and unplanned. It is with careful consideration, planning and with a sustainable foundation."
Today, the company works with customers across many industries. This includes oil and gas, chemical processing, mining, utilities and nuclear. It reaches the market sectors through its strategically located facilities and strong sales and marketing systems.
"Through word of mouth, we've attracted some of the best employees and customers," Dwyer says. "We trust and respect our clients and our people. We take a partnership and collaborative approach to create solutions that get positive results."
Innovator Industrial Services knows that its customers expect safe, consistent, qualified and engineered solutions that get them the productive results they want to achieve. The company aims to provide just that while keeping an eye on continuous improvement opportunities.
"We have searched the world over and surrounded ourselves with industry-leading people," Dwyer says. "That is combined with our commitment to the personal and professional development of our people. Exceptional technical training programs have allowed us to train our people over many disciplines that results in the development of quality solutions and the safe and successful execution and implementation of those solutions. This commitment has resulted in the attraction and retention of a solid workforce that our customers can rely on."
Ongoing Development
Continued innovation supports the company's ongoing evolution. Innovator Industrial Services looks for innovative and industry-leading technologies, and it has a strong research and development program. Recently, in conjunction with one of its technology partners, the company was involved with development of the Longbow, the world's first high-pressure hydrotest elbow grip plug.
"This has fabrication and modular construction clients requesting demonstrations frequently," Dwyer says. "As soon as they see the tools in use, the orders are quick to follow. It is a solution that saves time and money while maintaining quality and safety, a combination that gets our clients the results they are wanting to achieve and another example that sets us apart and allows us to be seen as an industry leader."
In the years ahead, Innovator Industrial Services will strive to continue to excel in Canada while also pursuing its aspirations of international growth. To achieve this, the company's main priorities and challenges will be to continue to deliver solutions to its clients and industries in a way that is consistent with its vision and mission.
"We will continue to take a collaborative approach to ensure our customers get the results they are wanting to achieve," Dwyer says. "We are truly our clients' partner in building a leak-free work place, and we want to create win-win results for all stakeholders."