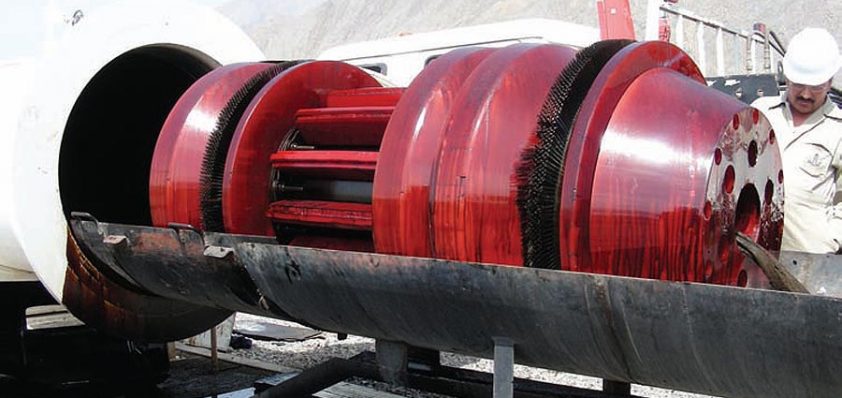 Protecting pipelines
For 30 years iNPIPE PRODUCTS has been a world leader in the manufacture and supply of pipeline products with a dedication to innovation and quality.
The company, which is based in North Yorkshire in the UK, operates in the oil, gas, petrochemical and water industries. It was established in 1984 by Ken Hemingway, who was widely regarded as a lifelong innovator and highly reputed expert in the pipeline industry.
Throughout its history the business has been at the forefront of innovation in the industry. From its first patented product, an intrusive signaller that to this day is acknowledged as a market leading solution, the company has continued to expand its product range, which today is unrivalled in the market and includes metal bodied pigs/scrapers, spheres, foam pigs, weld testers, pig signallers, and launching and receiving solutions.
Many of these products have become the standard bearers in their field, with iNPIPE PRODUCTS exporting 84 per cent of its turnover to six continents worldwide. In its 30 years of business the company has established a series of strong strategic alliances globally, which allow it to quickly and efficiently respond to the needs of its clients.
Alongside this network iNPIPE PRODUCTS' manufacturing facilities in the UK are equipped to produce the highest quality machined parts and polyurethane pigs to both standardised and customised specifications. In fact, in order to maintain its leading position in the market the company has recently opened a new, state-of-the-art 60,000 sq ft factory. Set in six acres of land this new site will provide iNPIPE PRODUCTS with the necessary space for training, pig loops, product prototype testing and demonstrations/training for pig tracking and location.
iNPIPE PRODUCTS is the world leader in the design and manufacture of pigging, pipeline pigging and pigging components, which are used for pipeline pigging for maintenance, pipeline abandonment and decommissioning, and pipeline products for testing and isolation. The former is an essential factor in successfully running and operating any asset or pipeline to its maximum efficiency, with reliable and high quality pigging being integral to pipeline maintenance. For this particular application iNPIPE PRODUCTS provides a number of different pigs and maintenance products, such as foam pigs, which are used for cleaning, swabbing, product separation, de-watering and drying; spheres, which are effective to separate and batch products; and bi-di and cup pigs.
iNPIPE PRODUCTS is the largest manufacturer of foam pigs in the UK and works very closely with its clients to ensure development of the optimum pigging solution. Foam pigs are developed from materials that provide a number of advantages and are available in bare foam, criss cross, silicone carbide and wire brush variations. The pigs can travel up to 400km in a pipeline and are capable of negotiating short radius bends, mitres, tees and different valve configurations. Furthermore, they are maintenance free and disposable for ease of use and are designed specifically for each individual clients' request.
The application of iNPIPE PRODUCTS' pigs and accompanying products is essential for ensuring that the inside of a pipeline remains debris-free, has no deposits, and is condition-monitored along its entire length. This not only has significant benefits for the longevity of pipelines, but also ensures that the quality of the product in the pipeline remains high and that overall production is not affected. For that reason, iNPIPE PRODUCTS' solutions are a vital component of many of the major pipeline operators' maintenance programmes worldwide.
In recent years the decommissioning of offshore assets has grown considerably, and in this field iNPIPE PRODUCTS' pigs and associated solutions are playing a vital role. Pipeline decommissioning involves pigging, flushing, filling and eventual plugging of the pipeline and iNPIPE PRODUCTS has a number of pigging tools that are extremely effective at these operations. For example, the company's abandonment plugs are used to permanently seal a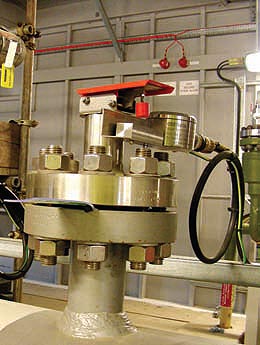 pipeline during the decommissioning phase, while its hyperbaric spheres are applied to ensure a dry subsea hyperbaric pipeline tie-in or repair where radiographic inspection may be required.
While the company's pigs are extremely reliable and able to effectively and efficiently work through a pipeline, iNPIPE PRODUCTS offers a range of pig locators to track the pig during operations. The CD42 pipeline pig tracking and location system allows operators to detect and record pig passages quickly and easily. The system features a state-of-the-art back-lit graphics display to highlight the passage of pigs that are equipped with transmitters, thus eliminating doubt over the pig's operation and eliminating stop and go progress through the pipeline.
Pigs being tracked are equipped with transmitter devices, widely regarded as the most durable, longest lasting transmitters in the industry. Resistant to shock and vibration, the transmitters are protected from damage from hydrocarbons and manufactured to exacting tolerances. The transmitters operate on the principles of a magnetic field, which is emitted and passes through the pipeline to be received on the surface. iNPIPE PRODUCTS provides a range of transmitters to allow for various performance variables like pipe wall thickness, metallic pipeline coverings, large pipeline diameters, depth of pipeline cover and battery strength, all of which can have an impact on signal strength and reception.
Alongside pigging, pipeline maintenance also involves extensive testing to ensure the integrity of the pipe. Regular testing not only means that pipes are complying to safety standards, but also increases lifespan and reduces overall maintenance costs by highlighting any potential issues as early as possible. During pipeline testing pressure indicators are used to assess the integrity of the pipe, while pipeline isolation solutions are used to section off a particular piece of pipe for subsequent repairs.
iNPIPE PRODUCTS has developed a portfolio of tools that can be used for both of these vital maintenance processes. For example, its flange weld testers and internal weld testers can be used to test new flange welds or new internal welds respectively, while it has a range of pipeline plugs and dual tools for isolation and hydrostatic testing.
When it comes to looking after a pipeline iNPIPE PRODUCTS is a world leader, with a suite of state-of-the-art solutions that are capable of ensuring pipelines are operating as effectively and efficiently as possible with any maintenance being seamlessly carried out. The company, which prides itself on continuous development and innovation is at the forefront of the industry, and with the depth of experience and skill within the business this is likely to continue for the foreseeable future.
iNPIPE PRODUCTS
Services: Pipeline products