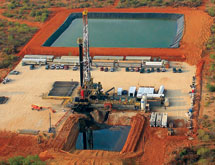 Integrated Drilling Equipment
A leading drilling rig manufacturer, Integrated Drilling Equipment (IDE) is a provider of choice on the global market because it takes the time to listen to clients and understand how they differentiate themselves. This approach has allowed IDE to become a major player in land-based rigs while expanding its presence with offshore platform rigs and horizontal drilling.
"We provide a competitive and fast-moving rig, geared especially around shale plays in U.S. markets," Managing Director of Operations Tony Beebe says. "We work with customers to build the rig they need for their end-users."
IDE offers an array of rig services – such as electrical and mechanical rig ups, hydraulic field service, rig fabrication and rig refurbishment – thanks to its sister companies IDE Fabrication, IEC Systems and IDE Hydraulics. IDE is always looking for ways to improve its offerings, such as launching the fast moving Sparta rig three years ago, which can help with project exploration because its X- and Y-axis V-door make it suitable as a development and pad drilling rig.
"We have the ability to customize to the customers' needs and service them after the sale," President and COO Richard Dodson says.
All About Automation
As the company works to improve internally, it has focused on moving to a lean manufacturing process. This effort is meant to make the company more efficient and allows it to provide American-made rigs on a global basis. In addition, the company is investing in technological innovation such as instrumentation and monitoring systems built into its equipment.
The company also stays on top of emerging trends. One of the biggest rends in the land drilling market has been a shift toward AC-powered rigs. Among IDE's core strengths is its ability to build the variable drives that control the AC-powered motors, as well as having software development capabilities in house.
"Everything we do allows us to build a fast moving, steel rig design that is a competitive product in the market," Beebe says.
"We also help the drilling operators because our rigs can be moved with low risk," he adds.
IDE also believes that the industry will end up moving toward rigs that are operated by one or two people and are outfitted with a high degree of technological instrumentation. Much of that technology will be geared toward measuring data points and automation.
"We are taking a step down that path with a new rig we have coming out that has more advanced control systems and software," Beebe says.
"We're also making the rig cost effective and the same time we're providing operators with more real-time information," he continues.
IDE's approach to growth has traditionally been to balance organic growth with acquisitive growth. That strategy is likely to continue in the years ahead. In fact, one recent acquisition is what allowed the company to create the IEC division.
In July 2011, IDE acquired S&P Drives Automation Controls LLC and rebranded it as International Electric Co. (IEC) Automation and Controls. Bringing that advanced technology into IDE's portfolio is a critical piece of the company's ability to take leading position in rig automation.
Other enhancements – such as the development of new instrumentation packages, manufacturing and rig design – are more likely to occur in house. "We always look at our design and functional specifications and encourage our technicians and draftsmen to be creative and innovative," Beebe says.
Public Presence
One aspect of IDE that is slated to change its private status, as the company plans to go public after recently merging with Empeiria Acquisition. Going public should provide access to capital markets and increase the company's growth potential. In addition, IDE works with many large oil companies around the world. Going public should enhance IDE's ability to compete on a global scale.
"That is our plan, and we going forward with it," Dodson says. "From a high level, we think that going public will give us a lot of transparency in the global market."
As the company evolves, some things will remain the same. IDE always will charge its sales force and technicians with the responsibility of building relationships with clients and working closely with them to define their needs. The company will always strive build a cohesive internal culture and ensure that each piece of the organization has the right skill sets.
Most importantly, IDE will always focus on delivering value for customers and helping them build the best wells possible. That will keep the customers coming back year after year.
"We will also try to identify and serve more niche markets, finding opportunities where there are unmet needs for turnkey and drilling solutions," Beebe says. "For example, there isn't a major go-to turnkey solutions company working on platform rigs. We've launched a new division there, and we're looking at opportunities and trends in Alaska, the Gulf of Mexico and Latin America so we can expand in those markets."