SUPPORTING THE RENEWABLE ENERGY SUPPLY CHAIN
Our storage terminal business is well positioned to play its part in meeting the growing demand for eco-friendly renewable energy, says Martyn Lyons, Chief Executive of Inter Terminals
Circular economy
With a comprehensive range of storage solutions, added value services and ongoing investment in skills and infrastructure, Inter Terminals are fully committed to supporting the renewable energy industry and the circular economy in which end-of-life resources are transformed into products that can power our homes and industry. As an important part of this commitment, we ensure that operations across our European storage network are managed safely and in a way that both protects and respects our neighbours and the wider environment. By working in partnership with customers, regulators and other stakeholders, we believe the modern bulk liquid storage industry can play a pivotal role in creating a greener future for our planet.
Biofuels blending expertise
Inter Terminals have developed long term partnership solutions with the biofuels industry that have, and continue to require, responsive, bespoke engineering and storage solutions to support the continued development of the production, raw material and finished product supply chains of liquid renewable energy sources. To support this sector we have developed a wealth of experience in the storage, blending and redelivery of 'green' fuels, as well as advanced techniques for blending biofuels with conventional hydrocarbons, both in-tank and in-line during road tanker loading. The latter provides a highly efficient and fully automated process for our customers. When a tanker driver requests bio-gasoline at the loading gantry, a signal is sent to the automated micro-blender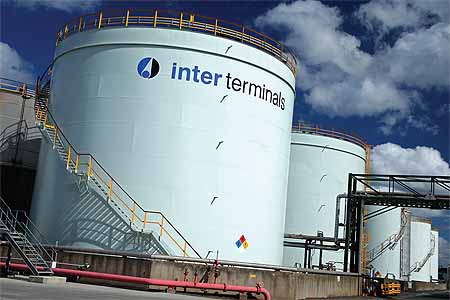 on the selected loading arm to initiate the gasoline / bio-ethanol blending process at the preset ratio. An in-blend metering system ensures that the final blend is correct at the point of delivery into the tanker. This advanced type of blending operation is managed and monitored by our Terminal Automation and Stock Control System (TASCS). This internally developed and bespoke automation package communicates the preset blend ratio to the relevant micro-blender at the load rack. After loading, TASCS calculates any excise duty per component that may be liable, provides updated stock calculations and allows customers to access near real time reporting via a web based access system.
Storage solutions
The convenient and cost effective storage of raw materials used in the production of biofuels is fundamental to our service provision to the sustainable energy sector. Feedstocks, such as used cooking oil (UCO) and tallow, can be received into our terminals by road tanker or by sea and stored in heated tanks ready for redelivery to biofuel manufacturing plants which produce FAME (Fatty Acid Methyl Esters) – the chemical term for biodiesel produced by the esterification of UCO and tallow. We also have the capability to store FAME under the required excise duty suspension arrangements, ensuring compliant handling and control of stocks for our customers.
Alternative fuels
In addition to biofuels, Inter Terminals also offer facilities with the capacity and approvals in place to store a range of recovered organic and solvent wastes, including oils, glycols and solvent based inks and paints. These materials are used by specialist recycling companies to create an alternative recycled fuel that can be used in industrial processes. All hazardous bulk liquid wastes are stored and managed for our customers under strict stock management systems and reporting regimes, with the appropriate licenses and permissions as required by legislation.
Upcycling waste
Our waste storage capability also attracts interest from the waste oil recycling markets. Waste lubricating oil collected from various recycled sources can be received for bulk up at our terminals, prior to being exported to European refineries for upcycling into high quality oils and lubricants.
Inter Terminals
Services: One of the largest independent bulk liquid storage providers in northern Europe