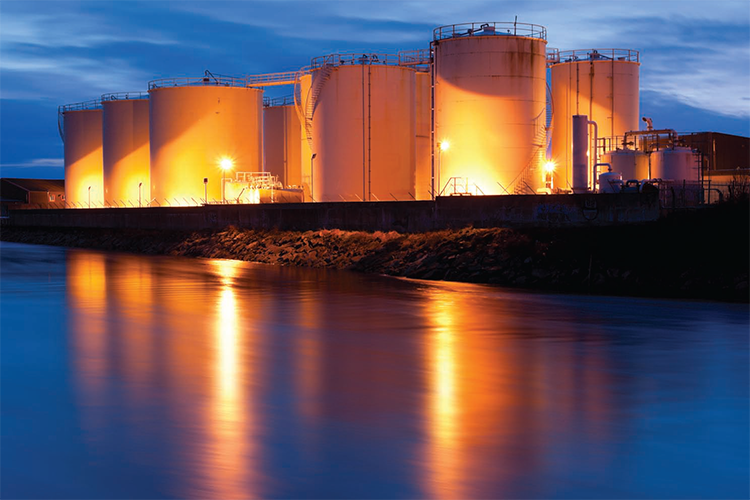 One vision
The Inter Terminals business represents one of the largest independent bulk liquid storage businesses in Europe, encompassing more than three million cubic metres of storage capacity situated across 12 terminals throughout Europe.
Prior to 1st January 2015 the company was divided into two separate entities, wholly owned by the parent company Inter Pipeline Ltd. based in Calgary, Canada. Inter Pipeline Ltd. represents a major petroleum transportation, storage and natural gas liquids extraction business and is one of the largest infrastructure businesses in Canada that ranks among the top 50 companies listed on the Toronto Stock Exchange.
Originally Simon Storage was responsible for terminals located within the UK, Germany and Ireland, while Inter Terminals in Denmark operated deep draft coastal terminals providing build bulk, break bulk and custom blending services for distillates and heated oil products. Today all of these terminal facilities are managed under the Inter Terminal brand, led by chief executive Martyn Lyons who brings with him over 25 years experience in the tank storage sector. Martyn is well known throughout the tank storage industry and continues to serve as chairman of the UK Tank Storage Association. He succeeds Richard Sammons who is moving into a new role as executive chairman. "I am delighted to see the integration of our operations under one unified management structure and I wish Martyn and his team every success in their new roles," Richard says. "Adopting the Inter Terminals name across our European terminal network will strengthen brand recognition and the marketing of our integrated suite of storage services. It also creates a stronger branding affiliation with
Inter Pipeline Ltd., our Canadian parent, which continues to provide strong support for our operational and growth initiatives across Europe. We look forward to serving both existing and new customers in the future." Inter Terminals is a world-class operator that brings first-rate engineering skill to the tank storage market. The business has a proven track record of operating handling and storage facilities for a number of industrial clients that encompass a wide range of specialist requirements. Indeed the technical knowhow of Inter Terminals extends beyond the oil and gas industry, with infrastructure solutions extending into the chemical, food and drink, agricultural and pharmaceutical sectors. Furthermore it is able to offer a full suite of intermodal and management services as part of a fully integrated package.
Management solutions can be delivered in part or fully outsourced packages to suit its clients' individual business needs. These options can range from the training and management of customer employees through acquiring a customer's existing facility, upgrading it to the latest industry standards and then operating and managing the site as required. Key to this is Inter Terminal's leading position in operational safety, which enables it to develop tailored training programmes and competency assessment schemes that allow clients to trust their storage needs to Inter Terminals in full confidence.
Within the oil sector Inter Terminals is a leading supplier of bulk liquid and gas storage and handling facilities and maintains a specialised position in the provision of fully integrated solutions for clients within the oil sector at its own terminal facilities and through the expert management of third party facilities. Additionally, Inter Terminals operates a respected engineering division that boasts a proven track record in the construction of new facilities as well the upgrade of existing sites. The company's turnkey services include the design and installation of advanced automation systems for stock management and road loading. As such, many oil majors rely on Inter Terminals' technical and management skills in forming proactive partnerships that allow clients to focus on their core business activities.
Further to its extensive competence in terminal operation and management, Inter Terminals boasts a full range of extensive terminal infrastructure that reflects its position as one of Europe's largest gas and liquid storage terminal operators. Its terminals within the North East of England include ready access to major road, rail and shipping routes that facilitate the receipt and further distribution of product to clients operating throughout the UK and Europe. Its terminal located in Immingham for example, offers flexible tanking and pipeline configurations with rapid transfer rates as well as a prime location adjacent to two of the UK's largest oil refineries. Within Denmark the company's terminals provide specialist oil storage and handling services to some of the industries leading oil companies and traders. The facilities and services on offer within Denmark include an extensive range of tank capacities, pipeline connections to deep draft facilities, tank-to-tank and into-tank blending to order, as well as high loading rates. The terminals can accommodate Suezmax and Aframax vessels as well as VLCC-class tankers at some locations, demonstrating the full range of services available to clients of all sizes now operating under the Inter Terminals umbrella.
Since Simon Storage was last featured in European Oil and Gas Magazine during April 2014, both it and Inter Terminals have indeed undergone an important transformation. By becoming a single entity unified by the Inter Terminals brand, the company can offer a uniform and proven solution in storage and support services that will continue to be an attractive and effective option for its clients.
Inter Terminals
Services: Support services, storage