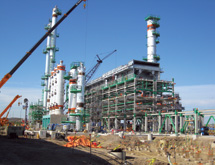 International Alliance Group
When International Alliance Group (IAG) was founded in the mid-1990s to execute fluid catalytic cracking (FCC) revamps and related refinery projects, it grew its revenues by the millions. Over the last five to 10 years, as the shale boom took the North American marketplace by storm, the company began growing dramatically and now manages billions of dollars of projects.
Today, IAG also focuses on the midstream, petrochemical and renewable energy sectors as well as its traditional downstream market, and it is growing alongside the vast new sources of natural gas and oil being found in the United States and Canada.
"In the last five years or so, we've taken on and successfully completed multiple projects in the billion-dollar range, so we've grown quite dramatically in those five years," says Jon Moretta, executive vice president of sales and marketing. "Similar to other companies, the hottest areas we're in right now are being driven by the North American shale gas 'revolution.'"
IAG is a worldwide general contractor in technology driven, energy related projects. Since 1996, the company has served as the single point of responsibility for over 150 capital projects in more than 20 countries.
As Moretta says, the new abundance of natural gas from North American shale plays is keeping IAG the busiest these days. For these midstream projects, the company delivers rapid deployment of natural gas processing and liquids recovery facilities – basically, any type of construction related to midstream processing of natural gas and associated liquids.
"There is a large price spread between gas and crude oil as well as potential derivative petrochemicals," Moretta says. "Many of the petrochemical projects that were previously on hold are moving ahead now with the low cost of natural gas feedstock."
CAP-TURE the Moment
To better manage its projects, IAG developed its own in-house project management system where its employees, and clients can access all information related to a given project through one central database. Known as CAP-TURE, the comprehensive system houses a complete set of information including all documents related to engineering, procurement and construction; material control; purchase orders; inspection; accounting, and project controls. The system allows IAG and its clients to access real-time project status information from anywhere in the world.
While other companies tend to use off the shelf ERP software for project management, Moretta says IAG did not want to change its proven project execution model to fit these solutions.
"We felt like we would have to completely change the way we do project execution and force ourselves into these other platforms," Moretta says. "We want the most effective project execution system and to have the flexibility to customize it for different projects, and you can't really do that in these other platforms."
Scott Pappas, executive vice president, says using CAP-TURE instead of other software systems helps the company manage all critical project information and avoid errors that might result from using off-the-shelf products. "This helps avoid errors as a project progresses because everything flows through CAP-TURE, so the data flows consistently," he adds.
Speed to Market
CAP-TURE is just one way IAG has streamlined its operations to increase the speed-to-market of its projects while maintaining the highest quality and safety standards. "Our project execution model was originally developed to minimize turnaround times, which keeps people online and making money," Pappas says. "FCC revamps are very complicated and can lead to extended turnarounds where refiners are losing money while the refinery is shut-down. Our project execution methods keep the turnaround schedule as short as possible and gets them back online, producing products, as fast as possible."
Along with safety and quality, of course, speed to market is of utmost importance. Moretta says IAG is working on various standard gas plant designs that will bring its clients into the market even more rapidly – safely, on time, and on budget.