International Naval Works
Diving into marine and oil & gas
International Naval Works (INW) represents a leading name in Egypt and the Middle East's oil and gas sector.
Founded in 1977 the company currently has its headquarters based in Alexandria with branches in Cairo, UAE, the Kingdom of Saudi Arabia, Qatar and Kuwait. In 2002 it expanded its operations opening the subsidiary company International Marine Works (IMW), which was established to work exclusively for the oil and gas industry in Egypt while INW provides services within Egypt and the wider Middle East. Operating within the Public Free Zone gives INW a great deal of flexibility, while offering its customers a host of support services in a dedicated and professional manner.
INW's fleet operates across two areas, which it defines as its diving and marine operations. Serving these areas it maintains a fleet of five vessels with a sixth planned for 2014. Its first vessel, INW-1 was built in 1982 as a diving support vessel and is currently operating a long-term contract for diving activities with Egypt. During 2008 INW began work to acquire four new vessels, with INW-2 arriving the same year as a utility support vessel and currently also engaged on a long-term contract in UAE. Then in 2009 the company took delivery of INW-3 and INW-4, which are both firefighting, anchor-handling tugs (AHT). Currently, these vessels are engaged in mid-term contracts of the Kuwait Oil Company and with ADMA-OPCO in Abu Dhabi respectively. Its latest vessel, INW-5 arrived in 2011 and is currently in operation in Kuwait carrying out inspection and maintenance services. The newest vessel in INW's fleet will be called INW-10, it is a DP2- AHTS/OSV and is intended to be more sophisticated than its preceding vessels. The company is scheduled to accept delivery of the vessel no later than December 2014.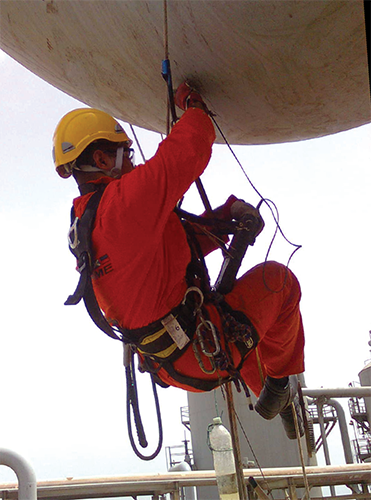 INW and its subsidiary are able to offer a range of marine services including anchor handling and towing, inspection, maintenance and support operations. Within Egypt it is currently working with a joint venture between the Egyptian General Petroleum Corporation (EGPC) and British Petroleum. Within this project the company has undertaken some complex work, including the installation of underwater clamps to prevent underwater pipeline burst or damage.
A major jewel in the crown for the company is its diving division. Operating as part of the company since its inception and having close to 35 years of experience, its divers have a reputation for setting the standard in the Middle Eastern region. "We are considered the biggest diving company in terms of manpower. We have about 250 divers serving the Middle East and this gives us a lot of privilege," begins Captain Omar Ezz El Din, chairman of INW. "We carry out a number of different diving jobs within the offshore sector, where we do inspections jobs, cutting and welding. There are a lot of various projects with a lot scope for different types of work within our diving sector."
Complimenting these services, INW also owns and operates four remotely operated vehicles (ROV's) and offers a unique array of rope access techniques, including abseiling and other techniques that allow it to operate in challenging environments. With this impressive service portfolio and expanding fleet, it is clear that INW is dedicated to being the preferred operator for oil and gas services in the Middle Eastern region.
Supporting its ambitions, INW operates a strict quality control system as well as its own safety management system (SMS). The company is fully certified by the ISO 9001:2008 quality control system and operates all of its vessels under ISM code regulation. These certifications are something that INW takes very seriously as a benchmark for ensuring that it is able to offer its customers the very best in industry-leading service. It takes an active interest in training its staff and management in complying with all of the practices detailed within ISO and ISM certification. It operates an internal training system for its entire staff focusing on its SMS and quality control measures and routinely sends personnel to training seminars around the world ensuring that the company is able to work at the cutting edge of industry regulation. Within its diving and marine operations INW is part of the International Marine Contractors Association (IMCA), which allows it to maintain its market leading reputation within this area as Mohamed & Ahmed Ezz El Din explains: "Being part of the association means that we know that we are applying the most recent guidelines and procedures while undertaking our diving activities. To be associated with the group is good for us because it is a well-known group and it sets a high standard to be following their guidelines and practices. This is very important for us."
Moving into the future INW will be focused on further strengthening its reputation as an industry leader in the Middle Eastern region and maintaining its ROV fleet and diving activities through the supply of the latest equipment and training. Its continued investment in its fleet will be the driving force behind the company's work to ensure that both its diving and marine services are leaders in offering world-class service. As such, the rest of 2013 and 2014 will be focused on ensuring that INW-10 is delivered to specification to allow INW to expand its customer base and grow well into the future.
International Naval Works
Services: Offshore support, diving and marine services