Unlimited potential
Formed in 1997 by Phil Mulacek to establish an oil refinery in Papua New Guinea, independent oil and gas business InterOil Corporation today is focused on high-value exploration and LNG development.
A year after its inception the company acquired its first exploration licences in Papua New Guinea and drilled its first exploration well in 1999; four years later the first crude oil was refined, a development that was followed by the discovery of Triceratops in 2005, Elk in 2006 and Antelope in 2007. In 2009 the successful firm was listed on the New York stock exchange and in 2013, in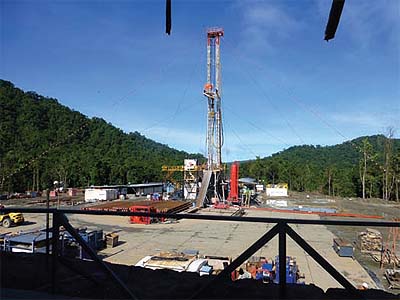 line with plans to transform InterOil Corporation into a well funded, streamlined organisation, Dr Michael Hession, a former BP and Woodside executive, was appointed CEO. Continuously exploring for oil and gas across 16,000km2 (four million acres) in the south of PNG, the company discovered Raptor and then Bobcat, its fifth consecutive discovery, in 2014.
Following these major developments, the company made the strategic decision to stabilise its business, monetise its gas resources and invest in new growth through its PNG exploration licenses, which were granted in March 2014, last up to 11 years and cover 16,000km2 in the Eastern Papuan basin; a move that led to the selling of its refinery and downstream business, a new management team and board renewal. With its vision in place, the company signed a multi-billion dollar LNG development deal with Total in December 2013 and appointed Don Spector and Jon Ozturgut as CFO and COO respectively. Jon is a senior oil and gas executive with comprehensive experience in multi-billion dollar investments in exploration, development and production projects, while Don brings experience in senior roles in Woodside, BP and CRA, which has since been renamed Rio Tinto.
On top of these appointments, the company's board was complemented further with the inclusion of industry veteran Chris Finlayson, who became chairman in August 2014. As a geologist, physicist and petroleum engineer, Chris brings to the company nearly four decades of global experience in leading exploration and production ventures in locations such as Russia, Nigeria and the North Sea; he also boasts 15 years senior level experience in the LNG industry. Also strengthening the board are Dr Ellis Armstrong and Katherine Hirschfeld, two former BP executives, who join Ford Nicholson, president of Kepsis and Pobe financial group, Samuel L Delcamp, former executive director and chief investment officer of the Fuller Foundation, Sir Wilson Kamit, former governer of the bank of Papua New Guinea; Roger Lewis, former group financial controller of Woodside Energy and Sir Rabbie Namaliu, Papua New Guinea Prime Minister from 1988 to 1992.
In February 2014 Oil Search joined the Elk-Antelope joint venture, with Total closing the deal in March 2014; so far this partnership has progressed positively, with the companies involved using their expertise to ensure optimum development and exploration, as vice president of InterOil Corporation Rob Milhouse discusses: "InterOil is well placed as an exploration and development company. We have one of the region's biggest gas fields and great partners in Total, a global super-major, and Oil Search, a partner in PNG's only LNG project so far that has been active in PNG for more than 80 years. For the Elk-Antelope joint venture we are currently working on market surveys, LNG site screening, meteorological and ocean analysis, geophysics, topography, and environmental and social studies as part of development planning for the LNG development. The venture expects to select a preferred site for the LNG facilities in 2015, with early works in 2016, and for us to commit to construction contracts in 2017. First gas is expected in 2021-22.
"Our primary focus is on developing the Elk- Antelope LNG project with Total and Oil Search. According to some analysts, Elk-Antelope has the potential to be among the lowest-cost LNG projects in the world. PNG is on the doorstep of the world's largest LNG markets in Asia and has demonstrated it can deliver mega projects ahead of schedule and on budget."
With more than 500 personnel working on the Elk-Antelope LNG project, InterOil notes that the gas field provides a number of advantages to those involved: "Elk-Antelope is closer to infrastructure than any other developed gas field in the country, is close to a major river – an important cost benefit when transporting people and equipment to remote areas – and is in a less-mountainous region than other major gas fields, which is a big factor in development cost. Furthermore, it is a single gas field that can be developed without the expense of pipelines and processing facilities to collect gas from multiple fields."
Operating in a region that will lead global gas demand by 2025 and have the largest amount of middle class people in the world by 2030, InterOil Corporation is in an enviable position as a limited supply of conventional gas creates dependence on the import of LNG. To meet that demand the company has a comprehensive drilling campaign that has yielded the Raptor discovery, 12km west of Elk-Antelope. It has been drilled to a measured depth of 4032 metres below the rig rotary table and was recorded to have gas and condensate at surface in November 2014.
Following this discovery, the company notified the Papua New Guinea Department of Petroleum and Energy of a discovery at Bobcat, about 30km north-west of Elk-Antelope. "The Raptor discovery is promising, particularly as it is close to Elk-Antelope. Appraisal of the field is planned for the second half of 2015. Depending on its size, the field could be tied in to Elk- Antelope," says Rob.
Benefiting from a new team, secure tenure, strong financial backing and increased interest from investors, the company is keen to monetise its resources and secure its future through further exploration. Committed to its mission of being a world-class organisation with world-class resources, InterOil Corporation will focus on optimising operations and continuing the largest exploration and appraisal drilling programme ever to be conducted in Papua New Guinea, as Rob concludes: "We have a premium position in the highly prospective Papua Basin, where we have drilled five consecutive discoveries. This puts us in an enviable position. Our focus over the next year is on developing Elk-Antelope; we will also explore our licences and look to monetise discoveries."
InterOil Corporation
Services: Developer of oil and gas fields