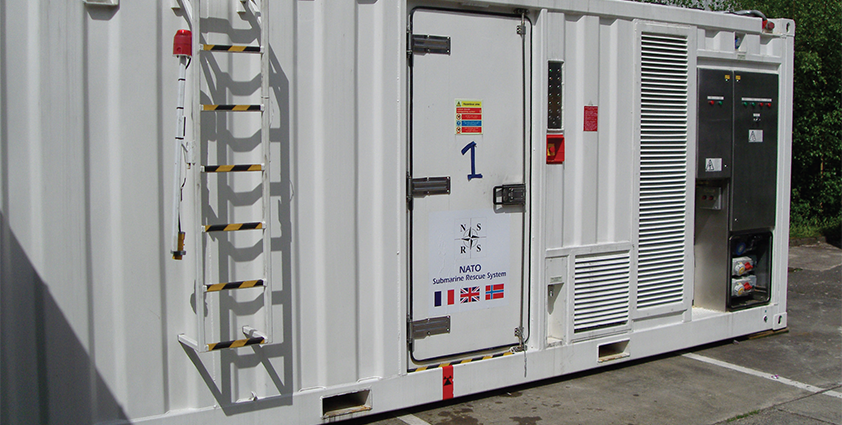 Interpower International Ltd
The generation game
Interpower International is a British company specialising in power generation solutions for the marine and industrial markets, producing both standardised and bespoke diesel units to meet customer demand.
Located in York in the UK, its products are supplied to clients throughout the world including Qatar, Pakistan and the Falkland Islands. It was also involved in the NATO Submarine Rescue System (NSRS), engineering the rescue vehicle's power supply in conjunction with project manager Rolls-Royce.
Established in 1986, Interpower International has carved a name for itself through supplying thousands of generators to small and large contractors alike. The company's two core sectors are the marine industry – where its generators are designed for use onboard a wide variety of vessels – and for a number of onshore industrial environments such as factories, hospitals, airports and data centres. What has made Interpower International so successful, however, is its ability to meet even the most stringent customer requirements.
One such example is the power generator designed for use by the NSRS. The containerised unit had to meet difficult safety standards due to its role as part of a portable package for use in rescue operations. Such specifications included being a containerised unit light enough to be transported by military cargo plane, whilst at the same time, being strong enough to withstand powerful waves of up to seven metres. It was also necessary to locate the exhaust away from personnel as well as operate successfully even when the deck is logged with water. On top of all this, it included a CO2 fire fighting system and had to meet both Lloyds and DNV2.7-1 approval specifications.
Interpower International's manufacturing capabilities allow it to produce diesel engine generating sets for offshore application ranging in power from small, towable-sized 20 kilovolt-ampere (kVA) units to huge 4000kVA models that require truck transportation. As highlighted in the NSRS project, generators can be containerised or covered if required by the application, as well as come with multiple set synchronising systems for easier integration into a vessel's management system. There is also a range of fire monitoring and fighting devices that can be installed, including both manual and automatic versions that make use of either water mist or CO2. Importantly, all components as well as the final product meet high accreditation standards including Lloyds, DNV, BV and ABS.
Interpower International's containers come as standardised 20 foot or 40 foot containers that can be outfitted with a number of different facilities. Perhaps most important, particularly for onshore environments, is acoustic dampening and soundproofing, which achieves ultra-low noise levels as quiet as 65 decibels at a distance of one metre; this makes them suitable for use even in hospital or city centre environments, where industrial noise pollution would be unacceptable. Other features of an Interpower International container include the pre-delivery integration of cooling system, exhaust silencers, quick release cables and fuel make up systems so that these items do not need to be installed in-situ.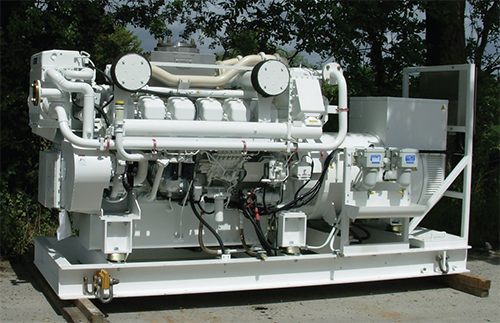 One of the most common industrial uses for the company's generators is in power for telecommunications networks throughout the world. Particularly in places such as China, Dubai, Jordan, Saudi Arabia, Venezuela or Yemen, network tower systems can be located in very remote regions and therefore require rugged generators that can operate for a long time without maintenance. Interpower International can provide such units, fitted with system monitoring devices that allow remote observation by the user, and delivered with a one year, unlimited hours warranty.
Apart from its diesel generators, the company also runs a range of rotary uninterrupted power supply (UPS) backup solutions. Unlike standard generators, which rely on expensive electronics and complex electromagnetics that cease to work when the power source fails, rotary UPS systems make use of robust spinning flywheels to store energy. Connected to synchronised alternators that maximise power generation, the flywheel uses inertia to continue spinning in the event of a power failure therefore enabling it to continue generating energy (even in the event of a power failure). Furthermore, the simplicity of design means customers can maintain and repair the models themselves. Interpower International's units are available as both 50Hz and 60Hz and range in power from 4kVA through 4000kVA at voltages from 400v to 13kV
Commitment to innovation and specialist design has seen the company develop alternative fuel options for its generators. With the fluctuating price of petroleum and natural gasses, the option of being able to use bio-diesel, vegetable oil or animal fat is an attractive and environmentally friendly method of fuelling. Another energy efficient and environmentally friendly development is the combined heat and power (CHP) system utilised in generators. Because a portion of the energy from burnt fuel is emitted as heat rather than converted into electricity, there is a degree of wasted potential in generators, unless that is, a CHP system is used to capture emitted heat and used to heat boilers and heating systems.
These innovations have been developed as a result of customer request, cementing Interpower International's reputation for customer dedication. As an ISO:9001 accredited company, its position has been recognised according to industry standards, and its quality can be seen in the number of major customers that use the company's products. This includes being the first approved supplier to the Hong Kong Housing Authority as well as an ongoing supplier to the British Army and the Royal Navy, the Channel Tunnel and a major Qatari oil refinery.
External and portable generators remain an important facility for many different aspects of the offshore industry. The trend toward increasingly complex activities requires far greater demands for power, and it is not always plausible to expand the integrated power supply of an oil platform or FPSO. Containerised generators, therefore, are a cost effective and logistically viable method to meet the demands of operators throughout the world. Interpower International's extensive experience in the field, combined with its reputation as a reliable and innovative partner, offers the company plenty of opportunities to grow into the future.
Interpower International Ltd
Products: Power generators